Travel to Oman, like the country's modern history, has transformed over the last few years. Once a rarely visited Arabian destination, Oman's reputation has gone from an outlier to – if not a mainstream adventure destination – then certainly a badly kept secret.
It's not hard to see why. Sitting at the southeast edge of the Arabian Peninsula, this stunning, diverse country characterised by endless and mesmerising desert scenery is a place to truly get away from it all. You might think that given its mountainous interior, its traditional mud-brick villages amongst lush date palm-fringed oases, that travel here would be challenging. And yet, like many things here, it's quite the reverse.
Roads are well maintained (apart from a few roads through rocky wadis and dunes), accommodation is generally very good and whilst a staunchly Muslim country, as evidenced by nearly everyone still wearing traditional dress, attitudes are much more relaxed than in some of its neighbours, and Arabian hospitality legendary.
All-encompassing Omani adventure
When creating this trip, founder Jim O'Brien says he wanted to create an adventure which was all-encompassing; one which didn't just take in the coast and north of the country, where most people live, but head deep into the Empty Quarter and Dhofar region of the south, too.
It's not just different landscapes which travellers to Oman will experience, from the beautiful coastal north, to the mountains and southern deserts, but culturally, too.
"Historically, the Sultan of Muscat was for years at loggerheads with the almost autonomous Imams of Nizwa, so there's a notable and fascinating cultural difference between the coast and the interior, too," he says.
Here are just a few of the photos Jim took on a recent trip to Oman, to give you a flavour of what to expect. If you'd like to know more about our adventurous Oman tours, we'd love to hear from you.
Muscat 
The capital of Oman simply oozes exotic charm. In the early evening, wander the markets and see the harbour glow in a sea of lights, the occasional dhow moored in the Arabian sea adding to the atmosphere. In the daytime, attractions include visiting local dolphins nearby (we stop for lunch on a small island), wandering the historic quarter and visiting the Bait Zubair museum, packed with artefacts, history and heritage.
Sultan Qaboos Grand Mosque
Opened in 2001, Sultan Qaboos mosque in Muscat is the largest mosque in the country and can hold 20,000 worshippers at capacity. It's also the only mosque where westerners are allowed to enter. The carpet here weighs 6 tonnes!
Muttrah souq
Just along the coast from Muscat is Muttrah souq, a lively market selling all sorts including these antique bowls (pictured). It's interesting that most of the market stall holders come from India and Pakistan.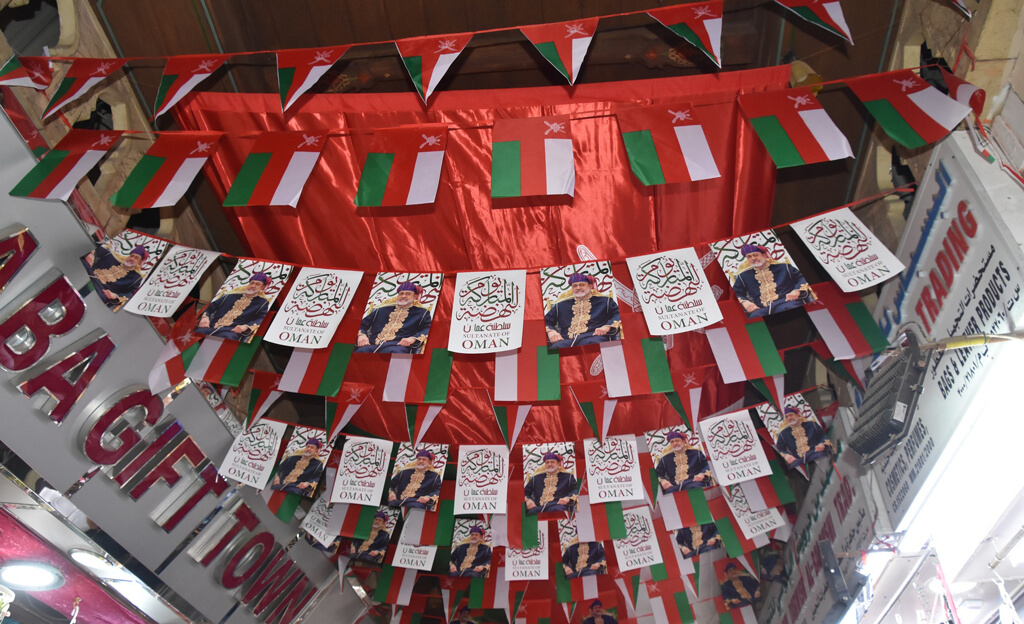 Wadi Bani Awf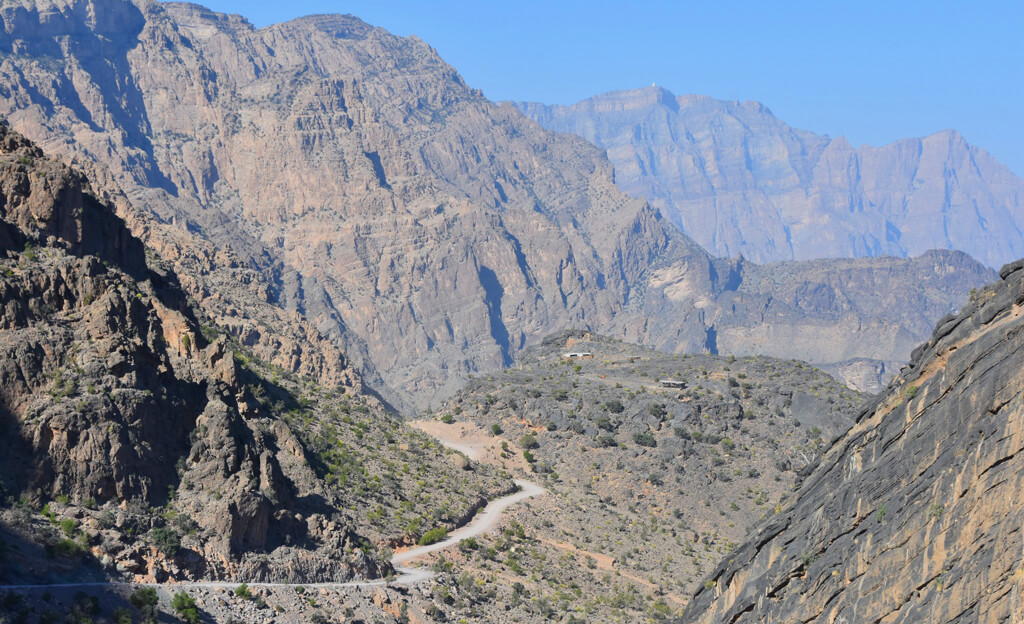 Wadi Bani Awf is a wonderful introduction to the magnificent Jebel Shams. Travelling by 4WD, this canyon provides some welcome shade from which to be wowed by the magnificent surroundings. Travelling along it, you'll reach 'snake canyon' with its waterfalls and rocky pools and we can stop here to walk and explore. From here, it's a stunning drive, crossing the Hajjar mountains and stopping at small, traditional villages along the way.
Wadi Ghul
As you can see in this image, the sides of this wadi are steep and impressive. You can drive to the end of the canyon by 4WD around 7 kilometres in, the chasm getting narrower and the cliffs higher as you do so. There's a small, largely abandoned village at the end. Along the valley bottom, you can walk along to discover frog and fish-filled pools. Alternatively, there's also a walk above the wadi, some 2 kilometres high where you can often see Egyptian vultures circling overhead.
Misfat al Abryeen
This traditional hillside village with mudbrick houses on the slopes of Jebel Shams has been sensitively restored to retain its character. Here, you'll see people using donkeys for transportation, see beehives and sample local honey, and wander through the streets people-watching. You can also walk along the cliffside down the valley.
Terraced hills on Jebel Akhdar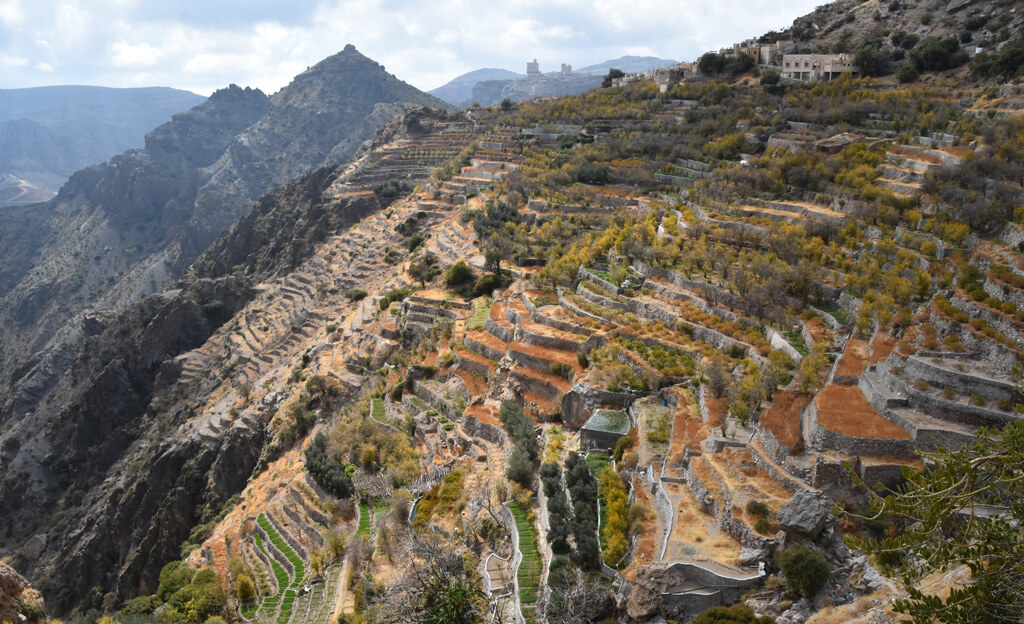 It might seem strange to see such fertility in a largely mountainous and desert area, but this is down to the traditional (and very effective) irrigation systems, falaj, used here. Falaj water channels date back from as long as 500 AD. As you can see, the villages here have cultivated amazing terraced gardens and fields, to grow various crops for themselves and their animals. You can walk between villages here. Famous neighbours include the ruler of Qatar who has a palace nearby.
Bilad Sayt 
Located on the northeast slopes of the Al Hajar mountains, Bilad Sayt is a traditional village made up of stone and mud dwellings and surrounded by lush rows of date palms and lush green terraced fields. Really atmospheric and picturesque, it's an absolutely wonderful place to stop off en route between the coast and Jebel Shams. The honey here is made by wild bees found in nearby mountain caves.
Nizwa Fort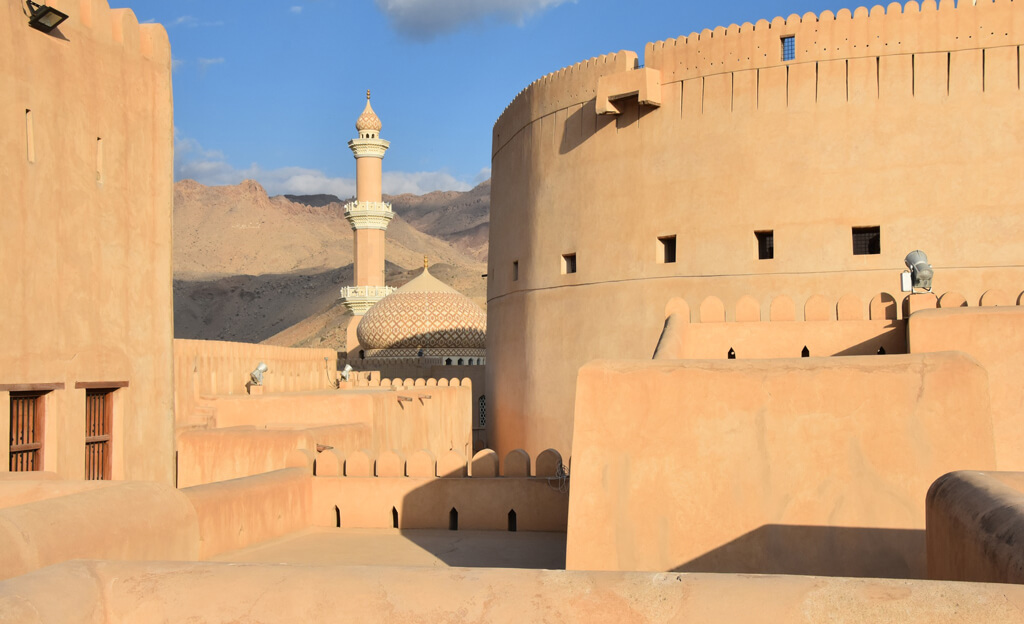 Nizwa is the cultural capital of Oman and this fort is a telling reminder of its turbulent past. Until the 1950s, the Imams of Nizwa and the Sultan of Muscat were effectively at war, with the Imams standing firm when it came to their autonomy. It's a beautiful city, which, as well as the fort boasts well-preserved souqs to wander around. Be warned, though – prices here are far, far more expensive than for comparable goods in 'similar' countries like Morocco. You'll visit Nizwa Fort on our Oman tours.
Nearly every person in Oman wears traditional dress, even in Muscat and even, surprisingly, teenagers. The men's traditional collarless tunic is called the dishdasha or kandura, whilst the women's dress is Omaniya.
Nizwa souq
The smells, the colours! Wander around the souq and you'll come across all sorts of produce, from meat, fish, fruit and vegetables, to antiquities and artisan goods to a kaleidoscope of different herbs and spices (pictured here).
The abandoned village of Munisifieh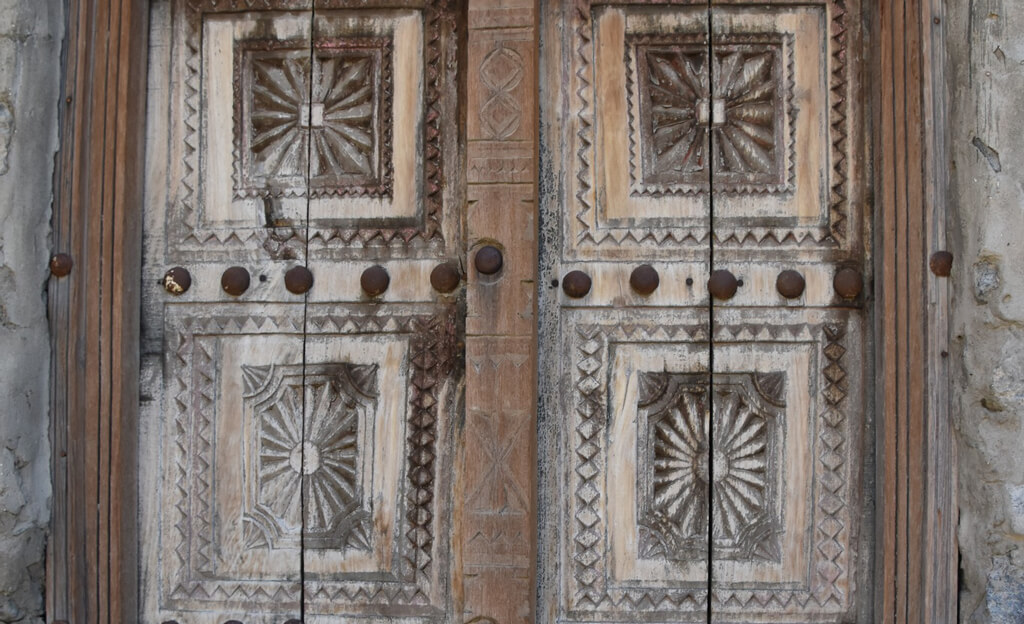 Once an important trading village with old markets and (as pictured here) beautiful, traditionally built homes with elaborate wooden doors, the village here is now largely abandoned. With money has come the desire for new, modern housing in modern towns and the city of Muscat.
Bahla Fort 
Although Bahla Fort is a UNESCO heritage site and one of the largest fortifications in the country, it's far less visited than some others in Oman. The fort is believed to date back to pre-Islamic times. The town here has an interesting artisan's quarter and city walls which surround it. Date plantations can be found nearby.
Wahiba Sands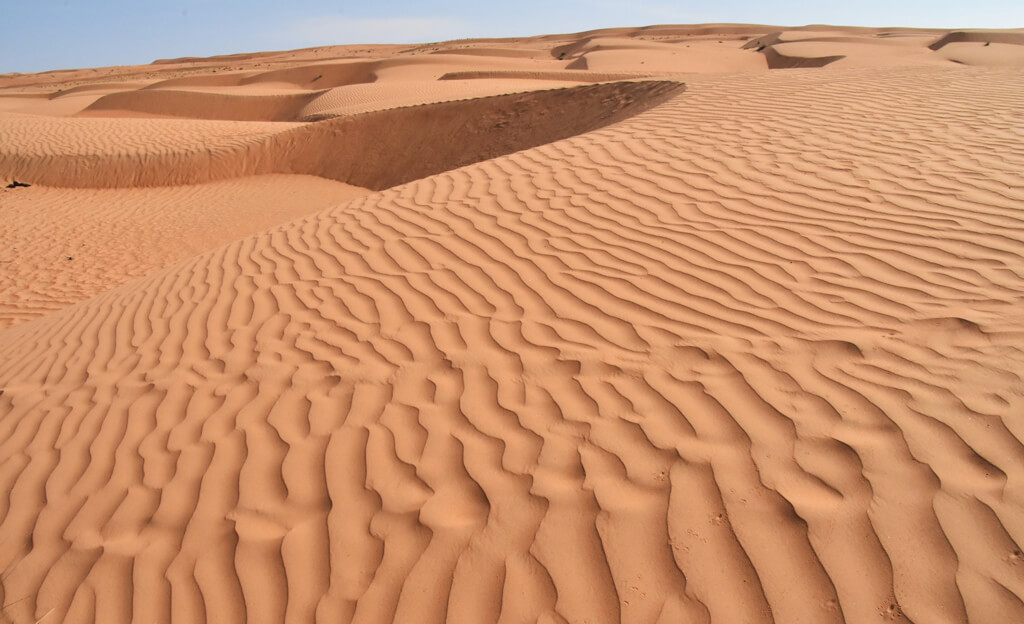 Located in the east of the country, the Wahiba Sands are an ocean of dunes which seem to stretch out to the horizon. The sands here are constantly moving but follow lines running north to south and change colour depending on which time of day you visit. There are some lovely desert camps here (and, we admit, some less lovely ones which we don't visit!). There are no traditional Bedouins here anymore, instead, these formerly nomadic people maintain 'weekend homes' or tents on the fringes of the desert, but are still very welcoming of visitors on our Oman holidays.
Camels in the desert
Also known as 'ships of the desert', camels are a common sight here in Oman, particularly here in the desert.
Did you know? Facts on Oman
1. Oman is the oldest Arab state to have formed in the Arabian peninsula
2. Oman is one of the safest countries to travel in and has an almost non-existent crime rate
3. Jebel Shams is the largest canyon in the world next to the Grand Canyon in the United States
4. Oman has four UNESCO world heritage sites. Bahla Fort, the archaeological sites of Bat, Al Khutm and Al Ayn and the irrigation systems of Al Falaj (dating back to 500 AD).
5. Oman has the longest-ruling royal family in Arabia. The Al Said family have reigned continuously since 1744. Currently, Haitham bin Tariq is both the monarch and Sultan (the head of government).
6.  Although a dry state and Muslim country, tourist hotels are granted special alcohol licenses to serve guests.
7. Step over the threshold of any Omani's house and you'll immediately be offered coffee, or qahwa in Arabic, as a gesture of hospitality and welcome. Often this locally-made coffee is blended with saffron.
8. Omanis are amazing shipbuilders.
9. Residents must get permission from the government and have adequate reason for it if they want to choose to paint their homes any colour other than white.
10. Oman is an oil-rich nation. However, unlike other Middle Eastern countries, all expenses of the state are covered by oil wealth, including taxes. The population has benefitted hugely from this shared wealth.
11.  50 years ago, there was no such thing as a luxury hotel in Oman. Since 1970, the industry has transformed to become world-class and world-renowned.
Interested in visiting Oman?
If you enjoyed Jim's photos of Oman and would like to find out more about Native Eye trips to Oman, either for a private or a group tour, take a look at our 13-day Oman – Arabian Desert Adventure or our Oman holidays and tours page for the top reasons to visit.  To discuss a trip, just call us on 01473 328546 to talk through your ideas. Or simply send us a message using our contact page.
Other blogs posts you may like:
Best Middle East Tours
Seven reasons why you should visit Algeria
Best places to visit in Saudi Arabia
Top places to visit in 2023
20 Best World Heritage Sites
Native Eye's top Small Group Tours
Favourite Desert Adventures