On our Ethiopia holidays and tours, experience a country unlike anywhere else in Africa, with a rich cultural heritage stretching back millennia. Its rather quirky character gives it an entirely different feel to its neighbours, and few other countries can match its diversity.
Ethiopia is very much a country of two halves for the visitor. The north is home to an impressive collection of unique religious monuments, testament to the country's enchanting history. Here you will find the amazing rock-cut churches of Lalibela and Tigray province, the island monasteries of Bahir Dar, and the distinctly European looking castles of Gondar. Join white-robed priests and pilgrims as they take part in solemn religious ceremonies, or marvel at the beautiful frescoes in ancient churches. The north has an air of distinguished antiquity that is rare in sub-Saharan Africa.
The south is a different world altogether. Our Ethiopia holidays and tours visit some of Africa's most traditional tribes – the Mursi, who wear huge clay plates in their bottom lips, and the Karo who decorate their bodies with elaborate markings. The Omo Valley is home to a huge array of different ethnic groups and feels like it hasn't changed in centuries. The gentle waft of wood smoke rises from thatch-roofed huts, semi-naked warriors return to the village after a long day out tending their cattle, and lush vegetation stands in stark contrast to the more arid north.
Top highlights on Ethiopia holidays and tours
Climb to the top of Erta Ale, and gaze down at its bubbling lava
Explore the ancient churches of Lalibela, hewn into the surrounding mountains
Sample some tej – the local honey wine
Mingle with traditional tribes in the markets of the Omo Valley
Hike through the Simien Mountains in search of Walia ibex and other wildlife
Head to the hottest place on earth, the Danakil Depression
There may be more than two halves to Ethiopia though. The wildest and most exciting part of Ethiopia is the foreboding Danakil Desert, home to Afar tribes, imposing scenery and the impressive Erta Ale, a vast and active lava lake. And the 'forbidden city' of Harar, visited by Richard Burton back in the 19th century, stands apart from the Christian cities of the north.
Ethiopia is also a birder's paradise, and other wildlife found here includes the usual East African species as well as the unique gelada baboons that live in huge troops in the Simien Mountains. Here jagged peaks stretch up to 4000 metres, and rural settlements dot a remote and rugged landscape, ideal for trekking.
Our Ethiopia holidays discover an incredible country, rich in experience and with so much to see and do that it's difficult to pack it all into just one visit.
Culture
Ethiopia is home to an astonishing number of different ethnic groups, all of which hold their own belief systems and speak their own languages. However, the official religion is Christianity, and especially in the north of the country Christian traditions are prevalent. In the east Islam dominates, especially around the town of Harar, while the southern tribal groups follow indigenous belief systems. The official language of the country is Amharic but you will find that many people, especially in the tourist industry, will speak English.
When to go on holiday to Ethiopia
Ethiopia is a large country with a diversity of landscapes. The rainy season usually lasts from June to October in most of the country. But in the Omo Valley the rains usually fall between April and May, and then again in October – it can be difficult to travel at this time, although the landscape will be lush and very picturesque.
Start planning your trip to Ethiopia
Check out our small group tours to Ethiopia: The Best of Ethiopia, Djibouti and the Danakil Depression and Djibouti, the Danakil Depression and Somaliland. Although many of our trips are small group adventures with set departures, as a bespoke operator, we can design and create trips to suit any traveller, from solos to larger group. If you would like to find out more about tailor-made holidays to Ethiopia or our group tours, call us on 01473 328546 or email us via our contact page. We'd love to hear from you.
Show more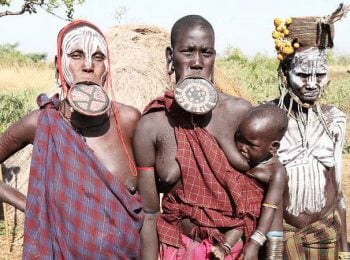 Ethiopia
Good for:
Historic Sites, Trekking, Wildlife, Stunning Landscapes and Tribal Cultures