Our Armenia holidays and tours allow you to discover the world's oldest Christian nation with an astounding collection of ancient churches and monasteries, beautiful landscapes and a troubled history.
Located in the southern Caucasus and the smallest of the former Soviet republics, Armenia is a land of rugged mountains and extinct volcanoes. Its highest point is Mount Aragats. As one of the oldest civilizations in the world, Armenia once included Mount Ararat (now in Turkey), which according to biblical tradition, is the mountain that Noah's Ark rested on after the flood.
With influences ranging from Ottoman Turkey, Imperial Russia and ancient Persia, visitors to this delightful country will be surprised at every turn as they discover one of Europe's hidden gems. On our Armenia holidays explore one of Europe's furthest corners. You'll find UNESCO World Heritage Sites nestled in amongst dramatic hills, attractive and well-preserved towns and charming villages that haven't changed much in centuries.
Top highlights on Armenia holidays and tours
Visit the ancient monasteries at Khor Virap and Noravank
Meet the Molokan people at Dilijan, one of Europe's smallest but most traditional ethnic groups
Discover the stunning churches of Echmiadzin
Visit Kurdish and Yezidi villages where lifestyles have changed little for centuries
Visit the dramatically located Geghard monastery and discover religious treasures
Spend time in a village near Garni as guests of a local family
Add to this the surprisingly cosmopolitan capital Yerevan, the self-declared republic of Nagorno Karabakh and some excellent walking opportunities in the mountains. You can only wonder why Armenia isn't better recognised. There aren't many places where you'll find a culture as rich and a history as intriguing as this Caucasian nation. Our Armenia holidays will take you to the edge of Europe, a part of the continent explored by few.
Culture
Armenia is a deeply Christian country, with most people belonging to the Armenian Apostolic Church. Christianity here is of the Orthodox variety but with a slightly different twist. There are many churches and monasteries throughout the country and Armenia is the first country to have adopted Christianity as a state religion.
Around 96 per cent of the population identify as Armenian and the official language here is Armenian, which has its own alphabet. There are also small numbers of Kurds, Russians, Assyrians and Greeks, with the largest minority group being the Yezidi Kurds, of which there are about 50,000. Yezidi Kurds are highland herders and have their own semi-Pagan faith.
Armenian people have a deep love for knowledge. Books are considered almost sacred, and they love to spend a day in 'keyif' or 'companionable relaxation' to balance out their hard work.
When to go on holiday to Armenia
Autumn is the best time to visit Armenia. With its long sunny days, there is less chance of rainfall, and the foliage in national parks transforming to fiery autumnal shades. Weather conditions are also be affected by the range of microclimates present across Armenia's varying landscapes and altitudes. There is a subtropical climate in the south and continental in the north.
You can visit Armenia between May and October, but bear in mind that in the height of summer (July and August) it can get very hot.
Start planning your Armenia tour
Check out our small group tours to Armenia: Ancient Armenia, The Edge of Europe and Caucasus Discoverer. While many of our trips are small group adventures with set departures, as a bespoke operator, we can design and create trips to suit any traveller, from solos to larger groups. If you would like to find out more about tailor-made Armenia holidays or our group tours, call us on 01473 328546 or email us via our contact page. We'd love to hear from you.
Show more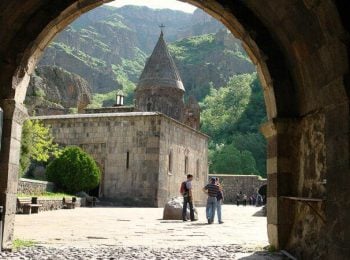 Armenia
Good for:
Historic Sites, Local Culture and Stunning Landscapes