Our Madagascar holidays and tours challenge everything you thought you knew about Africa. With its unique wildlife, unpronounceable place names and a cultural heritage that owes as much to Asia as it does to the mainland, Madagascar astounds you at every turn.
The world's fourth largest island packs a lot in its borders. There are high peaks, gorgeous beaches, thick rainforests and desert-like landscapes, all with their own flora and fauna, much of which exists nowhere else in the world. And despite it gaining in popularity over the last decade or so, it still retains a delightful sleepy charm and hasn't really made that much concession to tourism.
Madagascar remains very much true to itself, and a bit of an enigma. Whether you like trekking, nature, culture, or simply kicking back and watching the sun set over the Indian Ocean, Madagascar has something for everyone.
From the magnificent rock formations of Tsingy de Bemaraha to the lunar landscapes of Isalo, we'll explore Madagascar's stunning landscapes. We'll also spend time walking through the forests in search of lemurs, reptiles and other unusual wildlife. Meeting the friendly and welcoming Malagasy people will be an equal highlight of any trip here, giving you the opportunity to learn about their customs and fascinating traditional beliefs.
Top highlights on Madagascar holidays and tours
Look for the indri, the largest of all lemurs, in the forests of Andasibe
Take a boat trip down the Tsiribinha River, camping on its banks
Watch the sun set at the Avenue of Baobabs
Tackle the jagged landscapes of the Tsingy de Bemaraha
Hike through the traditional villages of the Betsileo people
Our Madagascar holidays show you not just the highlights but also get beyond these to show you the true nature of this marvellous destination. This is without a doubt one of the most exciting places you can visit, with a breath-taking diversity and singularity that leaves you wanting to return time and time again.
Culture
The religious beliefs of Madagascar split roughly half and half between Christianity and traditional beliefs. Within Christianity, there's a fairly even split again between Protestantism and Catholicism. Traditional beliefs differ according to the different ethnic groups of the island, but most have a strong focus on ancestor worship. You will also find that the Malagasy have strong taboos about certain things, known as fady. These will vary from place to place and can be as diverse as a taboo against singing while eating, to those against killing certain animals, and are quite fascinating to learn about. There are also small pockets of Islam and Hinduism.
The official language of the island is Malagasy, which will be spoken in different dialects by the various ethnic groups. French is spoken as a second language, although in rural areas it may be difficult to find people who speak anything other than Malagasy.
When to go on holiday to Madagascar
Madagascar's wet season runs roughly from October/November to April/May. During February and March, it can experience cyclones, which are often strong. The best time to visit is therefore in the dry season.
Start planning your trip to Madagascar
Check out our small group tour to Madagascar, Madagascar in Depth. Although many of our trips are small group adventures with set departures, as a bespoke operator, we can design and create trips to suit any traveller, from solos to larger group. If you would like to find out more about tailor-made holidays to Madagascar or our group tours, call us on 01473 328546 or email us via our contact page. We'd love to hear from you.
Show more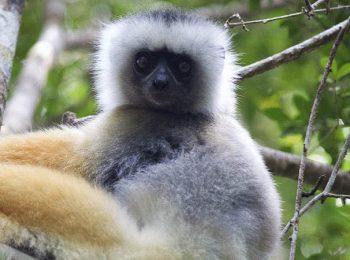 Madagascar
Good for:
Wildlife, Trekking and Stunning Landscapes