Our Comoros holidays and tours show you a collection of Indian Ocean islands that barely anyone has heard of. Infused with Arabic influences, its rich heritage of ancient traders and pirates is fascinating. Add to this its gorgeous scenery and a laid-back ambience that can make you utterly forget yourself.
Imagine a magical land of volcanoes, beaches, colourful markets and spice plantations, where the pace of life is relaxed, the welcome warm and tourists are almost non-existent. Known as the 'Islands of the Moon' by early Arab traders, the Comoros are today a delightful backwater. On our Comoros tours, you can trek up volcanoes, discover turtles laying eggs on the beach and mingle with friendly locals in the colourful markets.
Legend has it that King Solomon searched the Comoros for the throne of the Queen of Sheba, but it's more likely that the islands were first settled in the 5th century. Ruled over by various sultanates for a thousand years, whose wealth was based on the slave and spice trades, the islands were 'discovered' by Europeans in the 16th century, and eventually colonised by France.
Top highlights on Comoros holidays and tours
Explore the colourful markets of Moroni
Climb to the summit of Mount Karthala, and see the world's largest volcanic crater
Look for the enormous Livingstone's fruit bat
Watch turtles come ashore to lay eggs on the beaches of Moheli
Explore lush spice plantations and traditional villages in Anjouan
France holds on to one of the islands today – Mayotte – but the islands of Grande Comore, Anjouan and Moheli make up one of Africa's least known, and smallest countries. This isn't somewhere where you can expect to meet crowds of tourists – you will often be the only visitor!
The pace of life is relaxed here, and there's no set 'trail' to follow. Visiting the Comoros is about kicking back and getting into the local rhythm, and with so few tourists it makes a pleasant change from the well-trodden routes of much of East Africa. Our Comoros holidays and tours are for those who want more than just lying on the beach. We offer the chance to discover a forgotten and enchanting world.
Culture
Arabic and French are the official languages, but most people here speak a form of Swahili. You'll find it easier if you know at least a few phrases of French.
The population is predominantly Sunni Muslim. However, traces of pre-Islamic belief still exist, with soothsayers who claim to be able to read fortunes and cast spells.
The majority of the population are descended from slaves brought from the mainland, mixed with people of Malay, Polynesian, Arabic and Malagasy origins. Polygamy is still fairly common here, and marriage ceremonies can be very elaborate – don't miss the chance to see one if you're invited.
When to go on holiday to Comoros
The best time to visit the Comoros is between March and October, which is the cooler season, when less rain falls. Outside of this time temperatures can be high, with a lot of rain, and strong tropical storms can occur.
Start planning your trip to Comoros
Check out our small group tour to Comoros: Islands of the Moon. Although many of our trips are small group adventures with set departures, as a bespoke operator, we can design and create trips to suit any traveller, from solos to larger group. If you would like to find out more about tailor-made holidays to Comoros or our group tours, call us on 01473 328546 or email us via our contact page. We'd love to hear from you.
Show more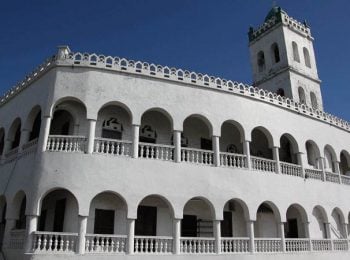 Comoros
Good for:
Historic Sites, Stunning Landscapes and Relaxing