Magnificent snow-capped mountains, ethereal beauty, grasslands grazed by yaks, mighty gushing rivers, sutra-chanting monks and heart-warming nomads – our Tibet tours let you truly experience the country's enchantment.
With the deep reds and browns of the barren rock landscapes, the vibrant mustard-yellow fields, the striking blue glacial lakes and skies that pierce just as brightly, the intensity of Tibet's landscapes are captivating.
This otherworldly region, mighty and resilient, perfectly encapsulates the Tibetan people. For so many years, Tibet was largely a mythical place in the mind of the west. Access was impossible and it was not until the early 20th century that it began to open its doors to the world. Although it has seen many changes in the last half century, Tibet remains a place of mystery, the legendary 'abode of the god kings'.
Top highlights on Tibet tours and holidays
See the sights of Lhasa, including the Jokhang Temple and the Potala Palace – the former home of the Dalai Lama
Visit the Drepung Monastery, once the world's largest monastery that has housed more than 10,000 monks
Stunning drives through breathtaking Himalayan scenery
Meet the throngs of pilgrims at Lake Manasarovar
Gaze at Mount Everest, the world's highest mountain
Step back in history at the ancient kingdom of Guge in Tibet's far west
Dotted with deep gorges and home to the world's highest mountains, Tibet is a land of superlatives. With its sacred cities, hilltop fortresses, Buddhist monasteries and such warm and welcoming people, this extraordinary place still exudes magic and captivates at every twist and turn.
Culture
Tibetan culture is closely linked to Tibetan Buddhism. Most literature, art, music, dance, drama and architecture is inspired by such beliefs. Despite being the official religion of Tibet, it is rigidly controlled by the Chinese who don't respect the religion. Tibetan Buddhism is unique because it is a blend of the ancient Tibetan shamanist cult of Bon – heavily associated with magic and sorcery – and Mahayana Buddhism, which derived originally from India but is now very much associated with Tibet.
Mandarin Chinese is the official, enforced language in Tibet. Traditional Tibetan language, and its many dialects, are widely spoken and written but are given very little media exposure and a very low profile in schools. Having so many dialects can make it hard for Tibetans to communicate with each other at times.
When to go on holiday to Tibet
There is no best time to visit Tibet, as the weather is unpredictable and conditions often extreme – from searing heat to freezing cold. The overall climate is described as cool and dry, with an average elevation of 4,500m. However climatic conditions vary with elevation and exposure, with little moisture in the air and often intense UV rays which must be considered when exploring.
It is best to avoid travelling to Tibet in Winter (Dec-Feb) as road conditions become treacherous, access flights close down and many hotels and restaurants will also close. Tibet is also colder at this time and is prone to more snowfall.
Start planning your Tibet tour
Check out our small group tour to Tibet: Tibet in Depth. While many of our trips are small group adventures with set departures, as a bespoke operator, we can design and create trips to suit any traveller, from solos to larger groups. If you would like to find out more about our tailor-made Tibet holidays or our group tours, call us on 01473 328546 or email us via our contact page. We'd love to hear from you.
Show more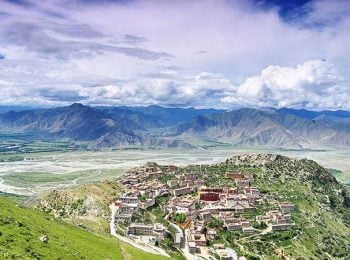 Tibet
Good for:
Local Culture, Stunning Landscapes and Historic Sites