Nestled in the Gulf of Guinea, the islands of São Tomé and Principe are an intoxicating combination of tropical languor, Creole culture and lush nature.
On our São Tomé holidays and tours you can discover a very different side of the continent, where Portuguese colonial heritage and the diverse cultures brought here by the slave trade have combined to create a unique society not found elsewhere in Africa.
Explore old plantations, journey through the thickly forested interior or kick back and relax on the islands' stunning beaches. Watch as turtles come ashore to lay their eggs at night, take a trip to the equator line and look out for vibrant bird and plant life in the primary forest of Obo National Park.
With its endemic wildlife, picturesque old villas and friendly locals, our São Tomé holidays offer a charming respite from the often chaotic atmosphere of the mainland. These friendly islands are well worth exploring.
Top highlights on São Tomé holidays and tours
Explore the countryside of Bom Sucesso and hike to Lago Amelia
Swim from the black sand beaches at São João dos Angloares
Wait for turtles to emerge from the ocean and lay their eggs at Praia Jade
Search for endemic birdlife in Obo National Park
Stop at a local cacao cooperative to see how chocolate is grown
Take a boat to tiny Rolas Island and walk to the equator line
Culture
The population of São Tomé and Principe consists mainly of Forros, who are descendants of African slaves and immigrant Europeans. Another group, called the Angloares descended from runaway Angolan slaves who were shipwrecked on São Tomé in 1540. Other populations include Mozambicans, Cape Verdeans and Europeans, who are primarily Portuguese.
São Tomé was colonised by Portugal, and maintains Portuguese as an official language. In São Tomé you can also find different Creole dialects spoken which include Sãotomense spoken by Forros, Angolar spoken in Angolares and Principense, spoken by only a few people.
Roman Catholicism dominates, as well as other Christian denominations, but this being Africa, indigenous religions are still practiced by good numbers of the population and men are traditionally polygynous.
The earliest literary works of São Tomé and Principe are in Portuguese and were produced in the 16th century. Arts and crafts from the nation include wood carving, mask-making, basket-weaving and landscape painting. Music and dance in the country is heavily influenced by both Portuguese and African cultures, and many African elements have been adopted in cooking.
When to go on holiday to São Tomé and Principe
Situated close to the equator, you can expect a hot and humid climate throughout the year. The islands have two dry seasons which are from December to February and June to September, so these are generally the best months to visit. The heavens can open from February to May, and bird watching is best from October to March.
Start planning your São Tomé holiday
Check out our small group tours to São Tomé: São Tomé Explorer and Island Africa – Equatorial Guinea and São Tomé. While many of our trips are small group adventures with set departures, as a bespoke operator, we can design and create trips to suit any traveller, from solos to larger groups. If you would like to find out more about tailor-made holidays to São Tomé and Principe or our group tours, call us on 01473 328546 or email us via our contact page. We'd love to hear from you.
Show more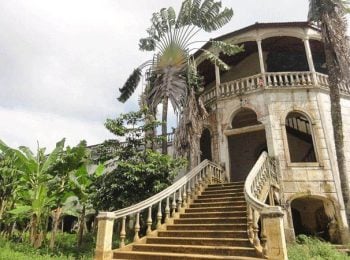 São Tomé and Principe
Good for:
Historic Sites, Stunning Landscapes & Relaxing