Our Tunisia holidays take you far beyond the Mediterranean beaches for which the country is commonly known. Home to remote mountain ranges and the Sahara in the south, Africa's northernmost country encompasses a variety of awe-inspiring landscapes from desert dunes and oasis towns, to salt flats and lunar like terrain.
Conquered by the Phoenicians and the Romans, before falling into the hands of the Arabs and the Ottomans, Tunisia has been subject to many influences throughout the centuries which is reflected in its rich architectural heritage. You'll find medieval medinas, picturesque whitewashed villages, otherworldly underground dwellings and ancient ruins to rival those of Rome – with just a fraction of the visitors.
As an Arab country, Tunisian life is based on the Islamic faith, but it's the original inhabitants of Tunisia, the Berbers, who influenced much of the country's culture from its cuisine to its language, which is full of Amazigh words. For many years Tunisia's Berber community was largely suppressed, but since the 2011 revolution the people of Tunisia have been free to reconnect with their cultural heritage, keen to preserve and share their traditions with the world.
Top Highlights on Tunisia Holidays and Tours
Explore the ancient city of Carthage
Visit the vibrant medinas of Tunis and Sousse
Camp under the stars in the Sahara
See the Roman ruins at Dougga and Bulla Regia
Discover remote oases in the En Negueb Mountains
Visit the Berber cave dwellings of Matmata
Culture

The vast majority of Tunisia's population are Muslim, and although religion is important here, attitudes are fairly relaxed compared to other Islamic nations, it's not uncommon to see women without headscarves, alcohol is quite easy to come across and other religions are widely respected. The official language is Arabic, which is spoken by almost everyone, and those with a school education are also likely to speak French. A very small minority communicate in the old Berber language.

Almost everywhere in Tunisia you will find Shisha cafes, known locally as 'chichas', a national pastime for men but considered unladylike for women. Away from the major towns and tourist areas, you might be surprised by the hospitality you receive and it's not unusual to be invited into a Tunisian home. Tunisia isn't famous for its cuisine, but its most characteristic dish is couscous and you'll find traditional Arab and Berber pastries as well as the widespread 'gargotes' serving up simple and affordable meat and fish dishes.
Perhaps the most interesting aspect of travel here is the traditional life that still exists in the more remote corners of Tunisia, despite its suffering under the Ben Ali government, in the troglodyte dwellings of Matmata and Tataouine's old Berber villages.
When to go on holiday to Tunisia
With a typical Mediterranean climate in the north and semi-arid climate in the south, the best times to visit Tunisia are spring and autumn, avoiding the intense summer heat which makes them ideal seasons for exploring on foot. Our Tunisia tours operate in October when the crowds are fewer, and before the winter sets in which can be distinctly cool, particularly in the mountainous regions which often receive snow. 
Start planning your Tunisia tour
Check out our small group tour to Tunisia, Tunisia Explorer. Although many of our trips are small group adventures with set departures, as a bespoke operator, we can design and create trips to suit any traveller, from solos to larger groups. If you would like to find out more about tailor-made Tunisia holidays or our group tours, call us on 01473 328546 or email us via our contact page. We'd love to hear from you.
Show more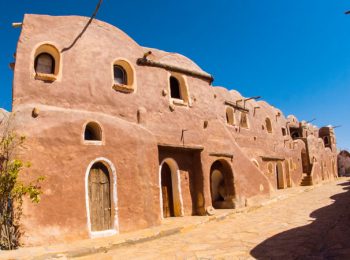 Tunisia
Good for:
Traditional Culture, History and Landscapes