While the south of Iraq struggles to recover from the troubles of the last decade, the autonomous northern region of Kurdistan, is a bastion of stability in an otherwise fractured country.
Now becoming deservedly recognised for its wealth of cultural and historic attractions, Kurdistan is quickly staking its claim as one of the most interesting places in the Middle East. Our Iraq tours uncover a region that is home to some of the oldest cities on earth. Impressive citadels and imposing monasteries are a testament to the various influences that have held sway here over the years.
Iraqi Kurdistan is ancient. Erbil was once a city of Sumer, one of the world's first civilisations. It lays claim to being the oldest continually inhabited city on earth (along with a handful of others that vie for the title). Alexander the Great fought here against the Persian king Darius, and the great warrior Saladin, scourge of the Crusaders, come from the region. For history buffs, this little known corner of the Middle East has much to offer.
It is also home to some visually stunning scenery with dramatic gorges, deep caves and lofty peaks that beg exploration. Its proud and resilient people are happy to welcome visitors to what could become the Middle East's next tourism hotspot.
Top highlights on Iraq holidays and tours
Explore the citadel of ancient Erbil
Visit cities and monuments dating back to millennia
Join Yezidi pilgrims one of Middle East's most ancient religions in Lalish
Wander through the remains of one of Saddam Hussein's palaces in Dohuk
Explore the chaotic bazaars and museum in the city of Suleimaniyah
Culture
While geographically tied, Kurdistan – the North of Iraq – is an entirely distinct, separately governed region. It is home to over five million Kurds, the country's largest ethnic group. 80% of the Kurds are Sunni Muslim, with the remainder of the population belonging to minorities, including Shia Muslims living near the Iranian border, Sufis, Christians and Yezidis.
The main language of Kurdistan is Kurdish, split into two different dialects. English is fairly widely spoken, although less so in the rural areas. Hospitality is a highly valued Kurdish characteristic, with tourists often invited to stay with families. Rural life in Kurdistan is traditional. Houses are made from mud-brick or stone, firewood is daily collected by the villagers and behaviour is governed by a strict code of ethics.
Winters in Kurdistan can be long and arduous. As a result, storytelling is a largely popular pastime and a rich, oral cultural has developed over the years, as has village theatre as a similar form of entertainment. Spring is a joyous time after the hardship that winter brings, and with it comes beautiful landscapes, sunshine and wildlife. Spring festivities are widespread and celebratory, with many rituals practiced to mark the end of the dark winter season.
Food is also a large part of Kurdish culture; sharing food together is a way for people from different cultures to cross boundaries and establish friendships. You can expect a rich and varied cuisine in Kurdistan, consisting of meat, often kebabs, freshly grown fruit and dairy products from the mountain-dwelling sheep and goats.
When to go on holiday to Iraq
As mentioned, temperatures in the winter are often extreme, as are those in the summer. As a result, the best time to visit Iraq is either in autumn or spring, when the weather is milder and much more inviting.
Start planning an Iraq tour
Check out our small group tour to Iraq: In the Footsteps of Saladin. While many of our trips are small group adventures with set departures, as a bespoke operator, we can design and create trips to suit any traveller, from solos to larger groups. If you would like to find out more about tailor-made Iraq holidays or our group tours, call us on 01473 328546 or email us via our contact page. We'd love to hear from you.
Show more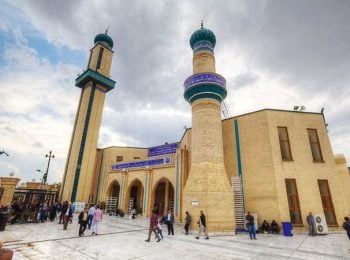 Iraq
Good for:
Historic Sites and Stunning Landscapes