Beyond the piercing turquoise waters of the Aegean and the Mediterranean, a far cry from gulet cruises and sunbathing, selfie-loving tourists, lies the untouched jewel of Eastern Turkey. Bordering Georgia, Armenia, Iran, Iraq and Syria, Eastern Turkey boasts an impressive and fascinating history, not to mention a turbulent past. Formerly 'Asia Minor', this extraordinary region is steeped in tradition, juxtaposed with diverse cultural influences from Asia and the Georgian Highlands.
Eastern Turkey offers travellers a colourful and fascinating historical legacy – step into a world that dates back millennia, visiting imposing citadels, biblical birthplaces and hidden lost cities. Cross the country's vast lakes to explore ancient churches tucked away on enchanted islands. Explore bazaars and artisan markets, hike amongst remote mountain settlements and meet proud villagers, keen to share their way of life.
The landscape itself is challenging – home to snowy peaks, crystal lakes and meandering rivers, in turn providing habitats to a host of flora and fauna – varied enough to enthral even the keenest of naturalists.
With cherished and well-preserved historical monuments, hidden valleys of wild tulips, a mouth-watering cuisine fused with Asian, Middle-Eastern and Mediterranean flavours, Eastern Turkey promises something for everyone.
Enhanced by the warmest welcome from hospitable and generous hosts, rightly proud of their country and heritage, Eastern Turkey offers an authentic and rewarding journey, even for the most seasoned traveller.
Top highlights on Turkey holidays and tours
The ghostly ruins of Ani
Taste excellent street food in the bazaars
Hike in the lovely Kackar Mountains
Discover ancient Biblical sites
The beehive houses of Harran
Culture
Turkish culture has experienced monumental changes in the last century and the country is now influenced by cultural heritage from both East and West. Previously, the Ottoman Empire forbade ethnic or religious communities to mix. When the empire fell in the early 20th century, all cultures were encouraged to mix, in a bid to create a singular identity. But in reality, this created a spectrum of identities, from the Muslim communities of Anatolia to the heavily Western-influenced, city-dwellers of Istanbul – resulting in Turkey becoming one of the most culturally diverse, liberal and welcoming countries in the world.
Many Turkish citizens, even away from the cities, have experienced life in other countries and are fully accustomed to foreign visitors. Although hospitality and a warm welcome is Turkey's hallmark, traditional customs still remain important. It is advisable to familiarise yourself with these, such as local dress codes (particularly around Mosques and religious sites) – it is best to leave the beachwear for the beach and dress conservatively and respectfully when exploring.
Most Turks are Sunni Muslim, with a small Shia minority. You'll find that Turkey is far less religiously conservative than many of its neighbours – the modern state of Turkey was based on a separate of religion and state, although in recent years conservative elements are making inroads into this
Although Turkish is the official language of Turkey, you will also hear Kurdish and Arabic spoken frequently.
When to go on holiday to Turkey
The best time to visit Eastern Turkey is between May and September, but the high summer tends to be extremely hot in the lowlands (less so in the mountains). In the winter, much of this region can experience significant snowfall, and it's best avoided during this time.
Start planning your trip to Turkey
Check out our small group tour to Turkey, A Taste of Eastern Turkey. Although many of our trips are small group adventures with set departures, as a bespoke operator, we can design and create trips to suit any traveller, from solos to larger group. If you would like to find out more about tailor-made holidays to Algeria or our group tours, call us on 01473 328546 or email us via our contact page. We'd love to hear from you.
Show more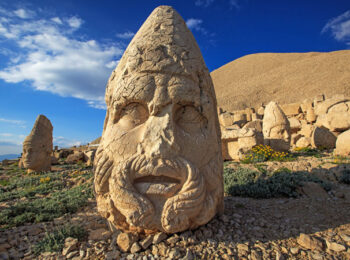 Turkey
Good for:
Historic Sites and Local Culture