Our Mongolia holidays and tours show you a land of mountains, desert and grasslands, where shamans still perform ancient rites and Kazakh nomads hunt with golden eagles. Mongolia is the land of Genghis Khan, of nomadic horsemen, of wide open spaces and endless horizons, and its very name is synonymous with 'remote'.
This breathtaking country offers unmatched opportunities to leave the beaten track far behind. You can forge your own path and experience some of the most incredible landscapes you're ever likely to see. From alpine lakes and extinct volcanoes to forbidding deserts and snow-capped peaks, Mongolia's diversity is astonishing. The country is a must for anyone with a passion for wilderness.
On our Mongolia holidays you'll experience the country's traditional hospitality as guests of a culture that has largely ignored the world beyond the steppe. You journey through the spectacular Altai Mountains where can may spot snow leopards in the hidden crags. Travelling in Mongolia has never been particularly easy. But its dramatic landscapes and unique cultures rarely fail to enchant, and many return time and time again.
Top highlights on Mongolia holidays and tours
Climb the sand dunes of the Gobi Desert and visit the 'flaming cliffs' of Bayanzag
Explore the remote lands of the Altai Mountains in the far west
Spend your nights camping in pristine wilderness with some of the clearest skies you'll ever see
Visit the vast Lake Khovsgol, an area of stunning scenic beauty rich in wildlife such as moose, wolf and ibex
Spend time with local eagle hunters, watching them as the practice their ancient craft – and maybe having a go yourself!
Mongolia is also one of the last places on earth where one can meet true nomads. The plains and grasslands are dotted with the yurts of herders, who move their livestock between pastures throughout the year, following the rhythm of the seasons in a lifestyle that hasn't altered much since the days of Genghis Khan – albeit with the ubiquitous mobile phone these days!
Culture
Despite initial appearances, Mongolia is home to a number of different cultures, from Mongol to Buryat to Kazakh and from Tuvan to Uighur, each with their own languages and dialects. The religions practiced in this region also differ, from Buddhism to Islam among the Kazakhs. However, many of the different ethnic groups that you will meet follow religions that are largely shamanistic in essence. Although much of it was eroded during the Soviet years, as with many Siberian and Mongolian peoples there is now a revival of traditional customs and beliefs.
Mongolia has a strong tradition of nomadism, which has survived the 20th century and looks set to continue, although of course the modern world has started to encroach. Outside of the towns and cities the ger – a circular felt tent – is the main dwelling, which can be taken down and reassembled in a different location to follow grazing needs of livestock. The Mongolian people are famed for their hospitality and you'll no doubt be greeted with an invitation to enter and share food and tea, or perhaps airag (fermented mare's milk) – an acquired taste!
When to go on holiday to Mongolia
Traditionally the best time to visit Mongolia is from June to August – outside of this time it can be extremely cold. However western Mongolia does not experience the biting cold of more central regions. You can expect it to be below freezing at night but there is often a 20 degree difference between night and day temperatures. The winter months are a fascinating time to visit western Mongolia as this is when the eagle hunting season starts, offering superb opportunities to see this unique practice.
Start planning your Mongolia tour
Check out our small group tours to Mongolia: Mongolia Highlights, Mongolia Eagle Adventure and Altai Explorer. While many of our trips are small group adventures with set departures, as a bespoke operator, we can design and create trips to suit any traveller, from solos to larger groups. If you would like to find out more about tailor-made Mongolia holidays or our group tours, call us on 01473 328546 or email us via our contact page. We'd love to hear from you.
Show more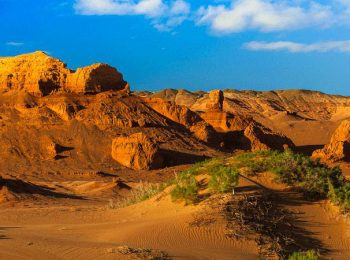 Mongolia
Good for:
Historic Sites, Local Culture and Stunning Landscapes