Our Djibouti holidays and tours take you to one of the smallest and least known countries in Africa. Djibouti sits on the edge of the Red Sea opposite Arabia, a cultural melting pot of African, Arabic and Indian Ocean influences.
With a bleak but strikingly beautiful landscape, this tiny nation isn't the obvious choice for a holiday destination, but for those who like their travel on the extreme side, it may well be the most exciting place in the Horn of Africa.
We visit the jaw-droppingly impressive Lac Abbe, a geological wonder with limestone chimneys belching sulphurous gases, as well as Lac Assal, the lowest point in Africa. In complete contrast, our Djibouti holidays and tours can also take you to the forests and waterfalls of Foret du Day and Bankouale, home to rare species of plants and animals.
For a more urban experience, Djibouti's towns are a riot of colour, with traders coming from across the seas to rub shoulders with Afar tribesmen and French Foreign Legionnaires. Its oceans teem with marine life, with rich coral reefs, sharks and manta rays, and in season whale sharks – offering excellent opportunities for diving and snorkelling.
Top highlights on Djibouti holidays and tours
Camp at Lac Abbe, to watch the sun set and rise over one of Africa's most extraordinary landscapes
Snorkel with whale sharks and other marine life in the waters of the Red Sea
Meet Afar herders in the desert wastes, and marvel at how they survive in such a desolate environment
Visit the lowest point in Africa at Lac Assal
Relax on the white sand beaches of Tadjourah
The country has a distinctly otherworldly character – so much so that it was used as the backdrop for the science fiction classic, 'Planet of the Apes'. The scenery here is amongst the most dramatic in Africa, and a must for desert lovers.
Djibouti is one of Africa's newer countries, and gained independence from France in 1977. It's still well off the tourist trail and receives a fraction of the visitors that Ethiopia receives. Djibouti is too often eclipsed by its far larger neighbour, but what it lacks in size it more than makes up for in spectacle.
Culture
In Djibouti most people are Muslim. The two key ethnic groups are Somalis – divided into the different clans of Issa and Issaq – and Afar. Somali is the predominant language, and other languages include Afar, French and Arabic.
Djibouti, as well as the rest of the region, has a strong tradition of nomadism, although these days most people live in urban areas. It also carries strong influences from Arabia, across the water, and the Ottomans have left their mark in places, particularly in the whitewashed buildings of Tadjourah.
When to go on holiday to Djibouti
The best time to visit Djibouti is during our winter months – it is fiercely hot at other times of the year with temperatures easily reaching into the forties.
Start planning your Djibouti trip
Check out our small group tours to the Djibouti: The Horn of Africa – Djibouti and Somaliland, Djibouti and the Danakil Depression and Djibouti, the Danakil Depression and Somaliland. Although many of our trips are small group adventures with set departures, as a bespoke operator, we can design and create trips to suit any traveller, from solos to larger group. If you would like to find out more about tailor-made holidays to Djibouti or our group tours, call us on 01473 328546 or email us via our contact page. We'd love to hear from you.
Show more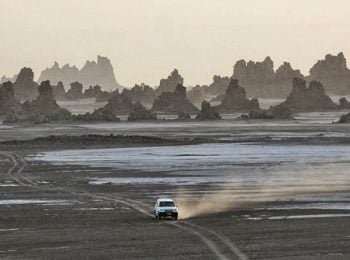 Djibouti
Good for:
Stunning Landscapes