Sitting at the southeast edge of the Arabian Peninsula, tours to Oman are characterised by the country's peaceful, friendly people, stability and safe environment. It's in stark contrast to many of its Middle Eastern counterparts.
The landscape is hugely diverse and home to the largest sand desert in the world. You'll also find lush oases, majestic mountains in the north and south and unspoilt coastal plains, providing much scope for adventure.
Our Oman tours take you to a destination steeped in heritage, exploring isolated mountain villages, which remain little changed after hundreds of years. We travel through the remote deserts of the Empty Quarter and the Wahiba Sands. Here we camp under the stars and learn about Bedouin traditions. Vast dunes tumble into the Indian Ocean, turtles nest on its shores, and traditional dhows evoke the spirit of a bygone age.
Elsewhere ancient forts dot the landscape, and ruined mud brick villages slowly crumble back to the earth from which they were made. In the towns the lively souks are a hive of activity, bustling with locals, and with the smell of exotic spices hanging in the air.
As is so often the case, it's the people who leave as much an impression as anything you will see. Arabian hospitality is legendary and a guest is a 'gift from God', as they say here. It's hard not fall in love with this ever enchanting country.
Top highlights on Oman tours and holidays
Spot dolphins in the Arabian sea
Hike through the 'Grand Canyon of Oman', Jebel Shams
Explore the magnificent Wahiba Sands and its gigantic dunes
Camp on the shores of the Indian Ocean
Explore the historic town of Nizwa and its 17th century fort
Go off-roading in the 'empty quarter'
Culture
Oman is a staunchly Muslim country. But in comparison to neighbouring countries such as Saudi Arabia is a little more relaxed, and far more tolerant. If you are visiting mosques, then for women it's a good idea to bring a headscarf. Both men and women should cover upper arms and legs as a gesture of respect at religious sites. You will find that adhering more closely to local mores, and not showing too much flesh, goes down better with local people.
Arabic is the official language here, but you will find that many people, especially in the cities, speak English.
When to go on holiday to Oman
The hottest months are June to September. The summer monsoon just touches the southern coast of Dhofar during these months, bringing regular light rain to Salalah and reducing the average daytime highs to 30°C. The most pleasant months to tour Oman are from November through March when daytime temperatures fall into the lower 30s and below. October is still a hot month where temperatures can still reach the high 30's or more.
If you are visiting the mountainous areas of Jebel Akhdar and Jebel Shams these are at a higher altitude. So particularly from November to February it can get quite cool at night in these areas. The same is true in the Wahiba Sands. Some showers can occur in the winter months but they are not predictable. If you are planning on visiting Salalah, you might want to schedule trip in September / October as this is after the monsoon season and the region is comparatively green and rather attractive.
Start planning your tour of Oman
Check out our small group tour of Oman: Arabian Desert Explorer. While many of our trips are small group adventures with set departures, as a bespoke operator, we can design and create trips to suit any traveller, from solos to larger group. If you would like to find out more about tailor-made holidays to Oman or our group tours, call us on 01473 328546 or email us via our contact page. We'd love to hear from you.
Show more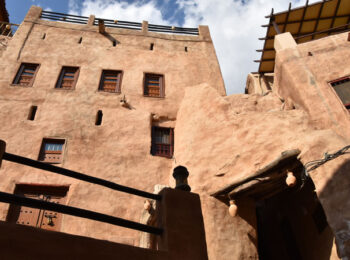 Oman
Good for:
Local Culture, Stunning Landscapes and Historic Sites