Lebanon is compact in size yet has a great deal to offer. Its extraordinary topography ranges from rocky coastal landscapes and snow-capped mountains to fertile plains, lush valleys, rivers and waterfalls. The county's national parks are a haven for wildlife and great effort is being made to conserve the natural environment. Our Lebanon holidays take you on a journey to this crossroad of the Middle East. Here you'll have countless opportunities to immerse yourself in some truly unspoilt beauty.
Populated for over 7,000 years, Lebanon has an astonishing and well-preserved history. This can be seen in the architectural and cultural achievements of its past rulers. These include the Ottomans, Phoenicians, Romans and Crusaders to name just a few. Delve into archaeological finds dating back to the 2nd century and wander the charming streets of Lebanon's main cities, discovering their many ancient hidden treasures.
Our Lebanon holidays and tours encompass both its natural and manmade highlights, many of which are unrivalled anywhere else. These include a strong contender for the title of the world's 'New 7 Wonders of Nature'.
Due to its recent history Lebanon receives very few tourists. However, now that peace has returned, its proud and hospitable people are keen to welcome visitors and share the delights of this often overlooked, but remarkable country.
Top highlights on Lebanon holidays and tours
Explore the ruins of the ancient Phoenician city of Tyre
Visit the Roman temple of Baalbek
The Mamluk era architecture of Tripoli
Hike through the spectacular Qadisha Valley
Discover the UNESCO World Heritage listed town of Byblos
Culture
Arabic is Lebanon's official national language, but you will find French and English is also spoken in some areas. Many Lebanese are bilingual or even trilingual, and in places like Beirut it is possible to get by with virtually no Arabic knowledge at all.
Ethnically, Arabs make up 95% of the population. However, Lebanon has the most religiously diverse population in the Middle East, with 18 officially recognised sects in the country, including Muslims, Christians and Catholics. Lebanon has also homed over a million Syrian refugees in recent years – one in five of the country's overall population.
Taking into consideration this country's turbulent past, the friendliness and openness of its people may come as a surprise and it is not uncommon to witness greetings with a kiss on the cheek and a hug. Family and a sense of community are at the heart of Lebanese life, where relatives live close by and children are adored.
Lebanon is a place of cultural contrast and while alcohol is served freely in Beirut, it can scarcely be found in some of its southern cities. Akin to most Arab countries, Lebanon remains a highly male dominated society and women are somewhat constrained into confined roles, yet many have managed to carve out successful careers within industries such as media and science.
When to go on holiday to Lebanon
Lebanon has a diverse climate, and is the only Arab country to experience all four seasons. However, it has mild winters and pleasant spring and summers – although the summer months humid – making the country virtually a year-round travel destination.
The ideal time to visit is during the months of April and May, between the heat of summer and winter rains. This time of year reveals Lebanon in all its glory as the country is coloured with over 3,000 species of stunning flora and it is still possible to see picturesque snow-capped mountains in the background.
Start planning your Lebanon tour
Check out our small group tour to Lebanon: Beirut, Bekaa Valley and Beyond. Although many of our trips are small group adventures with set departures, as a bespoke operator, we can design and create trips to suit any traveller, from solos to larger group. If you would like to find out more about tailor-made Lebanon holidays or our group tours, call us on 01473 328546 or email us via our contact page. We'd love to hear from you.
Show more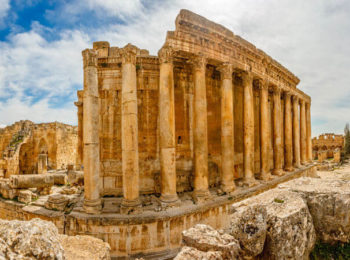 Lebanon
Good for:
Local Culture, Stunning Landscapes and Historic Sites