India is as diverse as it is large, from the tropical shores of Kerala to the mountains of the Himalayas, a huge and colourful land that has long drawn travellers seeking the unfamiliar and exotic. Our India holidays and tours focus on the parts are a little further off the well marked path – the tourist trails of Rajasthan are not for us, as marvelous though they may be.
Venture into India's remotest corners to discover unique and fascinating cultures that live well outside the mainstream, hiding in the peaks of Ladakh and Kashmir, a crossroads of Hindu, Muslim and Buddhist cultures and more akin to Lhasa than Delhi.
It doesn't 'feel like' India here – this is the Himalayas, the greatest mountain range on earth, and the cultures here are entirely different. Independent kingdoms and principalities until the arrival of the British Raj and the intrepid explorers of the nineteenth century,
Travel on remote mountain highways, visit isolated settlements and gaze in amazement at the subcontinent's most incredible scenery. Learn about the ancient customs that still hold sway in India's most enigmatic regions, and explore the villages of Kashmir. You'll never think of India in the same way again after this entirely unique experience.
Top highlights on our India holidays and tours
Visit the stunning monasteries of Ladakh
Watch the monks at morning prayer in Diskit
Incredible scenic drives through the Himalayas
Stay in houseboats in Srinagar
Explore the desert region of the Nubra Valley
Cross the Khardung La – the highest motorable pass in the world
Culture
India has a diverse religious and cultural history. It is home to a wide variety of cultures, ethnic groups and languages, distributed across vast areas and reflecting its impressive magnitude. Ladakh is India's most remote and sparsely populated region, largely undiscovered by Western tourists. The population is predominantly Buddhist and it proves closer in culture to Tibet than to the lowlands of India. A number of Buddhist monasteries are scattered throughout the region. These are decorated with multicoloured prayer flags and they give a beautiful and fascinating insight into this unique culture.
As you head down towards Srinagar, the vibrant capital of Kashmir, the population here is a combination of Muslim and Hindu. As a result, you will find both Muslim and Hindu monuments throughout the city, encompassing Ladakh's religious diversity and rich history.
While there are a number of different dialects spoken throughout this region, you will find that English is widely spoken. Similarly, while traditional Tibetan food will be readily available, such as momos – stuffed, crescent-shaped pasta shells – so will tourist-orientated Chinese and European dishes.
When to go on holiday to India
For most of India it's recommended to visit from October to April, but Ladakh and Kashmir follow a different pattern. Much of Ladakh is inaccessible during the winter months due to heavy snow, which lasts well into spring. So the best time to visit this region is from June to September, especially if looking to trek through the Himalayas. Due to the high altitude, temperatures do not reach the extreme highs of lowland India, even in the summer.
A further reason to visit Ladakh during the summer months are the vibrant and fascinating festivals held annually, including the Festival of Ladakh, Hemis and Tikse. These are held predominantly for tourists, but are no less an authentic spectacle of traditional Ladakhi dance, ritual displays and many other vibrant acts.
Start planning your India tour
Check out our small group tour to India: Ladakh and Kashmir. While many of our trips are small group adventures with set departures, as a bespoke operator, we can design and create trips to suit any traveller, from solos to larger group. If you would like to find out more about tailor-made India holidays or our group tours, call us on 01473 328546 or email us via our contact page. We'd love to hear from you.
Show more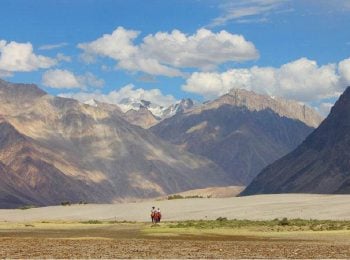 India
Good for:
Local Culture, Stunning Landscapes and Historic Sites