Our Pakistan holidays and tours aim to show you the most exciting parts of this rather enchanting land. It is a country that is much maligned in the media, but overflowing with culture, history, and scenic beauty.
In the north of the country lie the mountains of the Himalaya, Hindu Kush and Karakoram ranges. Here peaks tower above the clouds and isolated villages dot jaw-dropping landscapes. In the south, searing deserts hold ancient fortresses and the remains of some of the world's first civilisations.
Pakistan offers an intoxicating blend of traditional cultures and unmatched scenery, but currently receives a fraction of the visitors that it deserves. On our Pakistan holidays you'll meet the 'pagan' Kalash people in their mountain fastness, and explore atmospheric settlements that have changed little since the first British explorers made their way here during the 'Great Game'.
Or you can explore the exquisite Moghul architecture of Lahore, surely one of the most impressive cities of the subcontinent. Pakistan is a deeply spiritual country, imbued with deep Islamic traditions, given a fascinating twist by the mysticism of Sufi beliefs. Wherever you travel in this vast nation, chances are that you'll stumble on some sort of celebration and experience Pakistan in all its joyful exuberance. Enjoy mingling with local people and gaining an insight into their customs.
Top highlights on Pakistan holidays and tours
Spend time with the pagan Kalash people during their colourful annual festivals
Explore the Hunza Valley with its magnificent snow-covered peaks
Visit Mohenjo Daro, one of the most important sites of the ancient Indus Valley civilization
Explore Multan, the 'city of saints', noted for its remarkable shrines and mosques.
Marvel at the gorgeous Moghul monuments of Lahore
Witness colourful festivals, visit ancient citadels and travel past snowcapped peaks and gushing rivers. There is much more to this incredible country than meets the eye. It retains a true sense of adventure that leaves an indelible impression on those who make the journey here.
Culture
Pakistan is home to a wide variety of cultures, ethnic groups and languages. In the northern regions live an intriguing mix of people, very different to the inhabitants of the lowlands of Pakistan with distinct customs, traditions and language. Perhaps the most noticeable are the Kalash. They are a pagan group living in the area around Chitral who resisted conversion to Islam and follow ancient ways. In other parts of the region most people are Ismailis or Shia Muslims.
That aside, Pakistan is mainly Sunni, and generally fairly devout. But an important part of Pakistan's spiritual life is the veneration of Sufis – holy men who claim a direct connection with god, and attract vast crowds of followers. Shrines across the country hold celebrations to commemorate saints, often with a distinctly carnival like atmosphere. Visiting one of these is an extremely 'lively' experience!
When to go on holiday to Pakistan
This is a country of two halves when it comes to visiting.
The best time to visit north Pakistan is between May and October. Much of northern Pakistan is inaccessible during the winter months due to heavy snow, which lasts well into spring. The festival of the Kalash people take place in May and August, so it's well worth trying to coincide your visit with these.
For southern Pakistan the best time to visit is between October and April – it is very hot at other times, as well as experiencing the monsoon.
Start planning your Pakistan tour
Check out our small group tours to Pakistan: Northern Pakistan Explorer and Indus Valley Explorer. While many of our trips are small group adventures with set departures, as a bespoke operator, we can design and create trips to suit any traveller, from solos to larger groups. If you would like to find out more about tailor-made Pakistan holidays or our group tours, call us on 01473 328546 or email us via our contact page. We'd love to hear from you.
Show more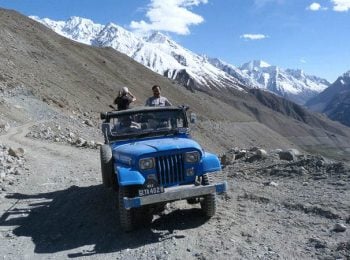 Pakistan
Good for:
Historic Sites, Local Culture and Stunning Landscapes