Our Equatorial Guinea holidays and tours take you to one of the most unusual and unlikely corners of Africa. A tiny nation split between the island of Bioko and the mainland, Equatorial Guinea is best known for oil and dodgy coup attempts, if it's known at all.
The only country in Africa where Spain established a significant presence, it is fast modernising. However the remains of Latin colonial rule still exist in hidden corners. Scrape the surface of contemporary culture and you can also find ancient traditional beliefs.
For many years the country was effectively closed to tourism. As a result the only people able to visit were connected with the oil and other industries. In recent years Equatorial Guinea has started to open itself up to tourism, and begun to shake off its tarnished image. While the foreign presence on the island of Bioko is still largely dominated by ex-pats, a trickle of curious travellers is starting to make its way in.
Like most of Central Africa, the country doesn't have an established trail to follow. But there's a sense of excitement in being among the first to start exploring it.
Top highlights on Equatorial Guinea holidays and tours
Explore the vibrant capital of Malabo, with its markets, hints of Spanish history, and lively nightlife
Look for turtles coming to lay their eggs on the beaches
Learn about the traditions of the local Bubi people
Hike through the forest in search of wildlife
Visit the spectacular Iladyi waterfalls
Of course, the country was well explored during the 'Scramble for Africa', with Mary Kingsley making her 'Travels through West Africa' here. The thick forests haven't changed much since then and are rich in wildlife. A wide range of primates from gorillas to chimpanzees live here, as well as forest elephant and buffalo. Birdlife is abundant, as you'd expect, and turtles lay eggs on black sand volcanic beaches.
Our Equatorial Guinea holidays visit the wildlife-rich forests, stopping at small villages and colourful markets along the way. This is where the old traditions are strongest. Tucked away, lie old Spanish colonial churches, and despite the glitzy wealth and modern buildings of Malabo, you can still see a more traditional Africa just below the surface. It is this juxtaposition that in many ways makes this tiny nation so fascinating.
Equatorial Guinea is short on traditional sights, but its unique character makes it a must for anyone interested in a comprehensive understanding of the African continent.
Culture
Equatorial Guinea was colonised by Spain and maintains this as an official language, as well as French and local languages such as Fang.
Almost no one will speak English, although of course, your guide will. You will find it easier to communicate with people if you know at least a smattering of French.
Roman Catholicism is the dominant religion and other Christian denominations are also present. But this being Africa indigenous religions are still practised by good numbers of the population.
When to go on holiday to Equatorial Guinea
Situated close to the equator, you can expect a hot, humid and tropical climate throughout the year. Generally speaking though, the best time to visit is between December to February, when the region is at its driest.
Start planning your trip to Equatorial Guinea
Check out our small group tour to Equatorial Guinea: Island Africa – Equatorial Guinea. Although many of our trips are small group adventures with set departures, as a bespoke operator, we can design and create trips to suit any traveller, from solos to larger group. If you would like to find out more about tailor-made holidays to Guinea-Bissau or our group tours, call us on 01473 328546 or email us via our contact page. We'd love to hear from you.
Show more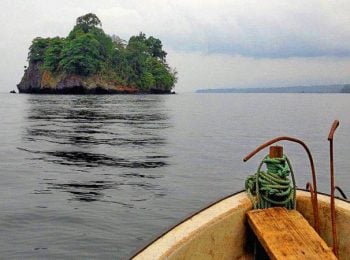 Equatorial Guinea
Good for:
Tribal Cultures and Wildlife