It's been the backdrop to some of the world's most ancient civilisations and borne witness to the rise of the most popular religions on the planet, Islam and Christianity: no wonder, then, that the Middle East has so much to offer the curious, adventurous traveller.
With awe-inspiring landscapes, a rich cultural heritage, delicious (and largely healthy) cuisine, and welcoming people, you might be forgiven for thinking the Middle East is more homogenous than it is. Read on, though and you'll discover that the countries of this fascinating region are as individual as they are diverse; that each has its own character, appeal and attractions.
A trip to Dubai or Qatar to enjoy the pools, nightlife, and shopping these trips are not. Instead, these are immersive, authentic, adventurous Middle East tours that will take you from the coast of the Mediterranean, across deserts, mountains, canyons, oases, lakes, rivers, and plains. Come with us to see how Europe and Christianity give way to Arabia and more Islamic influences and to experience places and people you'll never forget.
From the most popular destinations (find out why we included Socotra and Saudi Arabia in our Top Places to Travel in 2023 forecast) to perennial favourites, find out more about our best Middle East tours.
Oman – Middle East tours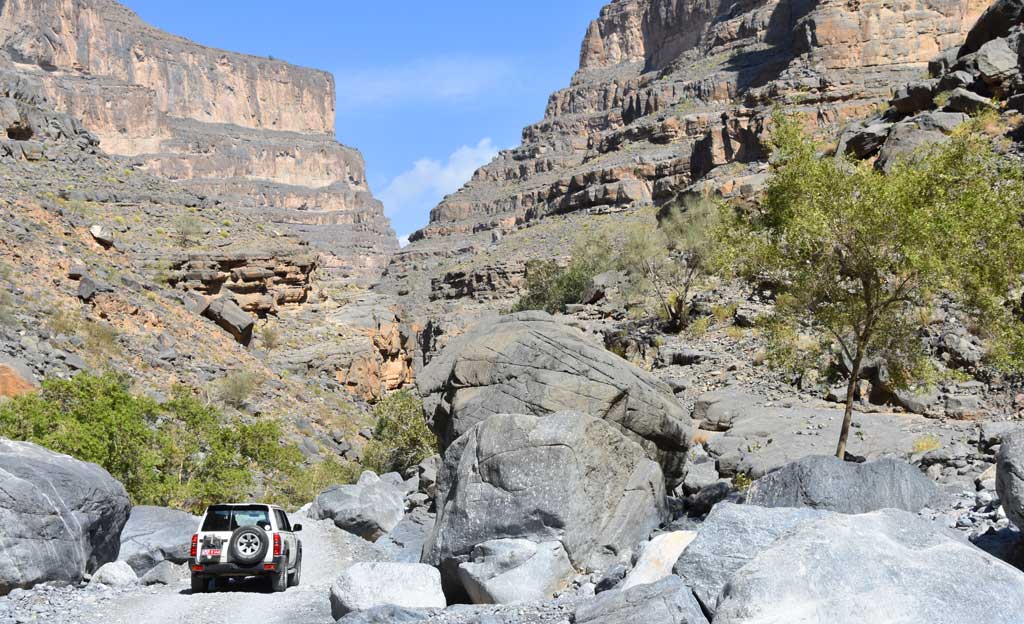 Where: Oman
Good for: Desert landscapes from dunes to vast canyons; modern infrastructure, welcoming people, and imposing historic forts.
It's home to the largest sand desert in the world, as well as a Grand Canyon (Jebel Shams) only second to that found in the United States, but there's far more than just amazing desert scenery attracting increasing numbers of travellers in recent years. One of the most stable countries for Middle East tours, Oman's oil wealth has not been ploughed into the elite's pockets but has gone on to benefit the entire population, with fantastic roads, luxury, world-class hotels and a great standard of living. No wonder its people are so happy and welcoming! Our Oman tours take you to explore the best of it, from the remote deserts of the Empty Quarter and the Wahiba Sands to ancient forts, exotic souqs, historic villages, lush oases and coastal plains. An adventure, yes, but an accessible, comfortable, safe and fascinating one.
(For visual inspiration, check out Native Eye founder, Jim O'Brien's Oman Photo Blog of his recent visit there).
Highlights: Spot dolphins in the Arabian sea; hike through Jebel Shams; overnight under the stars; explore the historic town of Nizwa; go off-roading in the Empty Quarter; be amazed by the magnificent Wahiba Sands.
How? Oman – Arabian Desert Explorer
Saudi Arabia – Middle East tours
Where: Saudi Arabia

Good for: Discovery of the unknown, where tourism is in its infancy, to explore local culture, stunning desert scenery and ancient historic sites.
Historically a closed country as far as western tourism is concerned, it's only recently that Saudi Arabia opened its doors to tourists to become one of our most intriguing Middle East tours. It's this novelty, as well as the utter splendour of the country, which for the curious traveller is so compelling. Within its borders, you'll witness a land of extreme contrasts. From the cosmopolitan city of Riyadh where oil wealth is fuelling impressive building projects and ultra-modern infrastructure, to the remote desert stronghold of the Nabateans at Madain Saleh, come and explore this mysterious and misunderstood country, knowing that you'll be welcomed with open arms with traditional Arabic hospitality.
(See Best places to visit in Saudi Arabia for more information and inspiration).
Highlights: Visit the old Ottoman houses of Jeddah made of coral and wood; see ancient rock art; travel to the Asir mountains for breath-taking scenery; explore the ancient site of Madain Saleh; explore the capital Riyadh, the largest city in Saudi; discover ancient Arabian forts and traditional mud brick buildings.
How? Saudia Arabia – The Forbidden Kingdom
Socotra, Yemen – Middle East tours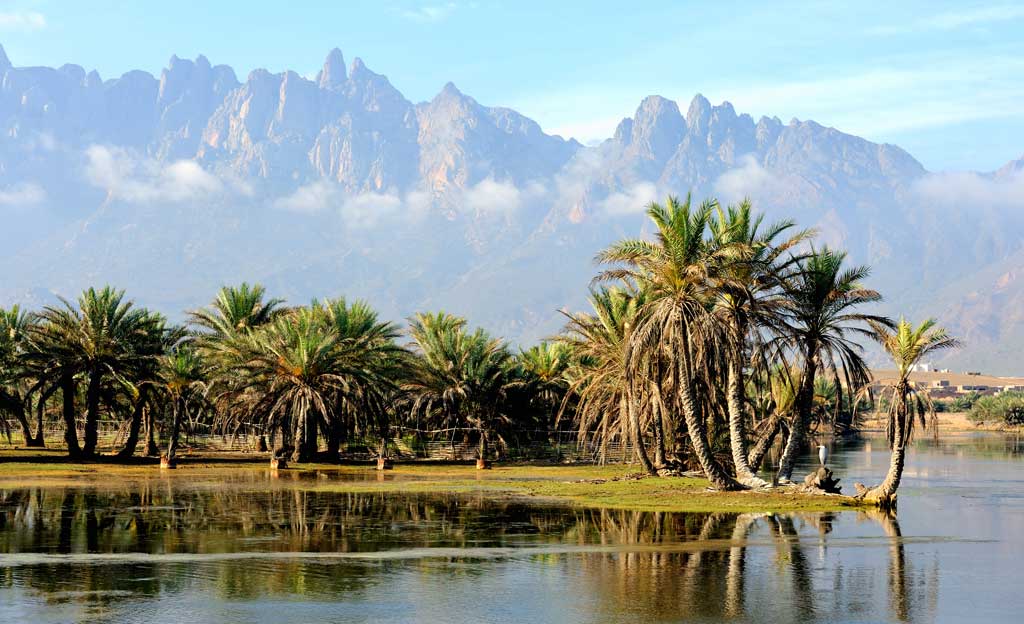 Where: Socotra, Yemen
Good for: Nature, 'the Galapagos of the Middle East'; stunning landscapes and rest and relaxation.
Located over 200 miles from Yemen's southeast coast, the isolated island of Socotra is known for its unique and endemic plant and animal life hence its sometimes moniker of 'the Galapagos of the Middle East'. A UNESCO Heritage Listed site since 2008, its most iconic example is that of the weird and wonderful dragon blood trees which pepper the island. Whilst flights via Abu Dhabi have made the island more accessible, it's only really post-pandemic that this island has become so popular, our 8-day trip there selling out. As well as its remoteness, travellers are drawn by its staggering beauty, flora and fauna and wildlife including rays, turtles and dolphins, and to explore its lush canyons, inland plateaux and deep caves. Our most popular Middle East tour!
Highlights: Explore the rugged canyons and mountains; swim in turquoise blue waters; look for endemic plants and wildlife; stay in remote villages to learn about traditional lifestyles; explore Hadibo, the capital and largest town on the northern coast.
How? Socotra Discoverer
Iraq – Middle East tours
Where: Iraq
Good for: Ancient history, stability, welcoming people and stunning landscapes.
Whilst the south of Iraq continues to recover from the after-effects of war, the autonomous northern region of Kurdistan isn't just a bastion of stability but we think one of the most interesting places in the Middle East. Boasting a wealth of cultural and historic attractions, and with a history dating back to one of the world's first civilisations, Sumer, the city of Erbil is claimed to be one of the oldest continually inhabited cities on earth. It's borne witness to Alexander the Great fighting Darius, the Persian King and Saladin, the scourge of the Crusaders, and far, far more. Come here to explore ancient cities and Biblical sites; learn about the county's more modern and sometimes shocking history, such as the 1988 massacre at Halabja; discover stunning scenery such as dramatic gorges and mountainous peaks and experience the sights and sounds of bustling bazaars.
Highlights: Explore the citadel of ancient Erbil, some 7,000 years old; meet Yezidi pilgrims at Lalish; be wowed by stunning mountain scenery'; visit the ancient battle site of Gaugamela; visit the remains of Saddam Hussein's palaces at Dohuk; be inspired by Kurdish warmth and hospitality.
How? In the Footsteps of Saladin
Lebanon – Middle East tours
Where? Lebanon
Good for: local culture, stunning landscapes and historic sites. The most cosmopolitan and 'European' country in the region.
Located on the eastern shores of the Mediterranean with Syria to the north and east and Israel to the south, it's not surprising to hear that this small country is a cultural melting pot where Muslims, Christians and Palestinian refugees co-exist. To say that relations between these various groups are harmonious would be stretching it – tensions certainly exist – but for the adventurous traveller it is these cultural differences within its small borders that make it so fascinating for a Middle East tour.
The landscape, too, is as varied as its population. Travel here and you'll experience snow-capped mountains, fertile plains, rocky coastal landscapes as well as lush valleys, rivers and waterfalls, whilst the creation of National Parks is helping conserve the landscapes and the wildlife within them. Given that Lebanon has been populated for over 7,000 years, you'll also find a wealth of cultural and historic architecture and sites, and influences from the Ottomans, Phoenicians, Romans and Crusaders. Despite this heritage, you may be surprised just how modern the cities here are, with Beirut in particular host to a thriving club and nightlife scene.
Highlights: Explore the ruins of the ancient Phoenician city of Tyre and the world's largest Roman hippodrome; visit the towering Roman temple of Baalbek; witness the Mamluk era architecture of Tripoli; hike through the spectacular Qadisha Valley; discover the UNESCO World Heritage-listed town of Byblos; explore the Bekaa Valley's largest wetland, home to an astonishing number of birds and animal species.
How? Beirut, the Bekaa Valley and Beyond
More about our tours in the region
Interested in finding out more about any of our tours in the Middle East? Call us on +44 (0) 1473 328 546 or e-mail us using our contact form. We'd love to hear from you!
Other blogs posts you may like
Jim O'Brien's photos of Oman
Seven reasons why you should visit Algeria
Best places to visit in Saudi Arabia
Top places to visit in 2023
20 Best World Heritage Sites
Native Eye's top Small Group Tours