Our Sudan holidays and tours take you on a journey through the scenic Nile Valley and into the desert, characterised by its incredible volcanic landscapes and rocky outcrops.
We camp under the stars and follow in the footsteps of the Kushites. Their ancient kingdom dominated northeast Africa for over a thousand years. The civilisation prospered at Meroe with its trading routes along the Nile. Despite its close links with ancient Egypt, Kush was able to develop a unique culture of its own.
We explore the remarkable 'forgotten' royal pyramids of Meroe. Long overshadowed by their Egyptian cousins, they exceed them by far in number and are constructed in unique Nubian style. We come across mysterious hieroglyphic inscriptions and beautiful temples dedicated to the gods. And we'll see mud-brick monuments, which have withstood centuries in the desert. We encounter Bisharin desert nomads, gaining an appreciation for their unique way of life. And then spend time in local Nubian villages for an insight into local traditions. (Check out our inspiring Sudan photo blog.)
Until South Sudan was granted independence and the country was divided into two, Sudan was Africa's largest country. It was also the most geographically diverse. Aside from its most dominant feature – the River Nile – Sudan's landscapes are varied. They range from flat plains punctuated with mountain ranges, to the Red Sea borders of the north east, and of course its striking deserts. Sudan is predominantly Arab Muslim.
Top highlights on Sudan holidays and tours
Visit the ancient city of Meroe and its pyramids
Camp under the stars in the desert
See the ceremony of whirling dervishes in Khartoum
Discover Meroitic temples in Naqa
Explore the holy mountain of Jebel Barkal and its ruins
Sudan isn't an obvious choice of holiday destination. Due to its recent war-torn history, it hasn't received the recognition that it deserves and Sudan holidays and tours are for the adventurous. Those who are willing to look beyond the exterior will be rewarded by the country's rich and surprising heritage and archaeological treasures. Its kind and sociable people are a highlight of any Sudan holiday. On top of this, you won't find hordes of tourists here, which makes it an especially exciting country to travel in.
Culture
Sudan is home to many different ethnic groups and each has its own distinctive ethnicity and sometimes, language. There is no single Sudanese culture, instead, an eclectic mix with influences of Egyptian and British colonial rule also prominent. You will be able to observe these cultural differences in cuisine, clothing and music.
Sudan has a great tradition of music, from the early Sudanese resistance poets who fled from imprisonment, to the traditional ceremonies of cultural groups. Western musical influences can also be seen and heard such as military march music and bagpipes. Indigenous sounds, languages, western-style hip- hop and folk music are all in the music melting pot.
Sudanese clothing also differs from one cultural group to another and also from region to region but some similarities remain. Most Sudanese wear a traditional 'jalabiya', or a 'thawb', for formal occasions.
Seventy percent of the population in Sudan are Sunni Muslim, 25 percent follow indigenous beliefs and 5 percent are Christian. The indigenous religion is animism, in which spirits are ascribed to natural objects such as rocks, rivers and trees. In the south, cattle-herding tribes place spiritual value on cows and they are sometimes sacrificed in religious rituals.
When to go on holiday to Sudan
The best time to visit Sudan is when it begins to cool down a little. The lowest temperatures are in January, still averaging at 30 degrees Celsius, but temperatures can halve at night during December and February. In the desert itself, temperatures can dip a lot and there can be cold winds. Rain falls between May-September and the Nile can start to fill its floodplains at this time and transport can become difficult.
Start planning your Sudan tour
Check out our small group tours to Sudan: The Nile Valley and Western Desert and Kingdom of the Black Pharaohs. Many of our trips are small group adventures with set departures. However, as a bespoke operator, we can design and create trips to suit any traveller, from solos to larger groups. If you would like to find out more about tailor-made holidays to Sudan or our group tours, call us on 01473 328546 or email us via our contact page. We'd love to hear from you.
Show more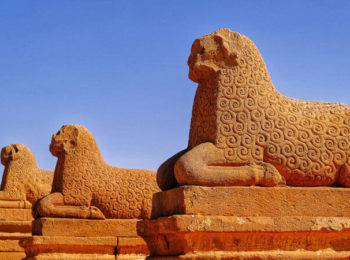 Sudan
Good for:
Local Culture, Stunning Landscapes and Historic Sites