Our Poland holidays and tours show you a country that is packed to the rafters with history, charming medieval cities and gentle rural traditions. Together with some of Europe's most enigmatic wildlife, and delightful scenery, it's surprising that Poland doesn't feature on more people's travel plans.
Hidden behind the Iron Curtain until the collapse of the Soviet Union, Poland is still perhaps subject to some unfair and outdated stereotypes about Communist Eastern Europe. Those who take the trouble to discover for themselves find a country that all too often challenges their perceptions.
Cities like Krakow, Wroclaw and Gdansk are home to grandiose historic centres where colourful old buildings flank charming cobbled squares. Walking along the narrow alleyways is to step back in time, with royal palaces and churches aplenty to explore. Outside of the cities, Poland is a country of typical rural villages where old customs are still important, living side by side with the modern world.
Bison, wolves and lynx roam thick primeval forests, and there are many opportunities to enjoy Poland's ample natural attractions, from its vast lakes to its imposing peaks.
On our Poland holidays, experience one of Europe's most complex and fascinating countries. Poland is a land of surprises that turns your expectations upside down.
Top highlights on Poland holidays and tours
See some of Europe's most impressive medieval architecture
Look for iconic wildlife at Bielowieza
Explore the colourful villages of Podlasie
Wander the historic quarters of Krakow and Wroclaw
Visit the 'Wolf's Lair' – Hitler's wartime headquarters
Culture
Poland's character has changed in many ways since the collapse of communism, but it still retains a sense of old world charm – particularly in more rural areas – that many European countries have largely lost. A pivotal region throughout European history, Poland's position between East and West has seen numerous cultures leave their mark on the country, and today it is an overwhelmingly Catholic country – indeed, its religion was an important factor in maintaining an identity when it was under the Soviet yoke. This continue to play a large role in Polish society today, with almost 75% of the population regularly attending church.
Once home to a large Jewish population, the horrors of the Second World War mean that just a small number remain, although their legacy can easily be seen in the Jewish quarters of cities such as Krakow and Warsaw. Other minorities that live here include Lithuanians, Germans and Ukrainians, as well as small populations of Muslim Tatars, who tend to live in isolated villages in the east of the country.
Polish food tends to be hearty, wholesome and home-grown, and it won't surprise some to learn that potatoes feature quite heavily, together with traditional meat dishes. The Poles claim to have invented vodka, and you'll often be offered a glass at the slightest excuse. 
When to go on holiday to Poland
Sitting in the middle of Europe, Poland's climate varies widely with great differences throughout the year. Much of the region will be covered in snow in the winter months, while in the summer temperatures can sometimes reach more than 30 degrees Celsius. The most comfortable time to visit the region is either in the late spring or early autumn months, and we have scheduled our group tours to visit during these times.
Start planning your Poland tour
Check out our scheduled small group tour to Poland: The Crossroads of Europe. While many of our trips are small group adventures with set departures, as a bespoke operator, we can design and create trips to suit any traveller, from solos to larger group. If you would like to find out more about our tailor-made Poland holidays or our group tours, call us on 01473 328546 or email us via our contact page. We'd love to hear from you.
Show more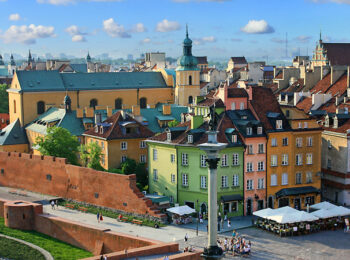 Poland
Good for:
Historic Sites and Local Culture