Our Albania holidays and group tours uncover a hidden land where age-old customs that have long been abandoned by the rest of Europe are still revered. Known as the Land of Eagles, Albania's rugged mountains are home to remote and traditional communities, while its towns are packed with the remnants of past civilisations that have left their mark here.
Isolated from the rest of the world for so long, Albania is a country at the crossroads of east and west. Here you will find Ottoman bazaars and UNESCO heritage listed towns that date back many centuries. Tucked away in long forgotten corners lie the ancient cities of the Romans, while imposing fortresses bear witness to a history of resistance against foreign occupation.
Top highlights on Albania holidays and tours
Check out the huge array of ancient monuments at sites like Apollonia, Durres and Butrint
Take a ferry on Lake Koman amidst the Albanian Alps – one of the world's great boat journeys
Learn about Albania's unique rural traditions in the stunning region of Mirdita
Explore the 'museum town' of Berat, with its charming architecture
Sample the local raki with friendly villagers, and try some of Albania's surprisingly good wines
On our tours and holidays to Albania, we explore the dramatic coastal scenery, picturesque monasteries and a culture that is beginning to rediscover itself. Albania is blissfully free of foreign visitors but is starting to open its doors to the outside world now. Travel here is not always easy. It is one of the least developed countries of Europe, but for those looking for something completely new, Albania's rewards justify the visit.
Culture
Albania is unique in that during the Communist period it was the world's only officially atheist state, as religion was banned and many historic monasteries were lost. With the end of the cold war, there is no such ban in place, but old habits die hard and you will still find Albania to be much more secular than other countries in the region.
Unique to this part of the world is Bektashism, a Sufi form of Sunni Islam, and many other people are Christian. The main language spoken here is Albanian, with a few minority groups such as Greek, Roma and Vlach. Many younger people, especially in tourist areas, will speak English.
When to go on holiday to Albania
With a Mediterranean climate, Albania is pleasant to visit for most of the year, but July and August are usually very hot with temperatures nudging to the high thirties (Celsius) which can make sightseeing rather tiring. In the north of Albania, the mountains see snow in winter, although this doesn't stretch down to the lowlands. The best times of year to visit are from spring to early summer, and early to mid-autumn.
Start planning your trip to Albania
Check out our small group tour to Albania, Albania, Kosovo and Montenegro. Although many of our trips are small group adventures with set departures, as a bespoke operator, we can design and create trips to suit any traveller, from solos to larger group. If you would like to find out more about tailor-made holidays to Albania or our group tours, call us on 01473 328546 or email us via our contact page. We'd love to hear from you.
Show more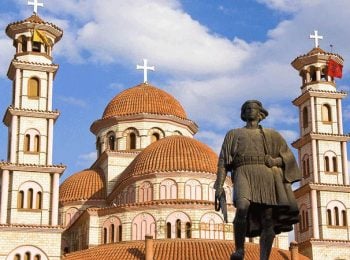 Albania
Good for:
Historic Sites and Stunning Landscapes