Our Kyrgyzstan holidays and tours show you a stunning land dominated by dramatic scenery and traditional hospitality. Here horses are still the main way of getting around for many people, and Islam fuses with older, pagan customs to create something unique.
This is a country for those who love the outdoors. The landscapes here are awe-inspiring from snowcapped peaks to azure alpine lakes and pine forests. Nomads still bring their herds to graze on the vast meadows. Kyrgyzstan is one of the few countries in the world that still holds onto authentic nomadic traditions, which were never quite eradicated under Soviet rule.
The country offers a different perspective to Central Asia from the cities of the Silk Road. Our Kyrgyzstan holidays give you a great opportunity to really get off the beaten track and create your own adventures. Often seen as the most welcoming of the Central Asian republics, Kyrgyzstan has a mysterious way of entering your soul, and never quite leaving.
Top highlights on Kyrgyzstan holidays and tours
Stay in yurts on the shores of Lake Song Kul, a summer grazing ground for nomad families
Visit a traditional Kazakh eagle hunter and learn about their ancient art
Hike to Kok Bel Waterfall in the Jyrgalan Valley
Visit the 15th century caravanserai at Tash Rabat
Some of the world's most scenic drives
Offering numerous opportunities for hiking and trekking, Kyrgyzstan is also at the forefront of community-based tourism. Small guesthouses in mountain villages offer travellers great opportunities to meet with local people, and learn about their fascinating traditions and customs.
As well as this, located on the trade routes of old, the remnants of ancient dynasties linger on in towns like Osh, reputedly one of the oldest continually inhabited settlements in the world.
Culture
Kyrgyzstan is an Islamic country, but it wears its religion fairly lightly compared to some others, with many taking a rather relaxed view towards observing it. This is partially a result of its experience under rule from Moscow, when religion was heavily suppressed. Intertwined with this is a long tradition of shamanism, and travelling throughout the country it's not difficult to see evidence of this – most commonly in the form of ribbons or scraps of cloth tied to trees. Shamans are still regularly consulted in Kyrgyzstan more so in the rural regions.
One of the most striking aspects of travel here – apart from the scenery – is the nomadic life that still abounds in the mountains and on the jailoos (summer pastures). This lifestyle suffered under the Soviets, when orders were made to collectivise livestock. But it has rebounded since independence and is a cornerstone of Kyrgyz society, little changed since the days when Marco Polo first travelled this region.
When to go on holiday to Kyrgyzstan
The best time to visit Kyrgyzstan is between May and October. Much of the country is mountainous, and the winter sees heavy snowfall – this closes many of the mountain roads and makes travel impractical.
Even in May, lingering snow can occasionally cause issues, and so realistically it's better to delay your trip until June. In the summer months, you can find many nomadic groups settled around Song Kul. They remain here until September, when the coming cold of winter forces them to lower altitudes.
Start planning your Kyrgyzstan tour
Check out our small group tours to Kyrgyzstan: The Pamir Highway, Kyrgyzstan – Mountains Lakes and Nomads and Central Asia Encompassed. While many of our trips are small group adventures with set departures, as a bespoke operator, we can design and create trips to suit any traveller, from solos to larger group. If you would like to find out more about tailor-made Kyrgyzstan holidays or our group tours, call us on 01473 328546 or email us via our contact page. We'd love to hear from you.
Show more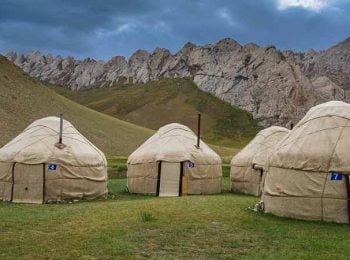 Kyrgyzstan
Good for:
Historic Sites, Local Culture and Stunning Landscapes