Syria has never been as popular as neighbours such as Egypt and Jordan, and its devastating civil war has put the country out of bounds for over a decade. Slowly, it is making a recovery and it's now possible for the adventurous traveller to visit this enigmatic land once more.
Once known for being one of the most welcoming places in the Middle East, the country is a treasure trove of culture, where the legacies of long forgotten empires can be seen around every corner. Its cities are some of the oldest on earth, bearing the traces of the numerous civilisations that have traversed this ancient land over the centuries – Syria is a land where history comes alive.
In ancient cities like Damascus and Aleppo, home to countless civilisations and dynasties over the years, you'll find quintessential bustling bazaars, alive with the scents and buzz of the Orient. Head out into the desert and you can discover the ruins of some of the world's best archaeological sites, like Palmyra – damaged but by no means destroyed during its previous occupation by Islamic State. The Romans left a strong legacy here, as well as the Byzantine Empire, and later on the Crusaders stamped their mark on the country, most noticeably with the superbly preserved medieval castle at Crac des Chevaliers.
Despite being largely Islamic, Syria also has a strong traditional of Christianity, and in the ancient village of Maalula it's still possible to hear Aramaic – the original language of the Bible – being spoken. You'll also find numerous monasteries dotted around the country, with black robed monks wandering amidst centuries of history.
Few visit Syria now, and it's not exactly the most obvious destination for travel. Those who do come are met with the overwhelming hospitality that the region is known for, and undoubtedly the highlight of your visit will be the encounters with local people – a cliché, we know, but one that rings very true in this case.
Top highlights on Syria holidays and tours
Explore the ruins of the ancient city of Palmyra
See the spectacular medieval castle of Crab des Chevaliers
Discover the UNESCO World Heritage listed town of Aleppo
Wander through the souqs of Damascus
Culture
Arabic is Syria's official national language, but you will find that Kurdish and Turkish are also spoken in some areas. Many Syrians are bilingual or even trilingual, and in urban areas, you will find French and English are also spoken. Ethnically, Arabs make up 90% of the population. Islam is the predominant religion in Syria with Christianity accounting in about 10% of the population.
Akin to most Arab countries, Syria remains a highly male dominated society and women are somewhat constrained into confined roles. Syrians are quite conservative people so you should make sure you dress accordingly and modestly.
Despite a negative reputation in western media, Syrians are very friendly and hospitable.
When to go on holiday to Syria
The ideal time to visit is during the months of April, May and October in between the heat of summer and winter rains. Syria has a diverse climate with temperatures ranging from 46 degrees in the blistering summer to 10 degrees in the winter when it is not uncommon to find snow.
Start planning your Syria tour
Check out our small group tour to Syria, Highlights of Syria. Although many of our trips are small group adventures with set departures, as a bespoke operator, we can design and create trips to suit any traveller, from solos to larger group. If you would like to find out more about tailor-made Lebanon holidays or our group tours, call us on 01473 328546 or email us via our contact page. We'd love to hear from you.
Show more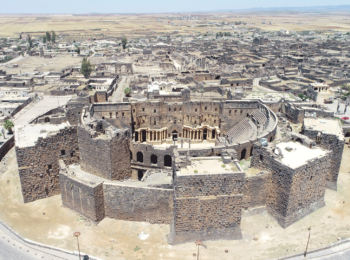 Syria
Good for:
Vibrant Culture and Historic Sites