Our Uzbekistan tours and holidays show you a land where the ancient past never seems that far away and the sense of history is tangible. There is nowhere else quite like Uzbekistan.
The crowning glory of Central Asia, it is packed full of some of the most exquisite Islamic architecture you could ever hope to see, with well preserved cities that were integral to the old Silk Road. Its geographical position has led to a vast array of different influences. From Buddhist civilisations to the armies of Alexander the Great, Genghis Khan and Tamerlane, all have left their mark.
As we explore its striking monuments, our Uzbekistan holidays and tours let you discover a country that exudes atmosphere. Walking through the desert city of Khiva and wandering the narrow alleys of Bukhara hints at how important this region once was in world politics. It played a pivotal role in the rivalry between Russian and British empires in the 18th and 19th centuries, known as the 'Great Game'.
Top highlights on Uzbekistan holidays and tours
Step back in time a couple of centuries as you wander the walled city of Khiva
Journey to fabled Samarkand and magnificent Registan Square
Explore the ancient desert citadels of Karakalpakstan
Visit Tashkent's old quarter and bustling bazaar
Cross the Kyzyl Kum desert to reach the ancient monuments of Bukhara
Rediscovering its identity after the long years of Soviet rule, Uzbekistan today is a land of blue domed mosques, elaborate minarets and imposing fortresses. Its local culture is vibrant and history, long and intriguing. Uzbekistan isn't yet as recognised as it should be – as a truly world class destination – but that means you can get here before the crowds and have these treasures to yourself.
Culture
The unique culture of Uzbekistan has been shaped over thousands of years with customs and traditions of various peoples and dynasties. From ancient Persians to Chinese and Turkic tribes, all have contributed to Uzbek culture. This rich diversity is evident in many forms, including arts, language, cuisine and clothing.
Folk music is an important part of religious and family events, whilst applied arts passed down through generations include hand-woven silk, ceramics, calligraphy and jewellery making. Traditional forms of carpet weaving have also been revived.
As an Islamic region, mosques and madrassahs abound in Uzbekistan, although great efforts were made to impose secular beliefs on the people of the region throughout Soviet times. With the coming of independence, Central Asia experienced something of a religious revival. Yet, you'll often find that Islam is not adhered to quite so rigorously here as it is in other countries, and alcohol is widely available and freely consumed.
The official language of Uzbekistan is Uzbek, which is a Turkic tongue closely related to Kyrgyz and Kazakh.
When to go on holiday to Uzbekistan
Sitting in the middle of the Eurasian landmass, Uzbekistan experiences some real extremes of temperature. Much of the region will be covered in thick snow in the winter months, while in the summer temperatures can easily reach more than 45 degrees Celsius. The most comfortable time to visit the region is either in the late spring or early autumn months.
Start planning your Uzbekistan tour
Check out our scheduled small group tours to Uzbekistan: Jewels of Uzbekistan, Silk Road Explorer and Central Asia Encompassed. While many of our trips are small group adventures with set departures, as a bespoke operator, we can design and create trips to suit any traveller, from solos to larger groups. If you would like to find out more about our tailor-made Uzbekistan holidays or our group tours, call us on 01473 328546 or email us via our contact page. We'd love to hear from you.
Show more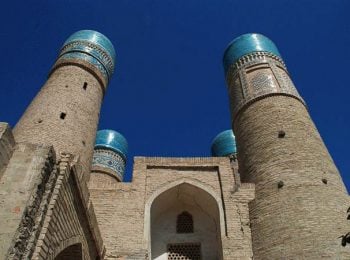 Uzbekistan
Good for:
Local Culture and Historic Sites