Best known for its incredible national parks and rich fauna, Kenya is East Africa's tourism hotspot. You'd be forgiven for thinking there's nothing left to discover here. Step away from the better-known sites though, and Kenya opens up to a wealth of ethnic diversity and traditional tribal groups, very different from the contrived Maasai experiences that one might encounter on a typical safari.
Towards the remote and austere northern borders, through forbidding deserts and isolated oases, live the Turkana, Rendille and others. This is a world away from the luxury lodges and bright lights of Nairobi, both in geography and culture. The people here share much in common with the well-known tribes of Ethiopia's Omo Valley, and also those in South Sudan.
This is a region where central government steps lightly and traditional structures of organisation are still paramount. Life here is hard and uncompromising, with arid landscapes, difficult terrain and sometimes hostile neighbours to contend with.
But in spite – or perhaps because – of this, the cultural traditions, dress and ceremonies of its inhabitants are among Africa's finest. Women wear elaborate beaded necklaces, important initiation ceremonies still hold resonance, and young men patrol their lands guarding their cattle. It feels ancient.
Top highlights on Kenya holidays and tours
Look for unusual wildlife in Samburu Reserve
Overnight in camps in remote and pristine locations
Traverse the foreboding Chalbi desert
Meet Rendille warriors
Visit one of Africa's most remote tribal groups, the Turkana
This area of Kenya we visit is known as the 'cradle of mankind', home to some of humans' earliest origins, and travelling here is like stepping back in time – little has changed here for centuries. This is a wild and untamed land, home to warriors, herders and nomads, and travelling here is a journey you're unlikely to forget.
Culture
Kenya is home to an astonishing number of different ethnic groups, all of which hold their own belief systems and speak their own languages. But English is widely spoken in towns as a second language, and is the language of government. Kenya has a sizeable Christian population – the result of colonial interference and efforts from missionaries – but there are also Muslim minorities in the larger towns, and Islam is the dominant religion in the north-east of the country.
Our trips here focus on the north of the country, where neither Islam nor Christianity have made many inroads. The ethnic groups that we visit – Turkana, Gabbra, Rendille and Samburu, among others – all belong to the same 'family' and share certain characteristics. Most still follow traditional religions based on the veneration of ancestors and spirits, and have a rich array of different rituals and ceremonies which give cultural meaning to their societies.
When to go on holiday to Kenya
The best times to visit this part of Kenya are from January to March, and June to October. This avoids the wet seasons, which in a region without too many roads, can make travel more of a challenge than normal.
Start planning your trip to Kenya
Check out our small group tour to Kenya: Kenya's Untamed North. Although many of our trips are small group adventures with set departures, as a bespoke operator, we can design and create trips to suit any traveller, from solos to larger group. If you would like to find out more about tailor-made holidays to Kenya or our group tours, call us on 01473 328546 or email us via our contact page. We'd love to hear from you.
Show more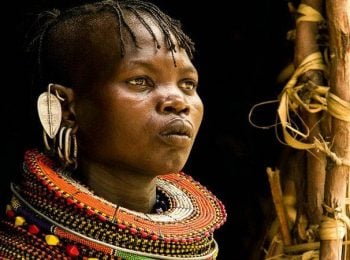 Kenya
Good for:
Tribal Cultures and Wildlife