Bosnia receives much less attention than some of its Balkan neighbours. Many still associate it with a war that ended over twenty years ago. Landlocked bar a tiny foothold on the Adriatic, this mountainous country is one of Europe's more off the beaten track destinations. It's also one of its most multicultural.
Our Bosnia holidays and tours travel through a complex part of the continent. The country is shaped by its location between the great powers of Central Europe, and the ever-encroaching Ottomans to the south.
Its towns are home to old Turkish bazaars thick with the smell of coffee and spices, while minarets poke into the sky and the muezzin calls to prayer. A few streets away lie richly decorated churches and the trappings of Western modernity. Bosnia moves seamlessly between these two worlds. You'll see women walking the streets in hijabs, next to those dressed in the latest European fashion, Orthodox priests in their robes next to sharp-suited businessmen.
Exploring its old towns is to step back centuries, while in its villages and mountains you'll find gentle rural traditions that still persist. Bosnia's people are as friendly and welcoming as any you'll meet, despite their past. The forests and mountains are home to populations of bears, wolves and lynx. And if you travel off the main roads on our Bosnia holidays, you can find vast wilderness and hidden fortresses.
Its recent history has been nothing short of tragic. And before that, it was the flashpoint for the First World War, when Gavrilo Princip assassinated Archduke Franz Ferdinand in the capital, Sarajevo. In the twenty-first century, Bosnia is moving on, aware of its past yet tentatively forging a new identity.
Top highlights on Bosnia holidays and tours
Discover the old Ottoman city of Mostar, with its iconic bridge
Visit the village of Jacje and its gushing streams and watermills
Take in the historic sights of Sarajevo
Explore the old trading town of Travnik
Bosnia's allure lies in its mix of cultural layers, deep gorges and gushing rivers, traditional villages and historic sites that date back millennia. So far, it remains relatively undiscovered, and that is the icing on the cake.
Culture
Where do we start? Bosnia, more than anywhere else in Europe, lies at the crossroads of civilisations and this is evident to see during just a five-minute stroll through its towns. Islam, the Orthodox Church and Catholicism are all major faiths within the country, reflecting its population, made up of Bosnians, Serbs and Croats. Bosnian Muslims largely follow the Sunni form of the faith, although Sufism is also practised. Like many of its neighbours, Bosnia also has a small Roma population, who live on the margins and have been much discriminated against.
Eating here is a pleasure, although vegetarians may find many dishes a little meat-heavy. Traditional dishes include burek, a meat pie in filo pastry, and sausages made from lamb and beef. Locally produced cheeses are excellent, eaten with some fried peppers and onions and washed down with a glass of tea, or something stronger.
When to go on holiday to Bosnia
The best time to visit Bosnia is from May to October. The winters can be cold, especially in the mountain regions, and early spring is wet. However, it can be quite cool at any time of year, depending on where you are, but the summer is reliably the warmest and most pleasant time to explore Bosnia.
Start planning your Bosnia holiday or tour
Check out our small group tour to Bosnia: Highlights of the Balkans. Many of our trips are small group adventures with set departures. However, as a bespoke operator, we can design and create trips to suit any traveller, from solos to larger groups. If you would like to find out more about tailor-made holidays to Bosnia or our group tours, call us on 01473 328546 or email us via our contact page. We'd love to hear from you.
Show more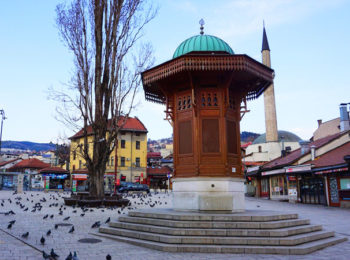 Bosnia
Good for:
Local Culture and Historic Sites