Our holidays to Ghana will show you a wonderfully vibrant country that is begging to be explored. Its easy mood starts to affect you from the moment you arrive, from the strains of music filtering out from its bars and restaurants to the colourful dresses of the women in the marketplace.
Our Ghana holidays and tours encompass the country's main highlights as well as taking you to places that you might not discover on your own. Step back in time in the haunting slave castles of Cape Coast and Elmina, get closer to elephants than you ever would elsewhere, and explore the country's rich ethnic heritage, tucked away in remote villages that few take the trouble to discover. Meet traditional chiefs, explore bustling markets and lose yourself in the rhythms of this intriguing West African nation.
Ghana is unusual for West Africa in that it's English speaking. It is often thought of as an easy place for first-time visitors to the region with a half decent infrastructure and a wealth of different highlights. It's roughly split between a Christian south, green and lush in vegetation, and a Muslim north with more arid landscapes.
Within its borders, there's a huge amount to see, from elaborately painted houses of the Kassena people and whitewashed Sudanese style mosques to villages built on stilts in the swamps. It's also home to one of West Africa's best national parks at Mole, and birdlife here is abundant.
Top highlights on Ghana holidays and tours
Immerse yourself in the culture of the Ashanti people in Kumasi
Take a poignant trip back in time in the slave castles of Elmina and Cape Coast
Witness the incredible Dipo festival of the Krobo people
Look for wildlife in Mole National Park
Check out Accra's vibrant nightlife
Culturally Ghana has a lot going for it as well. With numerous different ethnic groups, there are a huge number of festivals, which take place throughout the year, although pinning them down as to dates can be a challenge. Some of the more easily accessible are the frequent Akwasidae celebrations of the Ashanti, where the royal court comes out in all their finery, and the 'deer hunting' festival of Aboakyer, in Winneba.
You will find the Ghanaian people to be incredibly friendly and welcoming whenever you visit. And they themselves are without doubt one of the highlights of a visit to the country.
Culture
Ghana is a mainly Christian country, and especially in the south, you will find that this is often pursued with much vigour. However, as you head further northwards Islam begins to become the dominant religion, with about 25% of the overall population professing to be Muslim. However, indigenous beliefs are still widely practised, even by those who profess to be Christian or Muslim – old traditions die hard here.  The official language of Ghana is English, but with over sixty different ethnic groups there are a huge amount of individual languages.
When to go on holiday to Ghana
Ghana experiences two distinct seasons. The dry season runs from October until April, and the wet season from May until September. These can change by a few weeks either side depending on climate variations. Although most people choose to visit in the dry season, it's also possible to visit in the wet season. The rains, although heavy, do not last the whole day and usually take the form of short sharp bursts. Some roads can be difficult during the wet season though.
Start planning your trip to Ghana
Check out our small group tours to Ghana: Ouidah Voodoo Festival, Gold and Magic and Festivals of Ghana. Although many of our trips are small group adventures with set departures, as a bespoke operator, we can design and create trips to suit any traveller, from solos to larger group. If you would like to find out more about tailor-made holidays to Ghana or our group tours, call us on 01473 328546 or email us via our contact page. We'd love to hear from you.
Show more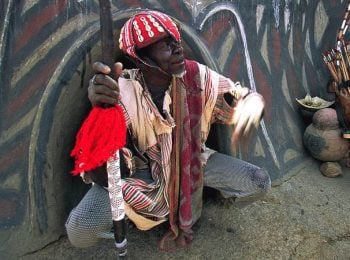 Ghana
Good for:
Tribal Cultures & Historic Sites