Our Kazakhstan holidays and tours show you the best of this Central Asian giant, from cosmopolitan cities like Almaty to the lakes, mountains and grasslands where traditional communities hunt with eagles.
Known, if at all, for nomads, space launches and oil, Kazakhstan is the largest landlocked country in the world. Located in Central Asia it encompasses a vast swathe of plain and steppe. Usually ignored on tours through the region, Kazakhstan is reinventing itself as a regional powerhouse. But look beyond the glittering buildings of the new capital Astana to discover centuries-old nomadic culture and glorious Islamic monuments harking back to the days of the Silk Road.
On our Kazakhstan holidays and tours we look for wildlife in pristine reserves, wander through the mausoleums of Turkestan and explore markets bustling with people from all over the region. The more adventurous can head west to the extraordinary deserts of Mangistau. Only recently opened up to tourism, this little known region is a treasure trove of incredible landscapes, dotted with subterranean mosques and ancient necropolises – an adventurer's paradise.
The Altai Mountains offer further opportunities for off the beaten track exploration. In the north-east of the country, against the borders with Russia and China, this is home to remote and very traditional communities and spectacular alpine scenery.
Top highlights on Kazakhstan holidays and tours
Look for ibex in Aksu-Dzhabagly Reserve
Mingle with the locals over a tea (or vodka) on an overnight train journey
See the incredible coloured mountains of Altyn Emel
Camp overnight on the edge of the vast salt flats of Tuzbair
Visit remote communities of 'Old Believers' in the Altai Mountains
Explore ancient Scythian burial grounds
Kazakhstan is often the last gap on the traveller's map of Central Asia. Our Kazakhstan holidays show you an incredible country that will continually surprise you.
Culture
Kazakhstan is the most 'Russian' of all the Central Asian republics, and perhaps the most cosmopolitan. Many Russians stayed after independence in the nineties, and the country feels a little more 'European' than its neighbours. However, Islam plays a strong role here, although you'll often find that it's not adhered to quite so rigorously as it is in other countries, and alcohol is widely available and freely consumed.
Islam here is often merged with older, more 'pagan' traditions – you'll sometimes come across trees festooned with ribbons, or holy shrines, that don't sit so easily with the more orthodox forms of the religion.
There are small pockets of Christians among Russian communities that stayed after the break up of the Soviet Union.
Kazakhstan has its own language – Kazakh, but Russian is widely spoken throughout the whole region and you will find that a few Russian words will help you when travelling.
When to go on holiday to Kazakhstan
Sitting in the middle of the Eurasian landmass, Kazakhstan experiences some real extremes of temperature. Much of the region will be covered in thick snow in the winter months, while in the summer temperatures can easily reach more than 45 degrees Celsius.
The most comfortable time to visit the region is either in the late spring or early autumn months.
Start planning your trip to Kazakhstan
Check out our scheduled small group tours to Kazakhstan: Hidden Kazakhstan, From Steppe to the Silk Road, Central Asia Encompassed and Altai Explorer. Although many of our trips are small group adventures with set departures, as a bespoke operator, we can design and create trips to suit any traveller, from solos to larger group. If you would like to find out more about tailor-made holidays to Kazakhstan or our group tours, call us on 01473 328546 or email us via our contact page. We'd love to hear from you.
Show more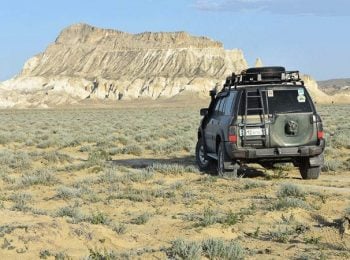 Kazakhstan
Good for:
Historic Sites and Stunning Landscapes