Our Turkmenistan holidays and tours give you an unparalleled insight into a nation that straddles east and west but with a character entirely of its own. They don't come much quirkier than Turkmenistan.
With a glittering capital awash with white marble and monuments, to foreboding deserts that were once home to feared tribes, it is sure to be one of the most unusual places you've ever visited. The country is best known – if at all – for the cult of personality that surrounded the former president Turkmenbashi, 'father of the Turkmen'. Those days are gone, but Turkmenistan still feels like it has a bit of a hangover from the Soviet Union, particularly in the capital.
Brash modernity rubs shoulders with ancient heritage and cities that date back to the dawn of civilization. While the wealth from natural resources is transforming Turkmenistan in places, in others pilgrims walk centuries old trails to perform rituals that are still steeped in ancient beliefs.
Before the Russians came, the Turkmen were one of the most feared groups of Central Asia. They regularly raided nearby settlements for slaves and attacked trade caravans making their lonely way across the deserts. Today on our Turkmenistan tours, you'll find the Turkmen people much friendlier. From the white bearded elders wearing enormous fur hats, to elegant women in velvet ankle length dresses, they won't fail to leave an impression. The western world has made inroads here, but hasn't eclipsed traditional culture by any means.
Top highlights on Turkmenistan holidays and tours
Explore the 'unique' city of Ashgabat with its enormous statues and unusual monuments
Camp overnight at the 'flaming crater' of Darwaza
Visit the UNESCO World Heritage Site of Merv, holding the history of centuries of civilisation
Take in the stunning coloured canyons of Yangikala
Meet local pilgrims at the shrines of Gozli-Ata and Parau Bibi
With a wide array of spectacular natural sights – there aren't many places that you can find flaming gas craters in the middle of the desert, or dinosaur footprints embedded in rocks – Turkmenistan deserves a lot more attention than it currently receives, but while it remains largely off the tourist map enjoy having it all to yourself.
Culture
Before the Russians came, Turkmenistan was not a country but a collection of loosely affiliated – and often warring – tribal groups. Forced into a republic under the Soviets, when the USSR collapsed a 'national' identity was something that didn't really exist. Say what you might about Turkmenbashi, but one of his key initiatives was to try to forge a nation from the ashes, albeit often in rather crude ways. You'll find Turkmen people friendly, if often rather reserved, which is a legacy of an autocratic political system where foreigners are sometimes viewed with a little suspicion.
Most people here are Muslim. But as in much of the region this is intertwined with older traditions such as Zoroastrianism and shamanism. This is much in evidence if you happen to stroll around the villages, where rams' skulls often adorn the graves in cemeteries.
One of the main material expressions of culture can be found in the astonishing and intricate carpets produced here. There's a carpet museum in Ashgabat, and even reputedly the largest carpet ever made. Traditionally made by the women of the household, these are often the main form of decoration in homes.
When to go on holiday to Turkmenistan
Turkmenistan is a land of extremes. The summers here can be fiercely hot, with temperatures into the forties, while the winters require thick coats and hats. Spring is one of the best times to visit when temperatures are pleasant and the mountains are carpeted with wildflowers. Autumn is a close second.
Start planning your Turkmenistan tour
Check out our scheduled small group tours to: Total Turkmenistan, Silk Road Explorer and Central Asia Encompassed. Although many of our trips are small group adventures with set departures, as a bespoke operator, we can design and create trips to suit any traveller, from solos to larger groups. If you would like to find out more about our tailor-made Turkmenistan holidays or our group tours, call us on 01473 328546 or email us via our contact page. We'd love to hear from you.
Show more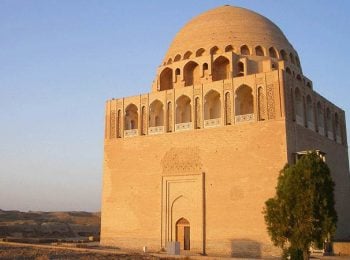 Turkmenistan
Good for:
Local Culture, Stunning Landscapes and Historic Sites