It's been described as the most colourful dating festival on the planet, a 'Tinder in the desert', but each year, in the north-central African country of Chad, the Wodaabe tribe gather for a week long annual courtship ritual where the men compete for female attention by dancing and singing in hypnotic displays.
It's a captivating experience, which brings the whole tribe together each October and although one of our most popular trips, is still a far-from-the-beaten-track cultural encounter.
Take a look at our Gerewol Festival in Photos blog to find out what to expect during the festival as well as some behind the scenes views. Or jump straight to our Gerewol Festival tour.
1. It's a full day's drive along some challenging terrain between the Chadian capital, N'Djamena and the festival site somewhere in the region of Dourbali. The exact site changes every year, depending on where there's good grazing for the cattle. Because of the remoteness of the destination, our mechanics check the vehicles regularly en-route.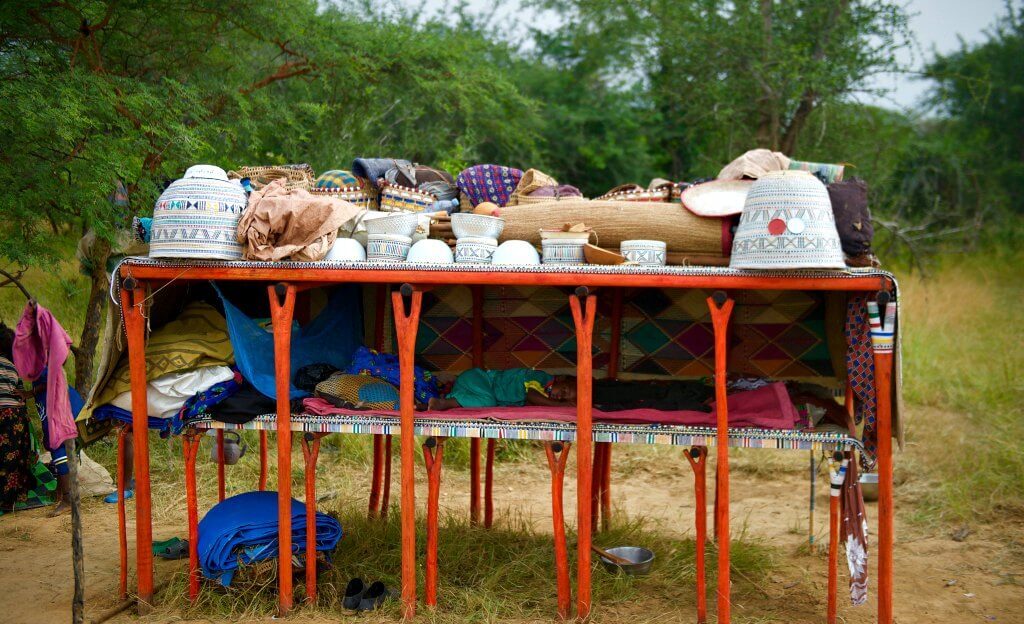 2. It may look like a roadside stall, but this wooden structure, with a sleeping platform below a place to store pots and pans is actually a mobile home called a 'Suudu'. The platform is where the women and children sleep.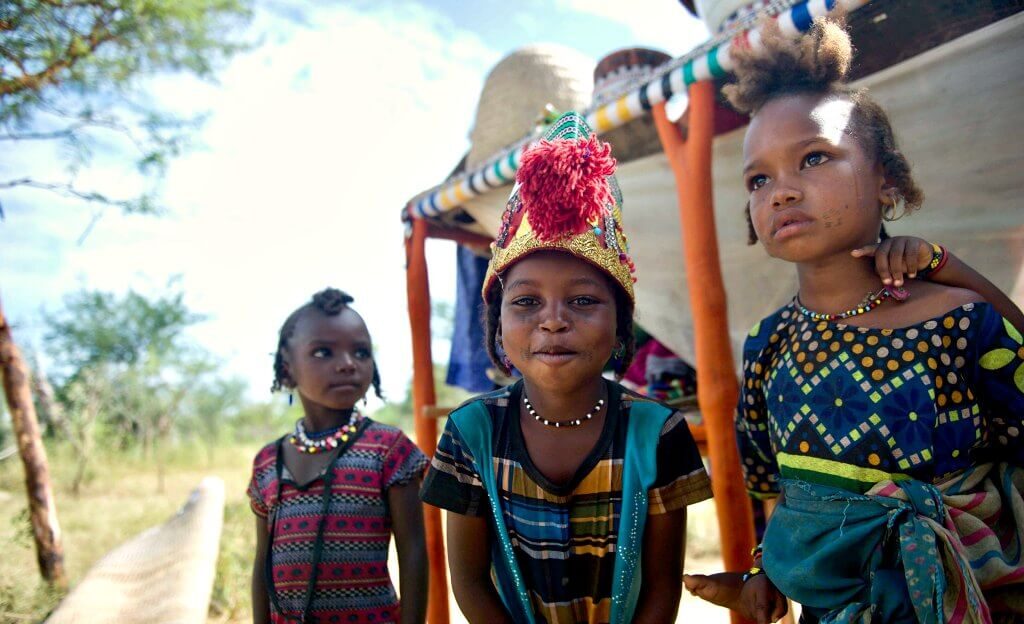 3. Young Wodaabe girls outside the family Suudu.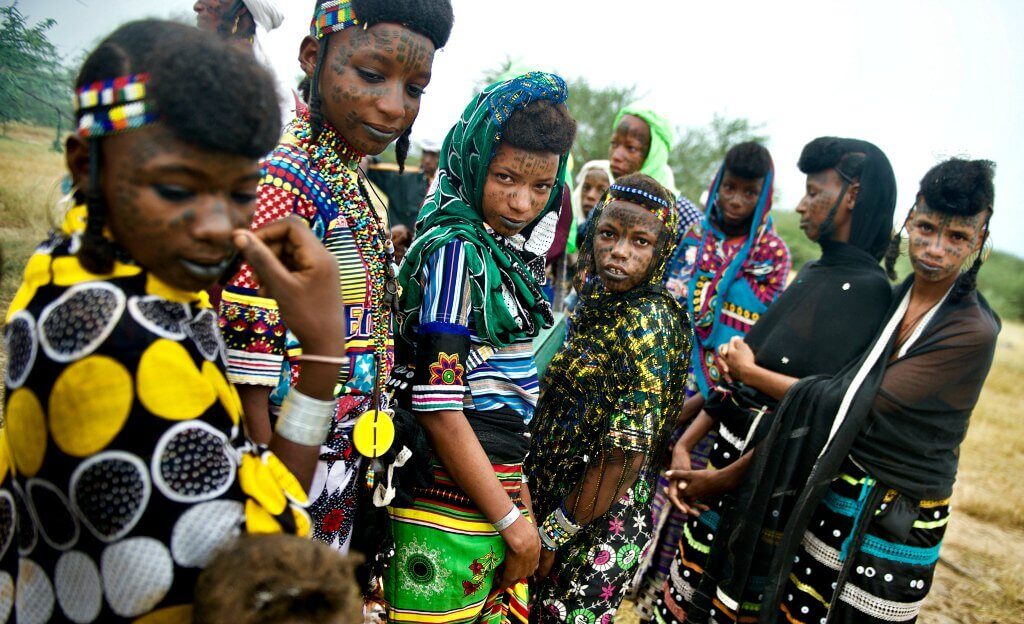 4. Some of these Wodaabe young women are at an age where they may be eligible to pick some of the men.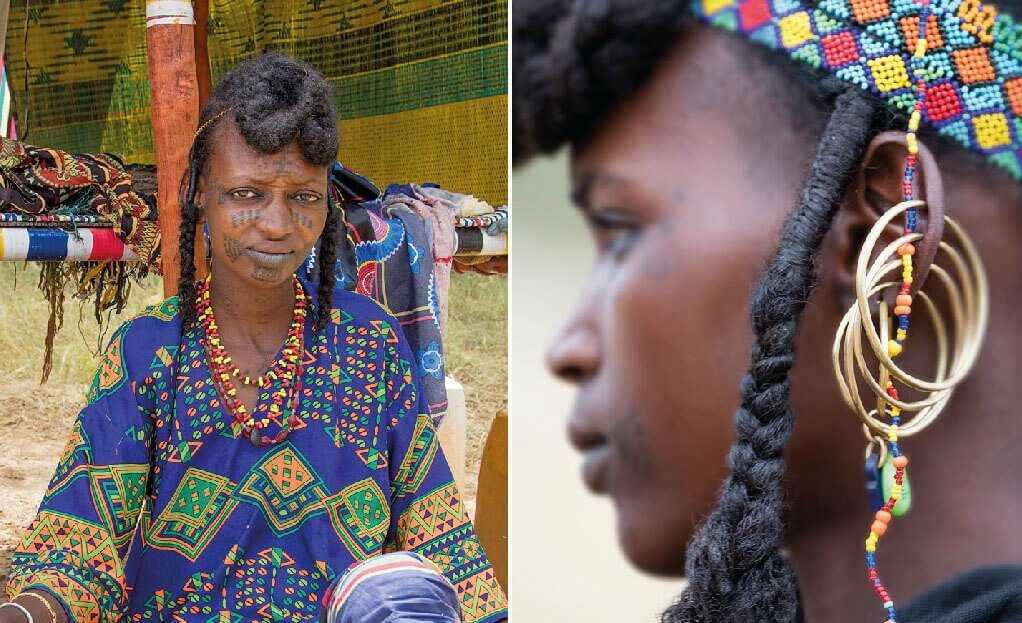 5. Wodaabe wives, one sitting outside her Suudu, the other showing off traditional jewellery and a colourfully decorated beaded headdress.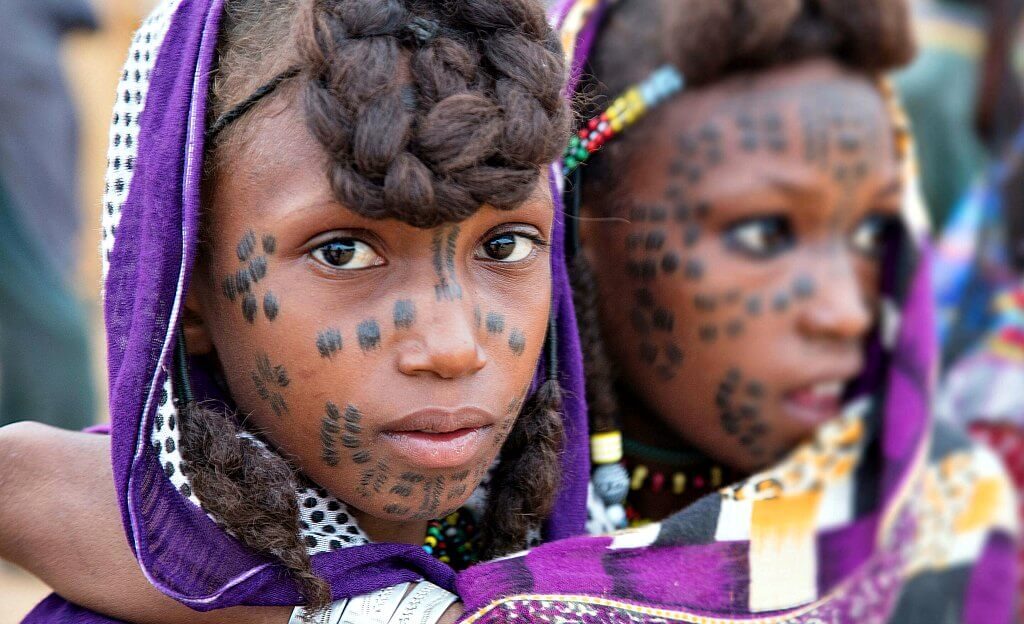 6. Nearly all girls and women decorate their faces with scarifications, with no two designs being exactly the same.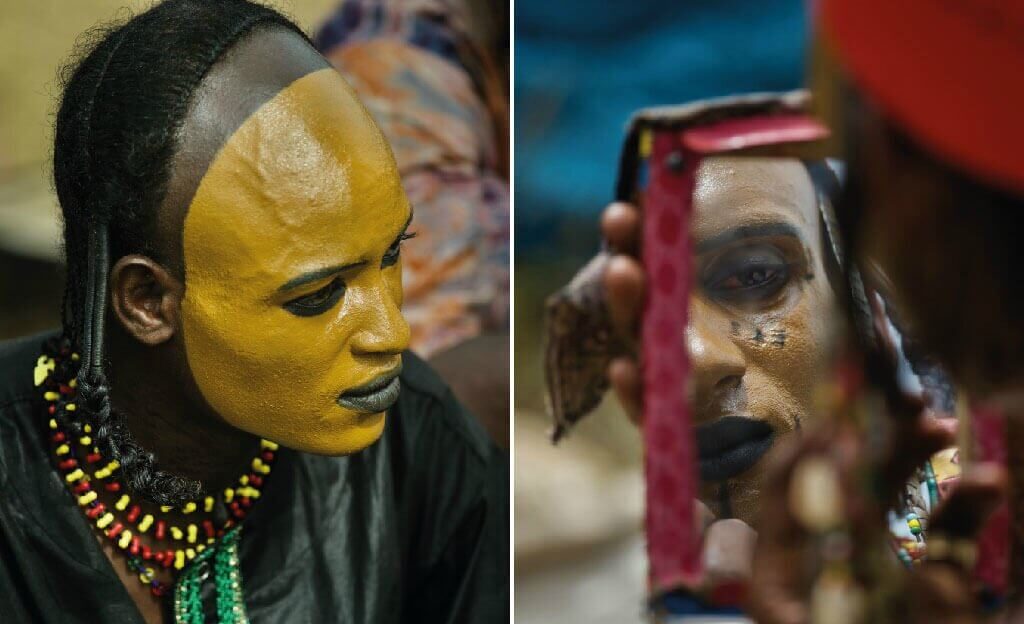 7. Different Wodaabe clans paint themselves in different styles and colours, with pastes made from barks and roots, although more recently using modern facial paints. The ochre colouring is favoured by the Sudosakai clan. It pays to keep an eye on progress by regularly checking the mirror.
8. The Njapto clan tend to decorate themselves in more reddish hues, often with a plume headdress.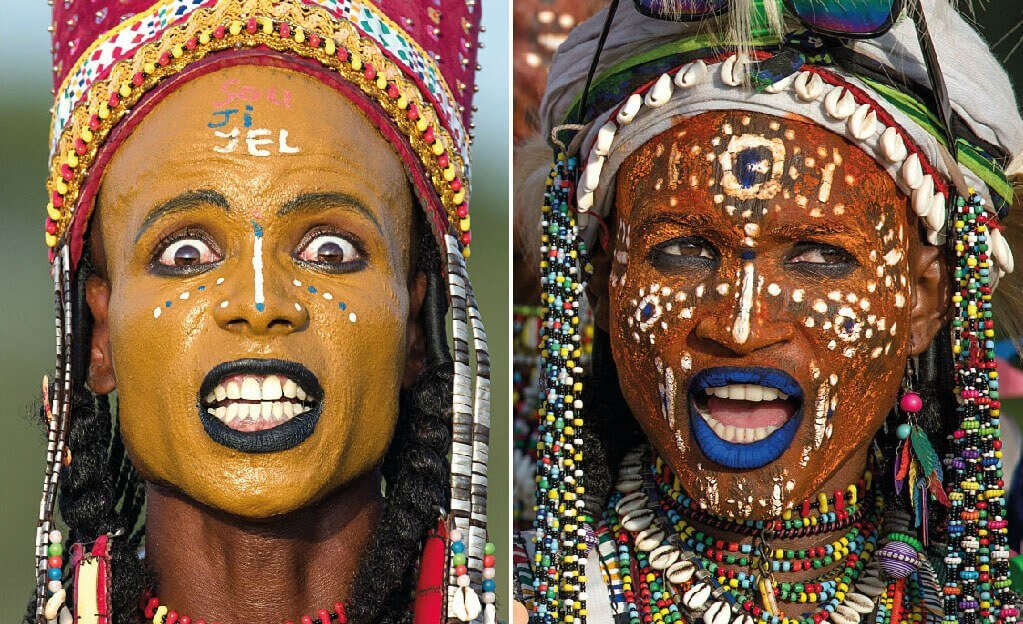 9. These close ups show the men's facial expression during the dancing displays. Showing the whites of your eyes and your teeth is a sign of strength of beauty.
10. Traditional decorations hanging in the bush. Spot the plastic whistles and keyrings for extra appeal.
11. The men in the background are mid-dance, whilst the young women have taken some time out for a photo.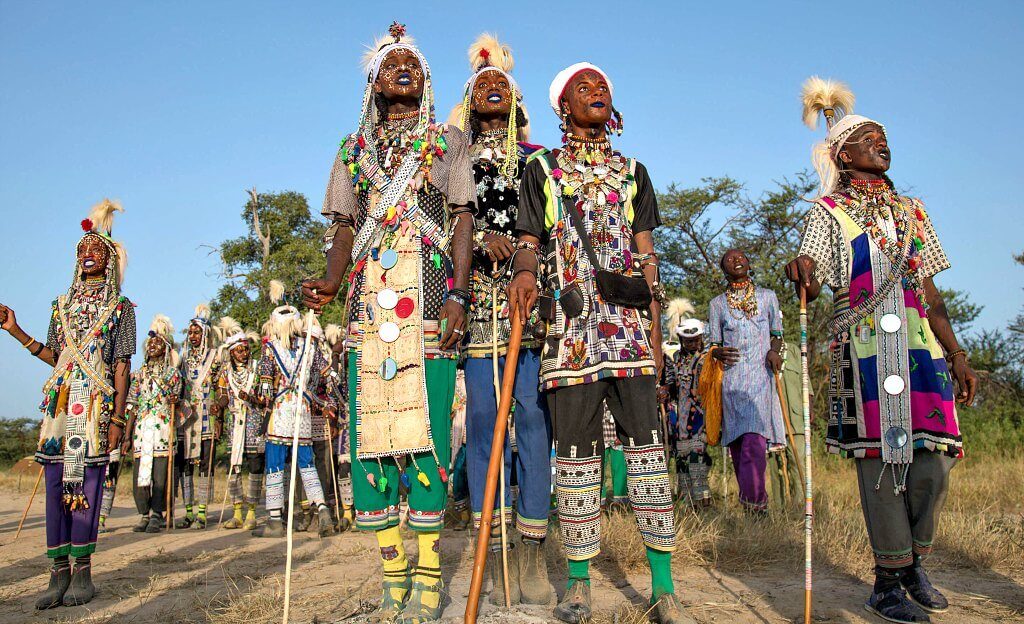 12. The dances begin with just a few men to start with…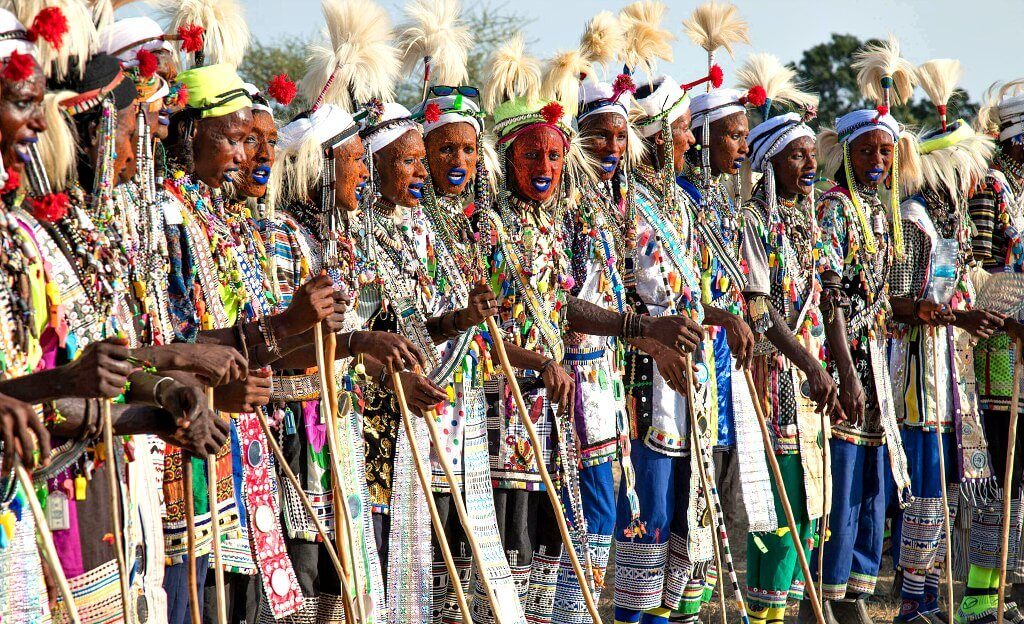 …before others join in.
13. Everyone needs a hot 'cuppa between the dancing displays to stay hydrated and take some time out.
14. Wodaabe women sitting around a fire.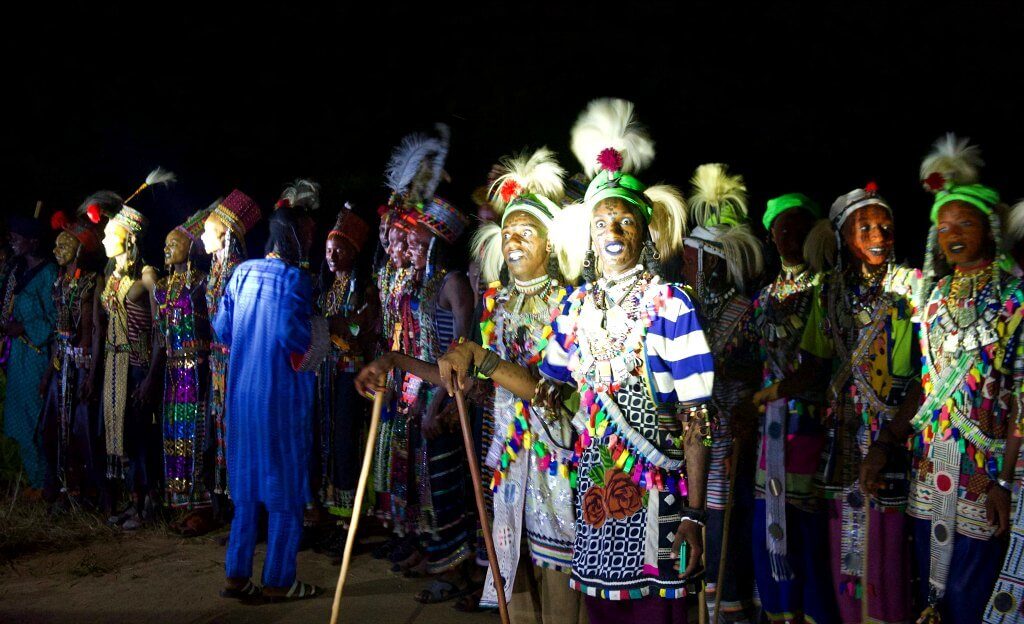 15. Members of the Njapto clan dancing. These dances take place in the early morning, early afternoon and night. In between, there's lots of time to relax, hang out, eat and drink or tend to the herds.
Experience the Gerewol Festival firsthand
If you enjoyed our 'Gerewol Festival in Photos' blog and would like to know more, take a look at our 8-day Gerewol Festival itinerary or longer 22-day Gerewol Festival & Ennedi Festival itinerary. Also check out our round-up of the Best Cultural Festivals in the World.
For a more in-depth account of what to expect, we've hosted several leading journalists over the years. Here's Kate Eshelby's account in CN Traveller magazine, photographer Tariq Zaidi's account in Adventure.com and, most recently, Mark Stratton's article in Wanderlust magazine.
We love hearing from our clients. If you've any other questions, do get in touch. Call us on 01473 328 546 or use our website contact form.