Think 'Central Asia tour' and what comes to mind? For most, it's the rose-coloured minarets and turquoise tiled mosque domes of Samarkand, Bukhara and Khiva, and deservedly so. Wandering around such ancient, historic sites, marvels of Islamic architecture may be the quintessential central Asian experience but it's far from the only one.
Instead, encompassing all of the 5 'stans, Uzbekistan, Tajikistan, Turkmenistan, Kyrgyzstan and Kazakhstan, Central Asia offers some of the most stunning – and wild – landscapes on the planet, from towering, often snow-capped mountains to sprawling, stone or sand deserts. Amongst them, about as far from the modern world as its possible to be, nomadic cultures endure, their lives unchanged for centuries, wildlife from snow leopards, bears and eagles thrive and some of the oddest, most peculiar natural phenomenon can be found.
Whether you have the luxury of time and want to visit them all, or prefer to choose just one or two countries to explore, we've selected what we think are our favourite, off-the-beaten track Central Asian highlights, from one of the world's strangest cities to the door to hell.
For the Native Eye traveller, there's so much more to discover beyond Bukhara.
1. Traverse the Pamir Highway on a Central Asia tour
Sometimes referred to as the world's wildest highway, journeying along the 1,200km stretch of road between the city of Osh in Kyrgyzstan and Dushanbe in Tajikistan is one of the most epic and greatest road trips this planet has to offer. Between, you're surrounded by peaks of more than 7,000m, which is why this wild, mountainous region interspersed with azure lakes is better known as Bam-i-Dunya, 'The Roof of the World'. Want to know more? Take a look at our Pamir Highway adventure.
2. Marvel at the deserts of Mangistau
There's remote, and then there's the deserts of Mangistau, an astonishing landscape of canyons, salt marshes and in parts, Kazakhstan's answer to Monument Valley and accessible only by 4WD vehicles. Amongst the rocky outcrops, you'll find underground mosques, centuries old sacred sites and hidden necropolises, which are only now being explored by archaeologists. Find out more by checking out our Hidden Kazakhstan itinerary.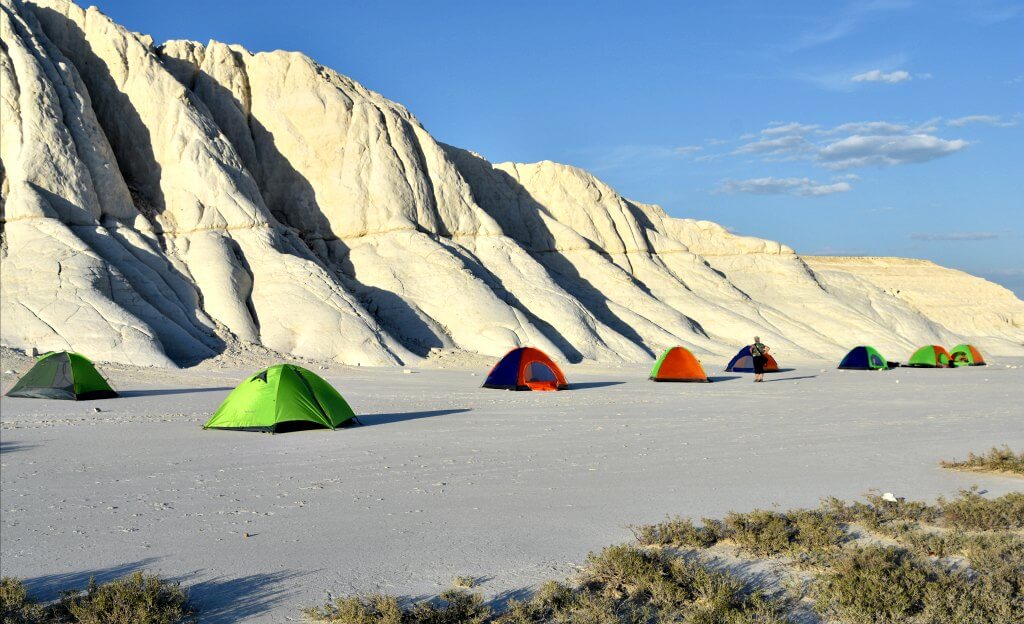 3. Stand at the 'Door to Hell' in Turkmenistan
Perhaps the strangest natural phenomenon on any Central Asia tour are the flaming gas craters at Darvaza, the largest of which is some 230 feet across by 65 feet deep. Located in the Karakum Desert of central Turkmenistan, this fiery inferno has been burning for decades, after an ill-fated exploration for oil by scientists exposed natural gas. Once local animals began dying in the surrounding area due to the escaping methane, it was decided to light the escaping gas, the thought being it would burn off in a few days or weeks. It's been burning since 1971 and although there are plans to fill it in, there's no signs of it being extinguished quite yet. Come and see this truly bizarre sight while you still can on any of our three Central Asia tours which take in Turkmenistan.
4. Explore Ashgabat              
Ashgabat isn't just the oddest city in Central Asia but could well claim the world title, its white marble buildings, manicured boulevards and bright neon lights quite at odds with its desert location and, indeed, every other Central Asian city, accurately described as 'where Las Vegas meets Pyongyang' by the Lonely Planet. Modern day Ashgabat has been built – and rebuilt – as an albeit crude symbol of wealth and yet, as bizarre as it is (the city is jokingly referred to as being 'The City of the Dead' as it's so empty) the capital of Turkmenistan holds several world records. It's the city with the most white marble, the world's largest enclosed observation wheel, largest fountain and largest mural of a star. Total Turkmenistan. Unmissable!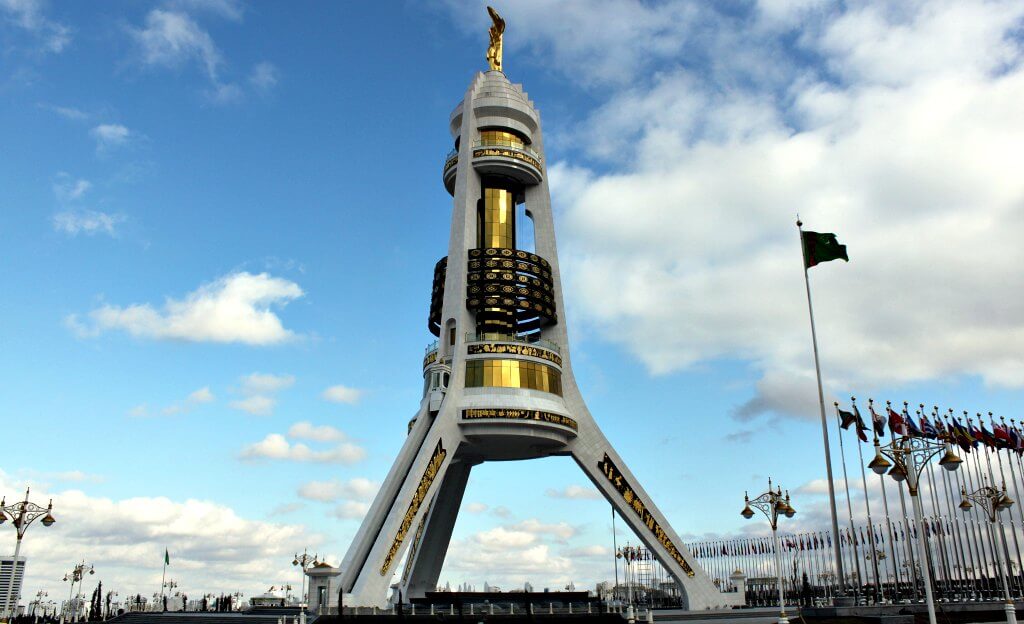 5. Meet Eagle hunters in Kyrgyzstan
Kyrgyzstan is Central Asia's natural beauty, a landscape of towering, snow-capped peaks, azure blue lakes and alpine forests, pristine and untouched where bear and snow leopard can thrive. Against this backdrop, the country is one of the last bastions of nomadic cultures, and it's here that you can meet Kazakh eagle hunters as they practice their traditional art. Definitely one of the most fascinating cultural experiences of any Central Asian Tour.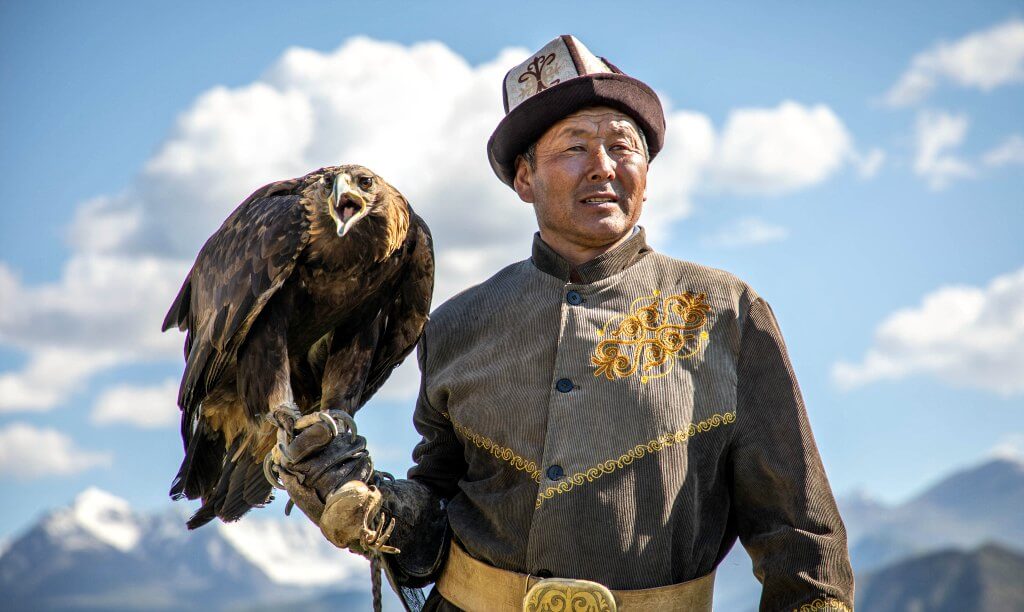 6. Stay in a yurt by Song Kul Lake
It's not just stunning views on offer at Song Kul, a 29 km by 18 km alpine lake deservedly designated as a World Heritage Site since 2011. Surrounded by mountains and blanketed by verdant, lush grass you can find out about life as a nomadic herder, staying in their yurts, horse trekking and experiencing a way of life unchanged for centuries. It's not surprising that our travellers cite this as one of their favourite Central Asia tour experiences. Find out more by looking at our Kyrgyzstan – Mountain, Lakes and Nomads trip.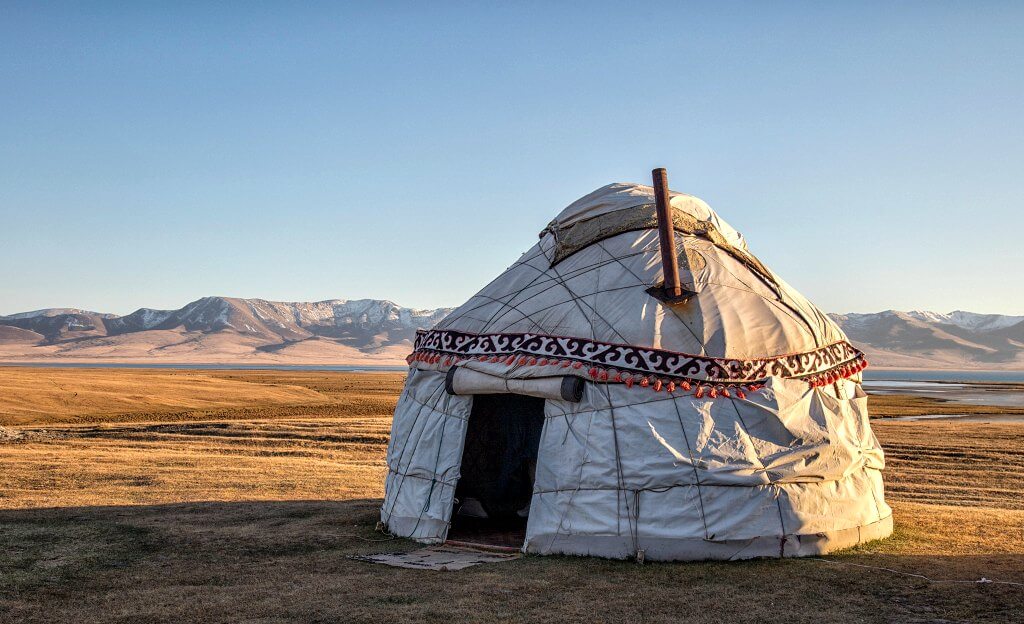 7. Travel to the furthest reaches of the Silk Road
Many people who travel the Silk Road contain themselves to maybe one or three countries: Uzbekistan, Turkmenistan and Kyrgyzstan. If, however, you have the luxury of time on your side and a yearning for true adventure, then exploring the forgotten lands of Russia, Mongolia and Kazakhstan, the furthest reaches of the lands they overlap, on our Altai Explorer Central Asia tour is a must. Here, you'll discover untamed landscapes, captivating cultures and experience adventure travel at its finest.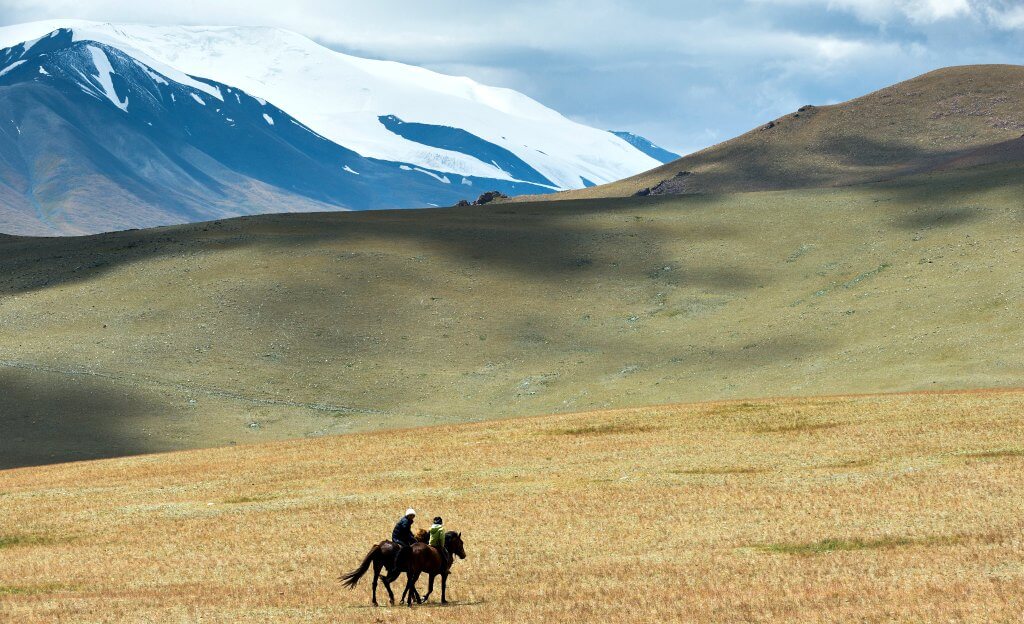 8. Explore the jewels of the Silk Road           
Mention 'Central Asia tour', and three cities, all located in Uzbekistan, instantly come to mind: Samarkand, Bukhara and Khiva. Undoubtedly the jewels – and most visited – of the Silk Road, you'll be awed by the mosques and minarets of Samarkand; blown away by the blue domes and minarets of Bukhara, Central Asia's holiest city and delighted by the ancient city of Khiva.
9. Visit the Fann mountains in Tajikistan    
If you're a lover of the great outdoors, you'll love the Fann mountains in Tajikistan. A trekker's paradise, this area has historical significance, a place where legend has it that at midnight, under a full moon, Bucephalus, Alexander the Great's horse which drowned during battle emerges from Iskander Kul Lake to graze on its grassy shores. Whether you believe the locals' tales of neighing horses being heard as they echo across the mountains or not, visiting the turquoise blue waters is a highlight of a Central Asia tour few are lucky to experience. For this and other highlights of Tajikistan, see our adventurous itineraries.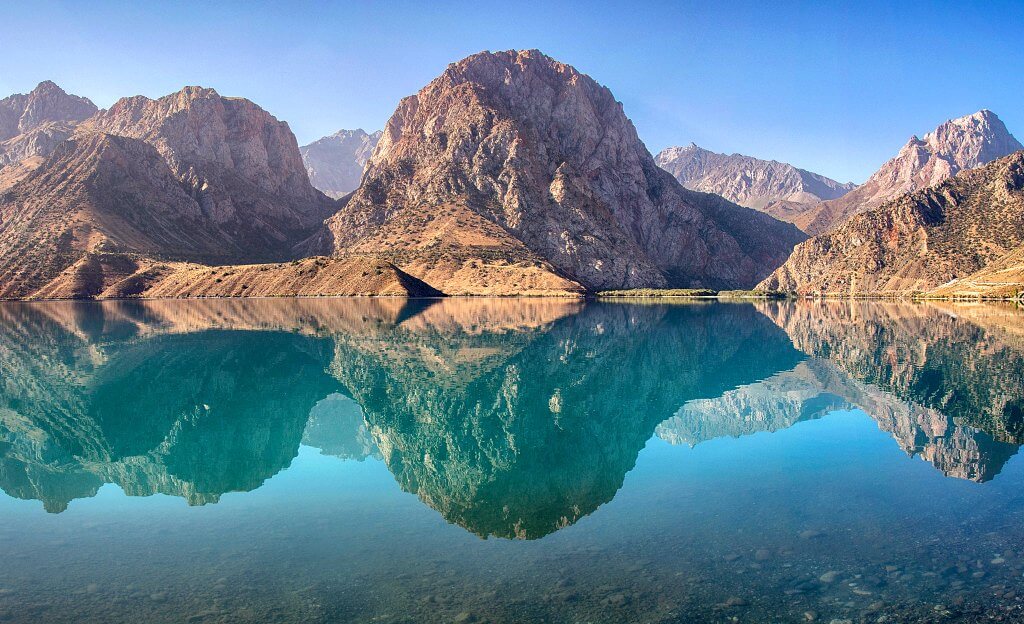 10. Visit the colourful mountains and singing dunes in Altyn Emel National Park
Within the vast expanse of Kazakhstan's largest national park, Altyn Emel are some of Central Asia's most impressive natural phenomenon. Our favourite are the Aktau mountains, multi-coloured slopes where horizontal bands of white, red and orange clay collide to spectacular effect. Elsewhere in the 520,000 hectare park you can also visit the 'Singing Dunes', four dunes which never move despite the strong winds but also produce a humming noise akin to a jet engine when you slide down their 150 metres slopes. See our Kazakhstan tours for more.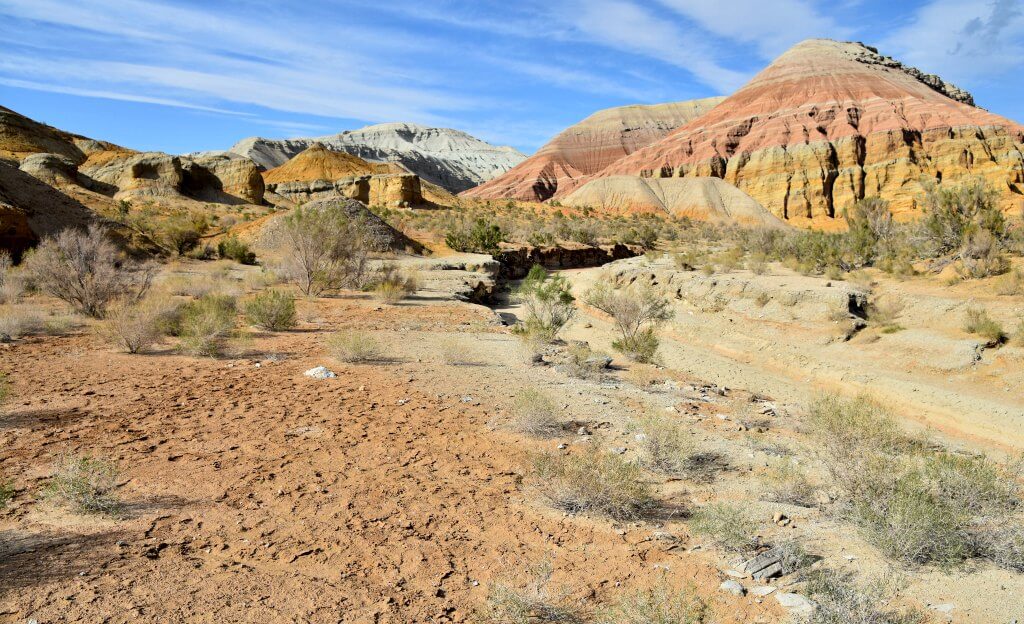 Central Asia tours – next steps
Want to know more about any of our Central Asia tours? We'd love to hear from you.
Call us on 01473 328 546 or e-mail us from our secure website form.