They say that a picture says a thousand words and, as we travelled across Sudan on our recent recce there, we have to agree. The horizons are vast, the landscape other-worldly, the culture welcoming, architecture startling and the art occasionally prehistoric.
Take a look at our inspiring Sudan photos as we explored the country, taking in Nubian pyramids, meeting local tribespeople and exploring the desert…
Sudan photos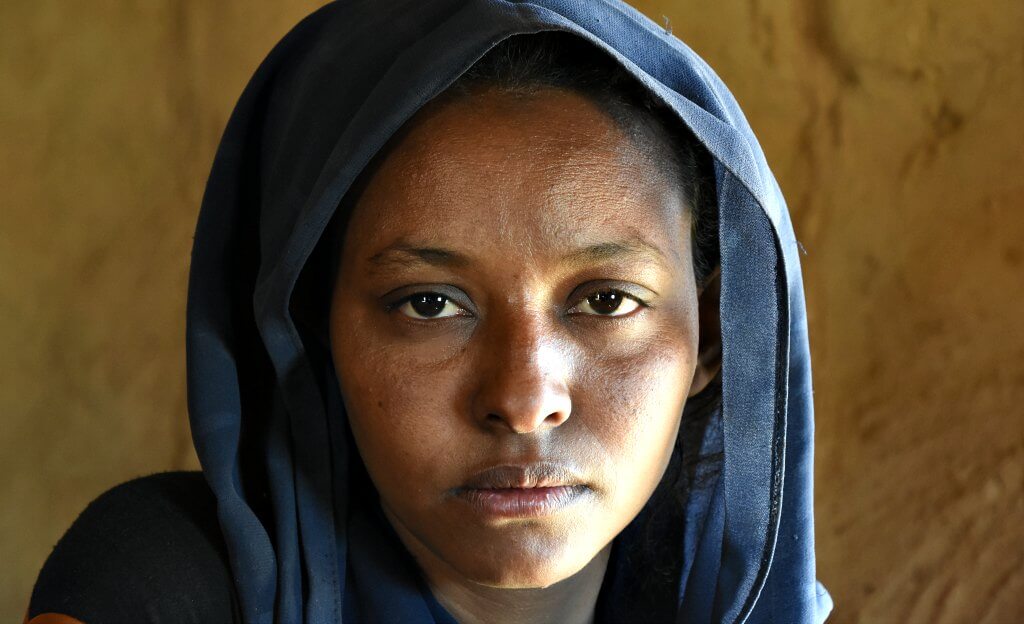 Here, amongst the sands and scrub of the deserts of northern Sudan, we stopped at her family's hut, where they gave us ginger coffee, a speciality in these parts. Whilst the girl was with her mother and grandmother (who lived in a separate hut), the male members of her family were out herding. You can travel anywhere anywhere between five and fifteen kilometres before coming to another building.
Two traditional tribesmen appearing through the pyramids at Meroë, touting camel rides (a sunset trip a particular highlight) to the Sudanese and few western tourists who visit. When we visited, there were about five other tourists in the evening, but only one when we came back the following morning, our having the pyramids literally to ourselves. Overnight, we stayed in Meroë tented camp, a permanent camp with a restaurant building, separate bathrooms, the best (if not only) place to stay for miles around. Although this camp is owned by Italians, so offers European food options, we tucked into the more traditional Sudanese dish of fuul, made from fava beans, onions and tomatoes.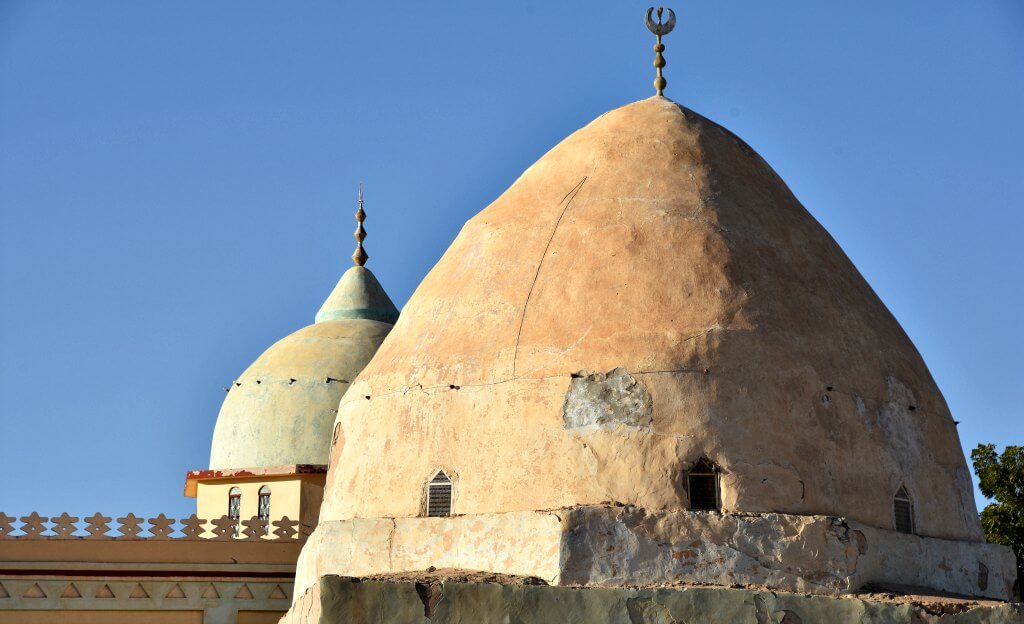 Somewhere near Nuri, this pretty mosque, built of traditional plaster construction, had a large cemetery in the front of it. Located in a small village, it was a good stopping off point to stretch the legs.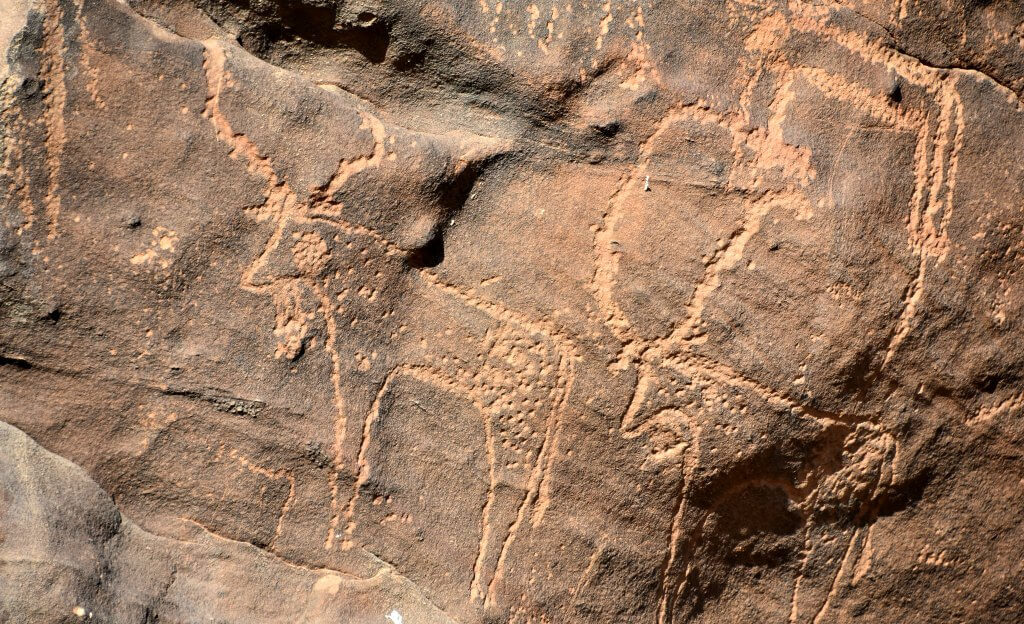 Petroglphys at Wadi Sebu, close to the third cataract of the Nile, a dry riverbed. These prehistoric markings are scattered around on rocks surrounding the wadi.
There are two temples at Jebel Barkal, this, the temple of Amun, the other, the temple of Mut. Both are Egyptian tombs which may seem strange, this being Sudan, but underlies the shared common culture, with Sudan ruling Egypt at points in history, and vice versa. It's a tight squeeze, with only a few people able to get inside at once.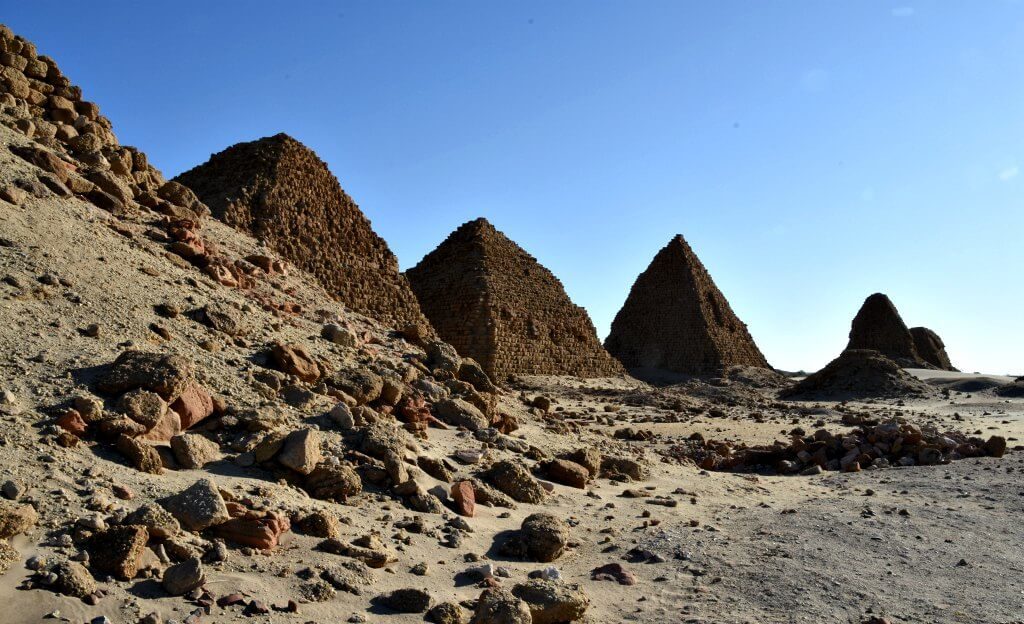 There are many pyramids at Nuri, in various states of disrepair, from not much more than piles of rubble to much better preserved ones like these. Built in the 7th century BC by Taharqa, the most powerful ruler in Sudanese history, where, as befitting his status, his is the largest pyramid there.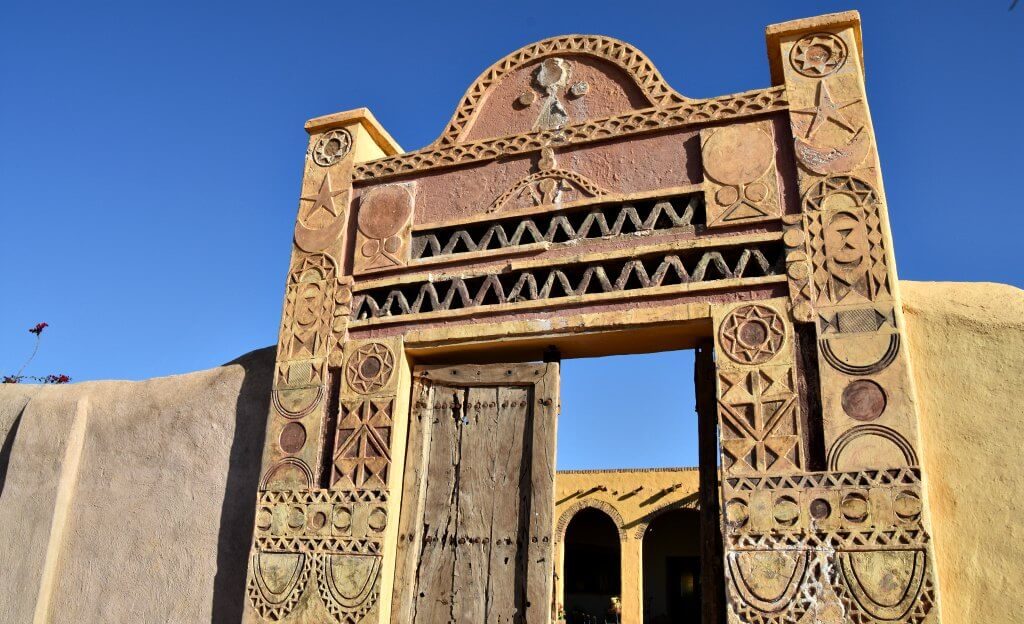 Whilst other guest houses in the town of Karima at the foot of Jebel Barkal are fairly simple, this gem of a Nubian rest house stands out. A boutique hotel by anyone's standards, this charming, character-filled property has a charming ambiance, and offers one of the best night's sleep we had in Sudan.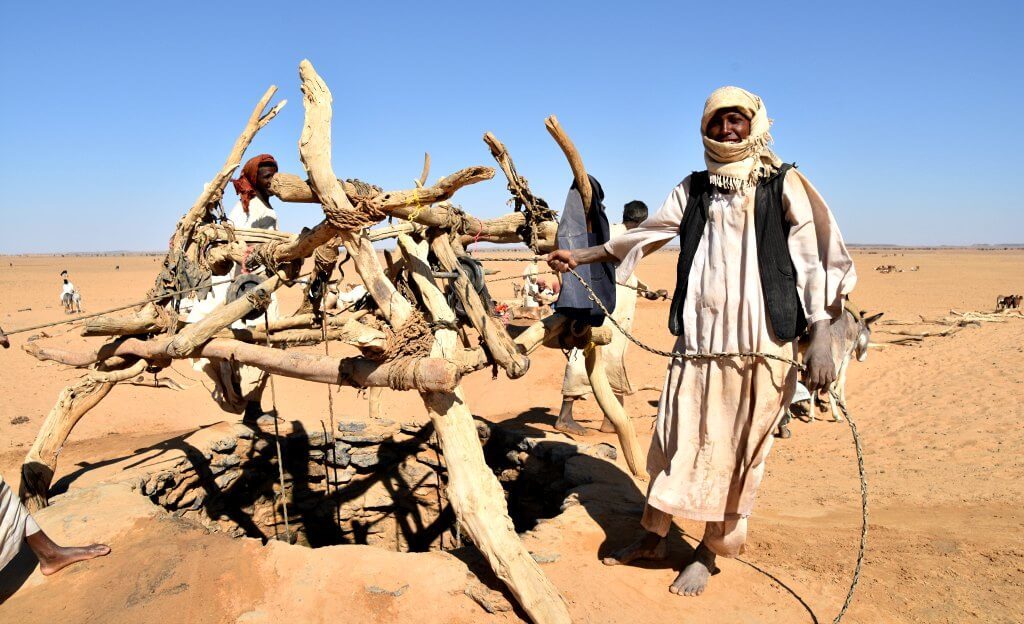 As we were driving across the Bayuda Desert, we came across this small gathering of herdsmen by a well where they'd come to water their goats, sheep and camels, pouring water from the well into troughs on the ground. Although we had no common language, the people we met there were incredibly friendly people, very welcoming and demonstrably happy. Despite Sudan being mostly desert, you'll come across a well like this every five or ten miles.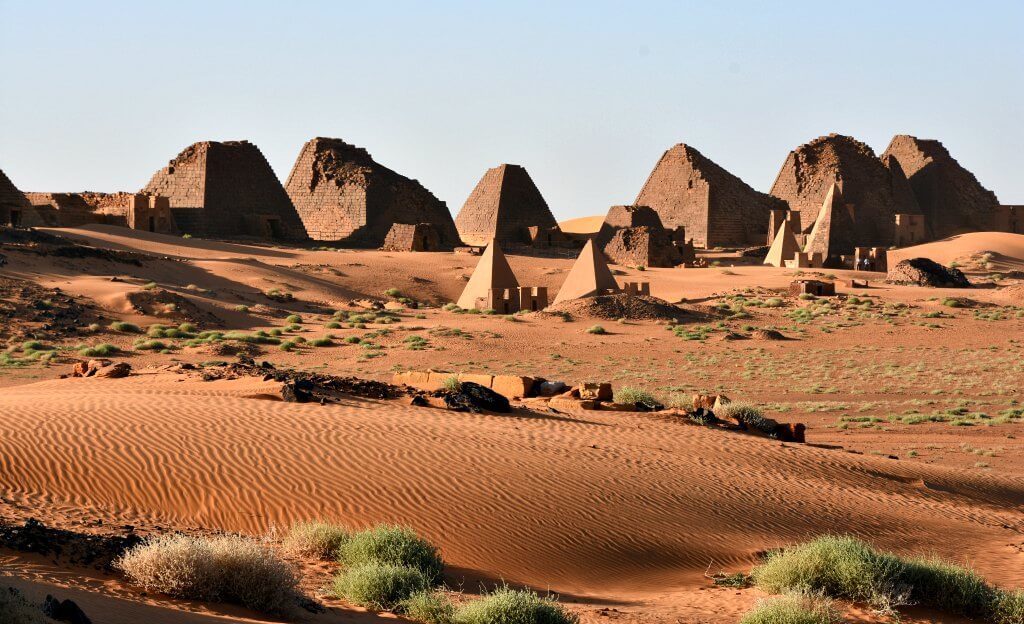 Pyramids at Meroë, the country's premier tourist site about 200 kilometres north east of Khartoum and, whilst it may look from the above picture that they are remotely located, in reality, they're actually within easy walking distance from the main road linking Khartoum to Atbara. Most people spend a few hours here, exploring these ancient pyramids (take guide-book estimates of '200' or so with a pinch of salt as most of them are rubble), which, like their Egyptian counterparts, were built as tombs for Sudanese royalty. Constructed later than the pyramids at Giza, Egypt, the royal cemetery was moved from Nuri to Meroe, so are the last of the royal pyramids. Sudanese royalty continued to be buried there until the 4th century AD, whilst the oldest date from the 8th century BC.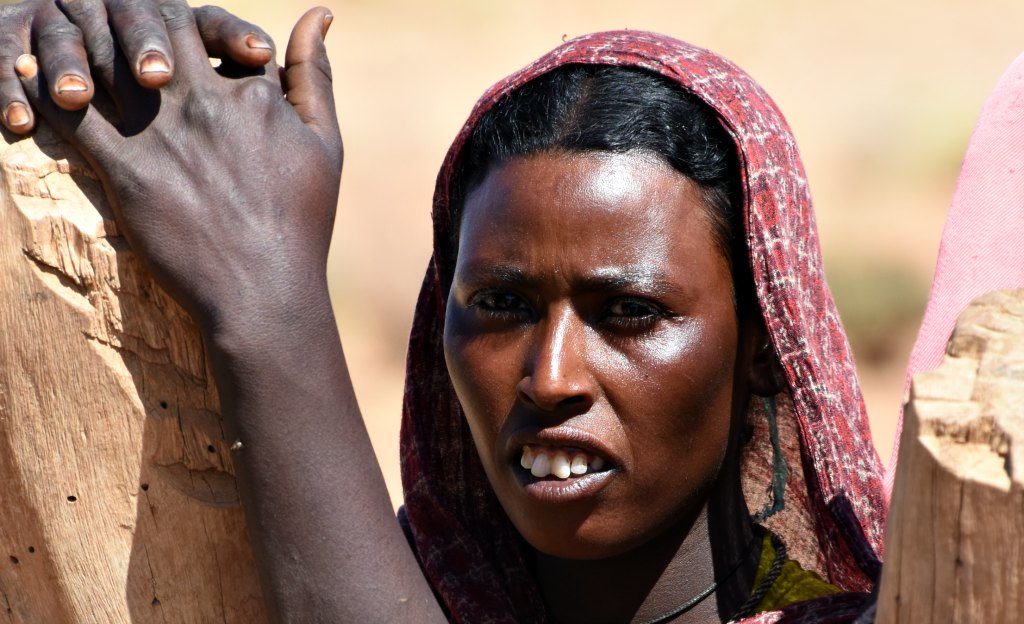 A local lady, resting for a moment by a well near Naqa.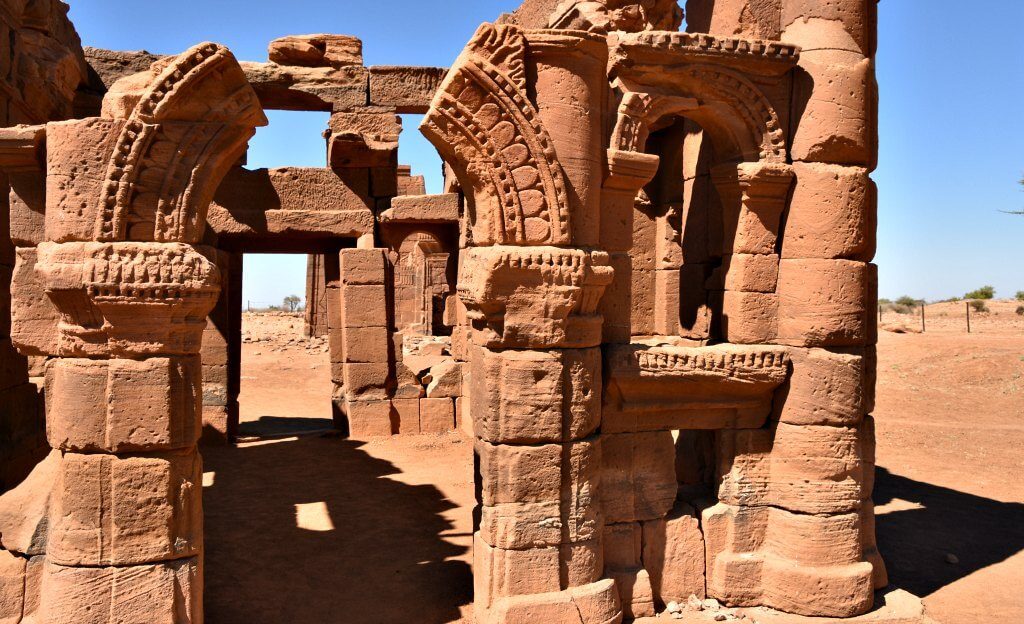 The temples at Naqa (1st century AD) are probably the best preserved temple in Sudan, as this image of an archway shows. You need to take an off-road vehicle to get there where you'll be rewarded with these intricately carved structures, in this case, a temple archway.
Flanked by a column of rams, about 200 metres apart from the previous temple arch is another, if slightly less intricately carved temple than its neighbour.
Best ways to explore Sudan
Native Eye offers two trips to Sudan, a 9-day Kingdom of the Black Pharaohs trip and a more comprehensive 15-day adventure, The Nile Valley and the Western Desert.
If you enjoyed our Sudan photos, take a look at our Sudan destination page to find out more about what this amazing country has to offer or call us on 01473 328 546.