Traveller Siobhan Lavery joined us on our annual group trip to Angola, where she spent time with some of southern Africa's most traditional ethnic groups. Angola is now starting to cautiously open itself up to tourism, and its isolation over the years means that the encounters you have with local people are nothing if not authentic. Here's what Siobhan had to say about her trip.
"The motorbike rider in our headlights appears to be dancing in his seat as he attempts to keep both his and his bike's balance in the soft sand he is trying to negotiate at speed in the rapidly descending dusk. He is guiding us to the Mucuable encampment where we are due to spend the night. He leaves the barely discernible track, to negotiate a path through various thorny bushes and then suddenly stops. It turns out that the encampment has moved. With the night time darkness now total, Wilson senses the question on the tip of our tongues. In his lyrical sing song Portuguese lit he utters what has quickly become his catchphrase "Don't worry, they will come". As always he was right, come they did. Within minutes out of the darkness emerged several Mucubal men, clearly attuned to their environment and knowing someone had arrived, they had decided to check out who was at the metaphorical door.
Their attire, as with all the tribes we visited, was a mixture of both traditional and western clothing. Brightly patterned cloth wrapped round their waist and slung over their shoulders, tailored with a western jacket and on occasion, and a tad disconcertingly, a woman's handbag. Previously wearing western clothing could result in a person being ostracised from their tribe, however as transport and communication links improved, western clothing is slowly but surely being adopted, with the young men invariably the trendsetters.
As mobile phones were bought out and confirmation as to the exact location of our hosts location was ascertained the young men viewed us with as much curiosity as we viewed them. They found it strange and amusing that the three women in our group, all wearing trousers, were in their minds dressed like men. As we finally arrived at our hosts, word of our arrival had clearly spread as we were watched by 20 men as we put up our tents, the general good natured laughter emanating form them clearly indicating they found our strange ways amusing and enjoyable entertainment.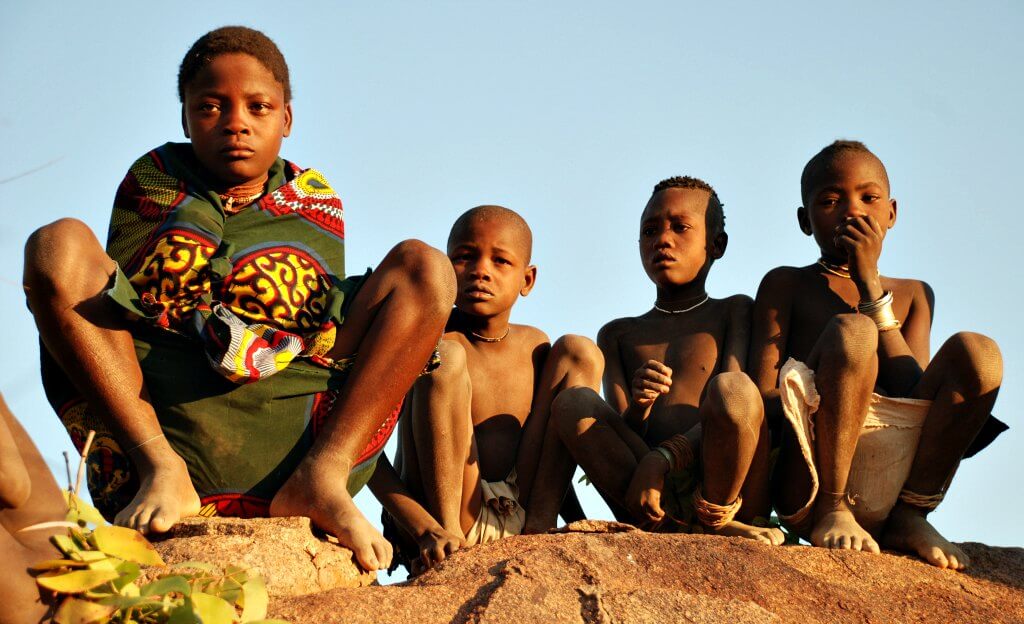 The day starts early for the Mucubal, the cockerels providing a useful first clarion call. Before first light voices can be heard from the encampment, then as the sun's first rays pierce the horizon the young teenage boys are herding the goats out to graze for the day. The younger children separate the kids from their mothers and ensure they stay behind in the safety of the camp, due to the distance covered by the herd each day they would be unable to keep up and be at risk of getting lost. The woman already have the fires burning and food cooking, whilst the men are again observing us before they start their day.
In the light we able to fully appreciate the beauty of our campsite, our hosts encampment, which blended seamlessly into its environment, comprises a large circle made up of branches of thorny bushes, stacked to sufficient height that the goats are unable to jump out. Within this there are several structures, most made of branches, one of mud, where provides shelter at night for the family. The Mucuable woman are known for having their upper two front teeth filed down in an inverted V shape and their lower two front teeth removed. This dentistry is done on puberty, by a male in the family, with a celebratory meal of goat eaten afterwards.
We are half way through our 11-day trip through Southern Angola visiting, and where possible camping, with seven different tribes in the region. Whilst there are tribes all over Angola, those in the South have to date kept their traditional way of life and dress more so than the other regions. Angola's economy has stalled of late due to its reliance on the oil industry and the fall in recent years of oil prices. In response, the Angolan government is attempting to diversify its economy and tourism is an industry it is actively promoting.
For many the only thing they know of Angola is its long and brutal civil war, which started in 1975 and finally ended in 2002. When asked if tensions could rise again I was told by several people that the country was are tired of fighting, everyone lost too much to return to those dark days. Certainly the atmosphere in Lubango and Southern Angola was very pleasant and relaxed; it didn't have the tension in the air that can be found in some countries. It was also clearly apparent that this is a country with a future. Whilst many buildings look tired or in need of repair, there are many fresh new modern buildings appearing like new green shoots amongst them.
We started our trip in Lubango, where we were met by Wilson, a big bear of a man, who has a quick smile and easy laugh. He oozes a continual sense of laid back calm and has a deep knowledge of the region and its people. We then drove south for eight hours to Oncocua, in an area inhabited by three different tribal groups, the Himba, the Mucawana and the Mutua.
When we visited the regional month long trade fair was occurring, which meant that those from the surrounding villages and habitations were visiting Onocuca to socialise and also undertake chores such as registering to vote and taking their children to the clinic. We had a fabulous time in the market, with people coming up to us, offering smiles and firm, welcoming handshakes.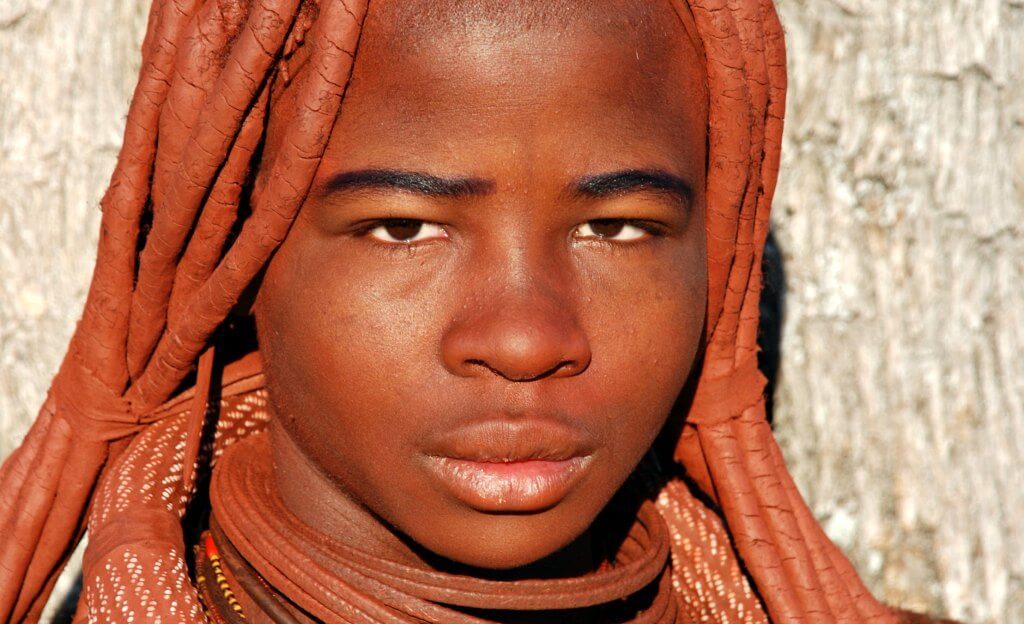 The Himba and Mucawana women are visually stunning, clearly much time and effort is put into intricate hair styles and body adornments. In the evening the festival provided a soundtrack of Angolan beats broadcast through a tannoy system powered via a solar charged generator, with an overlay of much laughter and conversation.
After spending two nights here, we then drove back north to Chibia to visit the Muila, known for their dreadlock-esque hair style (called nontombi) and intricate and colourful mud necklaces. We camped in the atmospheric grounds of an abandoned farmhouse. The Portuguese owner had left in 1978 and had asked his employee to mind it whilst he was away. To date he has never returned and no communication has been received from him, however his employee refuses to break his work and continues to faithfully guard the property, which has now taken on the mournful air of a jilted lover still waiting for her beau to return.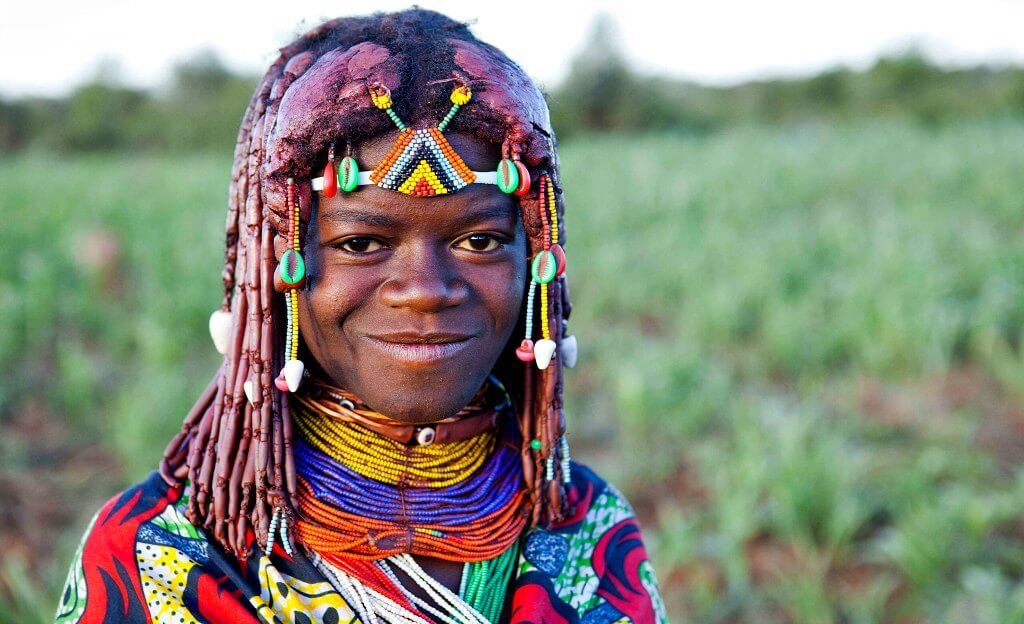 In the morning we walked through a windswept market to a Muila village, two elderly sisters kindly showed us around. Even though we did not speak a common language, they were able to explain via universally understood mimes the different aspects of their life. Despite the thinning hair, the nontombi were still in place, a deep beauty and strength emanating from their weather worn faces. We watched mesmerised as another lady swept grain into a basket, lifted it to shoulder height and then with practiced moves and with deceptive ease, slowly let it fall out, in a manner such that the grain was sifted as it fell.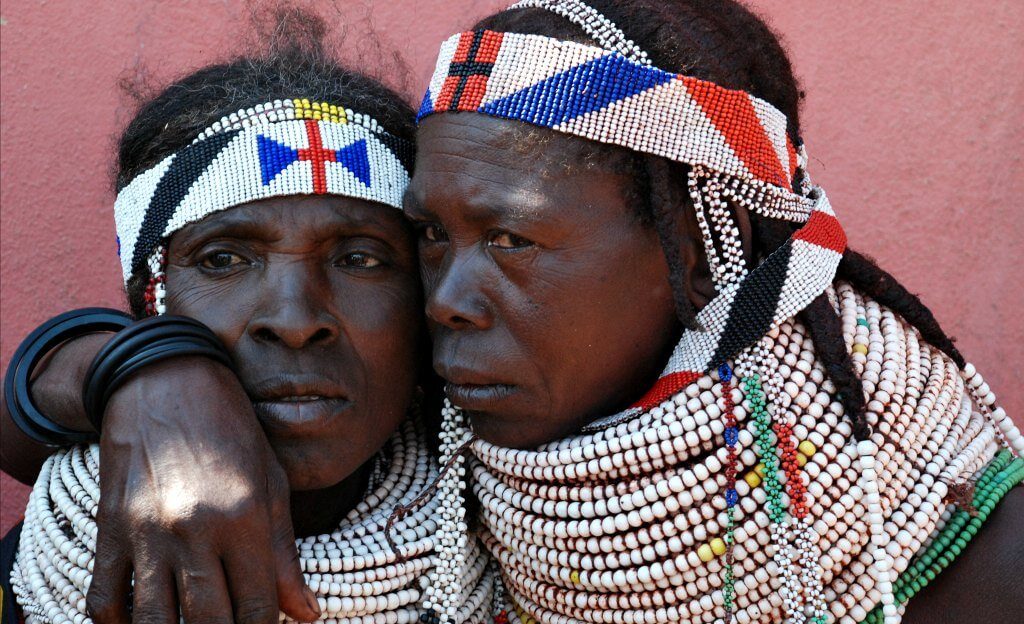 We made our way back to the market and over a cold N'gola beer watched the world go by, before making our way to Namibe, which served as a stop off prior to our stay with the Mucabal. This involved us taking the famous Serra da Laba pass, which took us from an altitude of just under two thousand metres, to sea level within ten kilometres. With the first two kilometres encompassing seven tight hairpin bends, it is the type of road where looking over the edge is not advisable unless you have a firm head for heights.
After spending time with the Mucabal people, we then slowly made our way back to Lubango, briefly visiting the small in stature but beautiful Nguendelengo and encountering the Handa, who continuously wear enormous numbers of white bead necklaces.
At the end of the trip as soon we were back in the world of hot showers and wifi, the first thing I did was send the following message to all my travelling friends:
"You need to visit this undiscovered jewel of a country, the culture and people will steal your heart. Visit and do it soon!"
I reiterate those words to all who wish to hear."
More on travel to Angola
See our small group tour, Expedition to Angola, for a day-by-day itinerary, photo gallery, prices and more. Call us or email if you'd like to start planning your trip.