The northernmost of the Baltic states, sandwiched between Russia and Scandinavia, lovely Estonia is a hidden gem, in our eyes. Having broken free from the Soviet yoke in the 90s it has undergone a rapid transformation. The monotony of Communism has given way to a vibrant and modern culture that retains its deeply rooted traditions.
This is a land of forests, bogs and lakes. Its people feel a deep connection with the natural world – so much so that surnames here are often derived from nature. Fishermen still live their lives by the rhythm of the sea, and the farmers by the ever-changing seasons. In the more isolated communities, it's still possible to find people wearing traditional Estonian dress. With over two thousand islands dotted along its coast, the sea plays a huge role in life and identity here.
It's not all about nature though. Our Estonia holidays take you to impressive medieval cities and well-preserved historic quarters. The atmosphere of these times lingers amongst the cobbled streets, timber-framed houses and grandiose churches. The architecture here bears tantalising traces of all those who have settled and conquered Estonia over the years, from the Swedes and Germans to the Russians.
Top highlights on Estonia holidays and tours
Explore the alleyways and squares of Tallinn's Old Town
Step back in time on the delightful island of Kihnu
Visit medieval castles
Discover the fishing villages and coastline of Lahemaa National Park
Head into the countryside on a holiday in Estonia to find rural farming communities where you'll be invited into local homes for some smoked fish and sausage, or even some homemade wine brewed from local fruits. Estonia has a gentle and easy pace that grows on you even after a short visit.
Culture
Estonia's population is made up mainly of an Estonian majority, and a Russian minority. Tensions will vary according to political events, but by and large co-existing well. Estonians have a deep connection with nature and many of their traditions are centred on the environment and the seasons. Huge bonfires are lit on midsummer's night, and customs are derived from older, pagan, roots.
Although Estonians are nominally secular, the Lutheran church is important and there are few communities without one, with the Russian population adhering to the Orthodox faith.
The official language here is Estonian, and you'll find many people speak English.
When to go on holiday to Estonia
With its northerly location, the best time to visit Estonia is without a doubt in the summer, from May to August. Temperatures are their best now – although it can still be a little cool – and you avoid the dreary rain and snow of winter. In midsummer you can also experience the 'white nights' when the sun barely dips below the horizon and it doesn't quite get dark.
Start planning your Estonia holiday or tour
Check out our small group tour to Estonia: Baltics Uncovered. Many of our trips are small group adventures with set departures. However, as a bespoke operator, we can design and create trips to suit any traveller, from solos to larger groups. If you would like to find out more about tailor-made holidays to Estonia or our group tours, call us on 01473 328546 or email us via our contact page. We'd love to hear from you.
Show more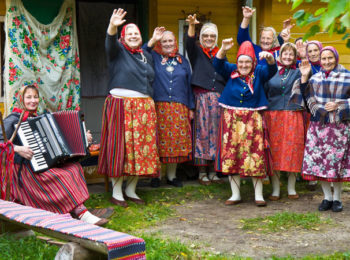 Estonia
Good for:
Historic Sites and Local Culture