We are strongly opposed to the unjustified invasion of Ukraine by Russia, and stand with the Ukrainian people, our partners, guides and friends in the country. We have run trips to Ukraine since our inception in 2013, and are devastated to see the unprovoked tragic attacks on a peaceful nation and people.
Tourism, especially to the more unusual parts of the world that we focus on, helps to foster understanding and tolerance amongst different people, and we believe that there is a difference between the actions of a government and its people. Our tours to Russia focus on areas and people that are often very far from Moscow, both geographically and ideologically, and we believe that our trips benefit local communities very far outside the Russian mainstream. However, the gravity of the current situation is such that we have cancelled our trips to Russia, both group and private tours, for the remainder of 2023.
– – –
Spanning both Europe and Asia and by far the largest country on earth, Russia defies soundbites and neat descriptions. Instead, it offers a bewildering range of diversity that makes it difficult to know where to start.
With a population of over 144 million, the diversity in culture, environment, terrain, and religion is rich and expansive. Our Russia holidays and tours focus not on the well-trodden trails of Moscow and St Petersburg but seek out its more unusual corners. West of the Urals lies Siberia, a stunning wilderness of forests, rivers, and mountains that harbour majestic wildlife and traditional ethnic groups still following the ways of old.
Discover ancient burial mounds dating back millennia, uncover the shamanism that was never quite lost during the Communist era, and share stories and dinner with nomadic reindeer herders over a campfire deep within the taiga. This is Asia's last frontier, difficult to travel through yet rewarding in the extreme.
Top highlights on Russia holidays and tours
Explore the ancient Scythian burial mounds of the Pazyryk Valley
Journey through the breath-taking landscapes of the Western Altai
Visit a community of 'Old Believers'
The Denisov Caves, a UNESCO listed site which was home to stone age man
Culture
Russia has a long and rich history, notably its involvement in both World Wars, the Civil War and rise of communism which followed. Its cultural and historical antiquity is apparent.
Russian is, of course, the main language spoken, and yet you will find that the different ethnic groups all have their own languages, some of which are entirely unintelligible to their neighbours. Saying this, it is easy to find English speakers in the big cities, but not so much in small towns.
About 30 million people live in Siberia and the Russian Far East – just 22% of Russia's population in 75% of its territory. This region is made up of Shamanism – a form of pagan earth-worship that dates back to the stone age, based on the observance of lunar rituals and sacred natural rites – as well as Christianity, Buddhism and Judaism. There is a rich native culture here too, including dance, story-telling and Tuvan throat singing, which you may be lucky enough to hear.
Despite the close proximity to China, Japan and Korea, Eastern Russian food is largely simple, consisting of fish, seafood, meat and cheese. Of course, vodka is the predominant choice of beverage for Russians.
When to go on holiday to Russia
It is hard to generalise the weather for such a giant country, however, the winters are cold, long and dark. The summers, on the other hand, are mild and brief. July and August are the warmest months, but also the rainiest, and so early summer, late summer and early autumn are the most popular seasons to travel in Russia.
Start planning your tour of Russia
Check out our small group tours to Russia: Altai Explorer and The Caucasus – From the Black Sea to the Caspian. While many of our trips are small group adventures with set departures, as a bespoke operator, we can design and create trips to suit any traveller, from solos to larger groups. If you would like to find out more about tailor-made Russia holidays or our group tours, call us on 01473 328546 or email us via our contact page. We'd love to hear from you.
Show more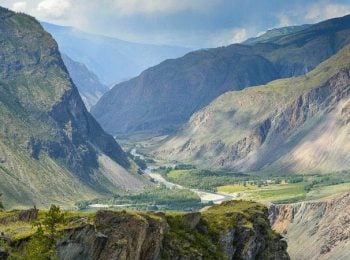 Russia
Good for:
Local Culture, Stunning Landscapes and Historic Sites
No products were found matching your selection.