Panama is the improbably shaped country that forms a bridge between Central and South America, around the same size as Ireland. Possibly the least visited of the Central American nations, it's best known for the famous canal and its former ruler, General Noriega – if at all. But there's so much more to discover on our Panama holidays and tours.
Panama City is one of the region's great financial centres – largely due to 'lax' banking laws – where the most modern and glitzy commercial buildings are just a few blocks away from the elegant colonial buildings of the old quarter, Casco Viejo. Here you'll find colourful markets and some of the best culinary experiences in the region.
The highlands are a land of cloud forests, where howler monkeys, quetzals and tapir roam amidst moss swathed trees. Panama is home to a wealth of biodiversity, with around 200 species of mammals, and a birdwatcher's delight, with almost 1000 species to be found here. Its seas are home to a wide array of marine mammals including numerous whale and dolphin species, as well as turtles and the unusual manatee.
Further south lies the mysterious Darien Gap, with its near impenetrable forests – the only place where the Pan American Highway breaks its journey from Alaska to Ushuaia. Off limits for some time, it's now possible to explore this enigmatic region.
Panama isn't just about wildlife and nature though. The Azuero Peninsula is the place to see traditional Spanish heritage and festivals, dotted with historic churches and picturesque plazas that evoke an earlier age. Mountain towns like Boquete are the centre of Panama's coffee industry, with charming family run farms whose history dates back several generations.
As well as this, Panama is home to numerous indigenous groups following their ancestral customs, from the Kuna people of the San Blas Islands to the Embera and Wounan who live deep in the jungles of the Darien.
Panama is perhaps Central America's best kept secret.
Top highlights on Panama holidays and tours
Meet the Ngobe Bugle people of the Bocas del Toro
Watching huge ships transit the iconic Panama Canal
The colonial architecture of the Azuero Peninsula
Look for wildlife in La Amistad
Hike in the cloud forest
Culture
Most people in Panama have roots that draw on both Spanish and indigenous heritage, although there are a number of traditional ethnic groups that still follow unique ways of life, as well as those with African roots. Very few Panamanians can claim pure European descent, and it's probably the most diverse country in Central America – there's also a sizeable Chinese population here.
Of all the countries in the region, Panama is the one that feels most 'American', a legacy of the canal and its hub as an international trade zone. But step away from Panama City and you'll find much more in the way of traditions, particularly on the Azuero Peninsula or among the tribal groups of the coast and forest. The Kuna people of the San Blas Islands operate as an autonomous province, with little interference from government.
Its cuisine tends to borrow more heavily from Colombia than the rest of Central America, so if you're already tired of rice and beans, you'll find Panama to be a treat. Popular dishes include sancocho, a spicy chicken and vegetable stew, and carimanola, a deep fried roll of yucca filled with chopped meat.
When to go on holiday to Panama
With its location close to the equator, Panama's climate is tropical, with high levels of humidity outside of the mountain regions. The best time to visit is usually considered to be the dry season, between December and April – although on the Caribbean side of the isthmus, it can rain at any time of the year. There's not a huge variation in temperatures throughout the year, but bear in mind that the highlands can be a little chilly at night and in the early mornings
Start planning your trip to Panama
Check out our small group tour to Panama, From the Cloudforests to the Caribbean. Although many of our trips are small group adventures with set departures, as a bespoke operator, we can design and create trips to suit any traveller, from solos to larger group. If you would like to find out more about tailor-made holidays to Panama or our group tours, call us on 01473 328546 or email us via our contact page. We'd love to hear from you.
Show more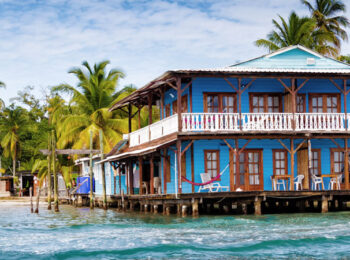 Panama
Good for:
Wildlife discovery and traditional cultures