Nicaragua is known as 'the land of lakes and volcanoes'. As well as being the largest country in Central America, it boasts a great outdoors that is relatively untamed and undeveloped. In contrast El Salvador is Central America's smallest country and possibly its most underrated and misunderstood.
Conjuring up a real sense of adventure and untainted by crowds, the natural beauty of Nicaragua never ceases to amaze. You can paddle through wetlands flourishing with wildlife, hop between idyllic islands and climb majestic mountains with us on our Nicaragua holidays and tours. Then wander along deserted jungle-fringed beaches and explore pristine rainforests.
The architecture also has real allure. The elegant colonial city of Granada is well preserved and perfectly maintained. While crumbling churches, rainbow streetscapes and proud heritage are characteristic of the far less-polished León. With a complex history of colonisation, revolution and dictatorship, Nicaragua today is a peaceful nation. It's home to skilled artists and fun-filled fiestas, and its people radiate warmth, wisdom and incredible hospitality.
Next door to Central America's largest nation sits its smallest. This tiny country is home to volcanoes carpeted with coffee plantations, glorious national parks and pre-Hispanic treasures. You'll also find picturesque little villages adorned with flowers and flamboyant murals, as well as a fascinating, if often difficult, past.
Highlights on Nicaragua Holidays and El Salvador Tours
Marvel at the perfectly preserved archaeological site of Joya de Ceren
Contribute to a turtle conservation project in Jiquilisco
Take a hike through history with an ex-guerilla soldier
Be charmed by the city of Leon and its crumbling colonial beauty
Peer into 'The Mouth of Hell' at the most active volcano in Nicaragua
Spot spectacular tropical wildlife at Indio Maíz
Both Nicaragua and El Salvador sit well off the usual tourist trails through Central America. They receive few visitors compared to Guatemala, Costa Rica and Mexico. Yet a trip here has the feeling of discovery and authenticity that can be hard to find elsewhere in the region.
Culture
Many of the Spanish people that originally settled in El Salvador intermarried with the native Indian population. As a result the main group of people in El Salvador today are 'mestizos', a mix of European and Indian ethnicity. The 'mestizo' people make up 90% of the population in El Salvador, with 9% being pure European and the remaining 1% native Indian.
The majority of the population are Roman Catholic. Some native Indian groups continue to believe in traditional gods, the largest group of which is the Pilpil.
The language in El Salvador is Spanish, whilst the Pilpil still speak the indigenous Nahuat language.
In Nicaragua, religion is of monumental importance and the main religion is Roman Catholic. Many religious celebrations take place throughout the country, with joyous music and dance attracting large crowds.
Each town and city has an official saint, known as 'Santo Patrono', designated since colonial times. These saints are honoured with gifts in exchange for blessings. Celebrations called 'Fiestas Patronales' are colourful, folkloric events, often lasting for several days.
Spanish is also the principal language in Nicaragua and the Nicaraguan accent is very distinctive.
When to go on holiday to Nicaragua and El Salvador
The best time to visit Nicaragua and El Salvador is in the dry season, from November to April. December is regarded as the best month as the rainy season has only just ended so the landscape will still be green and the air fresh and clean. The roads are easier to navigate in the dry season and wildlife watching is also best now. The wet season runs from May to October. There is little temperature difference between seasons, with temperatures relating more to elevation.
Start planning a Nicaragua holiday
Check out our small group tour to Nicaragua and El Salvador: Colonial Cities and Lava Lakes. While many of our trips are small group adventures with set departures, as a bespoke operator, we can design and create trips to suit any traveller, from solos to larger group. If you would like to find out more about tailor-made Nicaragua and El Salvador holidays or our group tours, call us on 01473 328546 or email us via our contact page. We'd love to hear from you.
Show more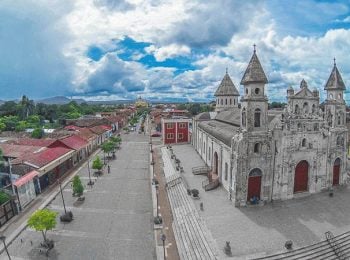 Nicaragua and El Salvador
Good for:
Historic Sites, Local Culture and Wildlife