Mexico is a melting-pot of vibrant cultures, a country full of surprises at every turn. The north is home to cowboys and the south is rich in Mesoamerican traditions, a region which for thousands of years was populated by fierce tribal groups, such as the Maya and the Aztecs. Indigenous culture still exists in Mexico today, with the animist Raramuri living in isolated communities among the Sierra Tarahumara mountains, known for their impressive foot races and their dedication to the gods of the sun, rain and moon.
The country boasts a plentiful variation of landscapes, from the shimmering blue coastline of Baja California, thriving with large marine mammals, to the cactus-strewn deserts of the north. And then there's the grandeur of the Copper Canyon, a series of canyons linked together by the famous El Chepe railway which winds through the rugged terrain via a sequence of eighty-seven tunnels and thirty-six bridges. In contrast to the Raramuri, whose villages are dotted along the railway's edges, the canyon's eastern end is home to the largest Mennonite community in Mexico, a Christian sect dating back to the 1920s and speaking an obscure version of the German language.
Music-filled plazas and village fiestas are easily stumbled upon in Mexico, whilst palm-lined beaches are aplenty and the country's historical and cultural heritage is ever-present in its mighty pyramids, lavishly-adorned colonial churches and native rural villages.
Top Highlights on Mexico Holidays and Tours
Meeting the Raramuri Indians and Mennonite communities
Travelling by train on the Copper Canyon railway
Spotting sealions and Blue-footed boobies on Espiritu Santo
Searching the Sonora Desert for the California condor
The salt flats and saffron dunes at Guerrero Negro
Silver, leather, pottery and woollen goods abound here, with craft traditions remaining strong having descended from arts practiced long before the arrival of the Spanish. And as the birthplace of tacos, chocolate and tequila, let us not forget Mexico's mouth-watering cuisine which is famous worldwide.
Everyone you know will surely be able to tell you something about Mexico, be it the pyramids of Chichen Itza, the beaches of the Riviera Maya or Frida Kahlo's self-portraits, but our trips add a new dimension to the conversation, as we take our travellers to secluded peninsulas and remote ravines, away from the conventional tourist tracks.
Culture
Around three-quarters of the population are Roman catholic, with most Mexicans actively practising. Other faiths include animism with hints of Catholicism, followed by the Raramuri people, and the Mennonite sect of Christianity, brought to Mexico in the 1920s from Canada.
The population is mostly mestizo – people of mixed Central American and European ancestry – making up around 62% of the population. Around 10% belong to a European background, and the remainder are of an indigenous Central American origin. The majority of the population speak Spanish but there are around fifty indigenous languages spoken in the country.
Mexicans are courteous people and it isn't uncommon for them to address people as senor or senora, with anything less being considered as impolite. Family is an important element of society in Mexico and it's common to see three generations sharing one residence. Family fiestas lasting long into the night with dancing, live music and feasting are common, and these celebrations are thrown for weddings and teenage birthdays alike.
Machismo has been dominant in Mexican culture in previous years, with patriarchal family roles still existing in rural areas. Outside of these areas, the outlook that men should be 'macho' is on the decline, with more women going out to work rather than staying home to do the cooking and raise the children.

When to go on holiday to Mexico
The best time to visit Mexico is generally between November and April, missing the rains that begin in May and the hurricane season which runs from June to October. However, as the country possesses four deserts, two oceans, jagged mountain peaks and four time zones, there isn't necessarily a 'one rule fits all' when it comes to weather. Whilst coastal regions are hit by rains in the summer months, the north of the country sees hardly any rainfall at all and can be visited year-round.
Start planning a Mexico holiday
Check out our small group tour to Mexico: Mexico – Baja California and the Copper Canyon. While many of our trips are small group adventures with set departures, as a bespoke operator, we can design and create trips to suit any traveller, from solos to larger group. If you would like to find out more about tailor-made Mexico holidays or our group tours, call us on 01473 328546 or email us via our contact page. We'd love to hear from you.
Show more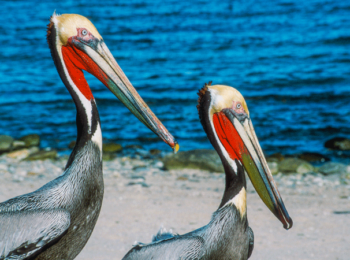 Mexico
Good for:
Stunning Landscapes and Marine Wildlife