Colombia is perhaps the most exuberant of all South American nations, a kaleidoscope of colours, cultures and traditions that all too often seduce its visitors. With both a Caribbean and Pacific coastline, the thick forests of the Amazon, snow capped peaks and arid deserts, its landscapes are as varied as its people, and it's the most biodiverse country in the world. In recent years Colombia has started to emerge as one of the most exciting places on the continent.
Our Colombia holidays and tours show you a country where the 'gringo trail' isn't yet established – for many years Colombia was very much off limits due to the problems caused by drug trafficking and guerillas, and remained a 'no-go' area. Thankfully much has changed in the past decade as the country has gone through a major transformation, its past troubles a bad memory.
Historic towns boast some of the best colonial architecture in the region, with cities such as Cartagena a profusion of cobbled streets, brightly painted houses and colourful hanging baskets – ideal for those lazy, aimless wanderings of discovery. These historic cities were once the target of roving pirate bands, attacking the riches of the Spanish Empire, the evidence of which is all around in the form of elaborate facades and lavish palaces.
In the interior lie vast ranches and farms where horseback is still the main form of transport, and Colombia's traditions are at their strongest – a far cry from the bustling modern world of downtown Bogota.
The forests are home to iconic wildlife and the treasures of older civilisations – little is known about the enigmatic statues of San Agustin, while the 'Lost City' was only discovered in 1972.
Top highlights on Colombia holidays and tours
The iconic colonial architecture of Cartagena
The archaeological treasures of San Agustin
Explore the heritage and cuisine of the coffee region
Visit the vibrant cities of Bogota and Medellin
Try traditional Colombian cuisine
Colombia is still – for the moment – sufficiently 'off the beaten track' to hold a few surprises for even the most seasoned of travellers.
And wherever you are, the Colombianos themselves exhibit a fervent joie de vivre, exemplified in the country's many carnivals, fiestas and impromptu celebrations. It's difficult to avoid falling under Colombia's spell….
Culture
Colonised by the Spanish in the 16th century, Colombia is today a largely Catholic country with a diverse ethnic make up. The three main groups are those of Spanish, indigenous Indian and African descent, with a high degree of intermingling – Colombia's culture eludes easy definition. On the Caribbean coast are distinct populations of African origin whose culture and customs are suffused with those from the motherland, while larger cities often have very much a European feel to them. The country has a strong musical tradition, merging influences from the Caribbean, Spain and Africa, and salsa is very popular – Colombia holds huge salsa tournaments to judge the best aficionados of the dance.
Food lovers are in for a treat here, with Colombian cuisine being amongst the best in Latin America. Expect restaurants on the two coastlines to focus on excellent seafood dishes, while hearty stews an soupy broths are more popular in the cooler mountain areas. Rice and beans accompany many meals, along with corn bread, while pork tends to feature quite heavily. Throughout towns and cities you'll find street stalls selling tamales (steamed maize dumplings with meat fillings) and empanadas. The classic Colombia alcoholic drink is aguardiente, made with sugar cane.
When to go on holiday to Colombia
Colombia is essentially a year-round destination, with an average temperature of around 25 degrees Celsius, although this can vary significantly depending on altitude. The driest months are from December to March, but it can rain at any time of year
Start planning your trip to Colombia
Check out our small group tour to Colombia, Colombia Revealed. Although many of our trips are small group adventures with set departures, as a bespoke operator, we can design and create trips to suit any traveller, from solos to larger group. If you would like to find out more about tailor-made holidays to Colombia or our group tours, call us on 01473 328546 or email us via our contact page. We'd love to hear from you.
Show more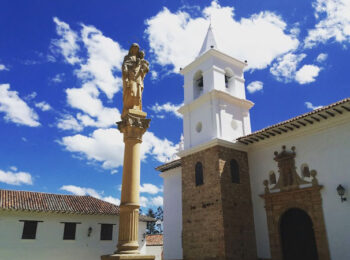 Colombia
Good for:
Colonial cities and traditional cultures