At the very heart of South America is the landlocked and often overlooked country of Bolivia. Much less visited than its neighbours, this captivating destination is home to an extraordinarily diverse range of landscapes.
As you travel across the country the scenes change dramatically from white salt flats to dense Amazonian rainforests, and from heavenly Andean peaks to the windswept expanses of the Altiplano. Geothermal sulphur springs battle for attention against imposing volcanoes and fierce deserts. These extremes support a wide variety of flora and fauna from anacondas and jaguars, to pink freshwater dolphins and hummingbirds. The country is dotted with picturesque colonial towns and peculiar ruins. On our Bolivia holidays you will find its cultural diversity and ethnic make-up as varied as its landscapes.
Bolivia has had three centuries of colonial rule, leaving lasting impressions on the country's language, religion and architecture. However, indigenous cultural traditions that extend back not only before the arrival of the Spanish but also of the Incas still survive. These are ever-present, as are indigenous languages such as Aymara and Quechua. You'll soon enough find Bolivian people making offerings to Mother Earth or 'Pachamama' as you will find them praying in a Catholic church.
Top highlights of Bolivia holidays and tours
Traverse the remarkable Salar de Uyuni
Discover the Amazon Rainforest
Travel on breathtaking roads in the Yungas
See the 'fighting cholitas' in action
Explore Lake Titicaca
If you want to travel to Latin America, and feel like breaking new ground, much of Bolivia is still well off the tourist trail. With witches and medicine men still about, you'll definitely sense a sprinkle of magic.
Culture
The predominant language is Spanish and is spoken by the majority of the population. Indigenous languages are also spoken. Quechua, the language of the Inca, Aymara, is one of the oldest Latin American pre-Colombian languages and Guaraní, is the native language of the Guaraní, an ethnic group from the Chaco and Amazonian regions.
The main religion in Bolivia is Roman Catholic, with a scattering of other Protestant groups. Indigenous Bolivians have blended Catholicism with their traditional religious beliefs.
The culture in Bolivia is diverse and includes people of Spanish origin – descendants of the colonizers – indigenous groups from the Andes, mestizos, who are a mixture of both, as well as small minorities of immigrants and descendants of African slaves from the colonial period. When the Spanish colonized Bolivia in the 16th century, they suppressed some indigenous traditions and introduced others.
However, many indigenous traditions, customs, languages and rituals prevail. Religious arts were brought in by the Spanish but were later developed by indigenous artists to create new styles. Indigenous traditions started becoming more common again in the 20th century. In addition indigenous languages have now been given official status.
When to go on holiday to Bolivia
The altitude and topography of Bolivia affect the climate more than the different seasons do. Still there are clear-cut seasons, with winter running from May-October, which is the dry season and the best time to visit. The highlands are noticeably colder at night and days are slightly shorter. But it is usually sunny with crystal clear skies, making it the perfect time to walk, hike and explore.
The winter (invierno) is also the best time to visit the hot and humid lowlands, when temperatures are slightly lower. Rain can occur year-round however. A few times a year, usually between July and August, cold fronts also known as 'surazos', come up from Patagonia and can send temperatures plunging, even in the Amazon. It is best to avoid August and September, as farmers set fire to cleared forest areas and this can cause respiratory problems and can obscure views.
Summer (verano) is the wet season and runs from November to March. The wet weather is more pronounced in the lowlands with road travel becoming impossible, whilst river travel becomes more frequent.
Start planning your Bolivia tour
Check out our small group tour to Bolivia: Bolivia Uncovered. While many of our trips are small group adventures with set departures, as a bespoke operator, we can design and create trips to suit any traveller, from solos to larger group. If you would like to find out more about tailor-made Bolivia holidays or our group tours, call us on 01473 328546 or email us via our contact page. We'd love to hear from you.
Show more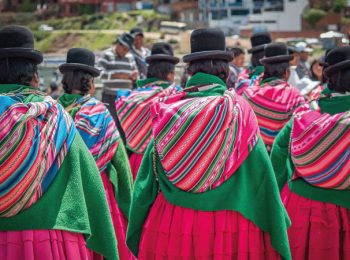 Bolivia
Good for:
Historic Sites, Stunning Landscapes, Local Culture and Wildlife