We are strongly opposed to the unjustified invasion of Ukraine by Russia, and stand with the Ukrainian people, our partners, guides and friends in the country. We have run trips to Ukraine since our inception in 2013, and are devastated to see the unprovoked tragic attacks on a peaceful nation and people.
We have cancelled our tours in Ukraine for 2023, and hope to return there in the future when it becomes possible to visit this beautiful and inspiring country once more.
Our Ukraine holidays and tours challenge any preconceptions that you may have about this vast nation, and uncover a sleeping giant that is starting to gain the recognition it truly deserves.
Now released from the grip of its much larger eastern neighbor, Ukraine is quickly becoming known as the home to some of Europe's greatest cultural treasures. Its cities are packed full of splendid architecture and stunning buildings that rival anywhere else on the continent. It is far from the grey ex-Soviet monotony that some might expect.
Ukraine's deep religious heritage was never quite stamped out under Soviet rule. Rather the country abounds with utterly breathtaking churches and monasteries, whitewashed and topped with golden domes, where old babushkas make devout prayers inside.
Much of the country was ruled by Poland for centuries, and feels Central, rather than Eastern, European, with the elegant city of Lviv perhaps being the best example. Its historic centre boasts stunning palaces, museums and theatres that take you back a couple of centuries in time.
Top highlights on Ukraine holidays and tours
Visit the golden domed monasteries and cathedrals of Kiev
Explore the ghost town of Pripyat, left abandoned after the Chernobyl disaster
Wander through the historic centre of Lviv, one of Europe's most attractive cities
Meet the Hutsul people in the Carpathian Mountains
Experience the elegant city of Chernivtsi, with a different feel to the rest of the country
Outside of the cities are endless steppes, golden wheat fields, gushing rivers and imposing mountains that are home to some of Europe's most traditional people, the Hutsuls, and wildlife such as bear and lynx still roam the vast forests.
Our Ukraine holidays show you a country that sits on the edge of Europe, still very much off any kind of tourist circuit, making travel here rewarding and authentic in a way that is fast being lost elsewhere.
Culture
The main language spoken here is Ukrainian, which is closely related to Belarusian, Polish and Serbian. Many people will also speak Russian and a few words of this will help in your travels. Increasingly people are beginning to speak English, especially among the younger generation, although not so much once you get out of the major towns and cities.
Most people here belong to the Eastern Orthodox Church, although there are also many Catholics and small pockets of other religions, including Judaism. Easter is a big event for Ukrainians at which time they decorate eggs known as pysankas. Styles and methods of decoration differ in different regions and this practise was banished by the Soviet Union but has been reintroduced.
Ukrainians are extremely friendly and hospitable and social occasions always include food. Guests are always offered something to eat and it is considered rude to eat in front of another person and not to offer them something. The Ukrainian people are also big drinkers, enjoying vodka and the national drink called horlika, which is flavoured with chili pepper and translates to "burning water".
When to go on holiday to Ukraine
The best time to visit Ukraine is in the summer months, from June to September, when it is warmest. The winter can be bitterly cold with heavy snowfall and this can hinder travel, especially to more remote areas such as the Carpathian Mountains.
Start planning your Ukraine tour
Check out our small group tour to Ukraine: Belarus, Ukraine and Moldova. While many of our trips are small group adventures with set departures, as a bespoke operator, we can design and create trips to suit any traveller, from solos to larger groups. If you would like to find out more about tailor-made Ukraine holidays or our group tours, call us on 01473 328546 or email us via our contact page. We'd love to hear from you.
Show more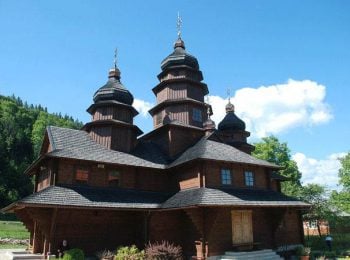 Ukraine
Good for:
Historic Sites and Local Culture