We are strongly opposed to the unjustified invasion of Ukraine by Russia, and stand with the Ukrainian people, our partners, guides and friends in the country. We have run trips to Ukraine since our inception in 2013, and are devastated to see the unprovoked tragic attacks on a peaceful nation and people.
Tourism, especially to the more unusual parts of the world that we focus on, helps to foster understanding and tolerance amongst different people, and we believe that there is a difference between the actions of a government, and its people. Our tours to Russia focus on areas and people that are often very far from Moscow, both geographically and ideologically, and we believe that our trips benefit local communities very far outside the Russian mainstream. However, the gravity of the current situation is such that we have cancelled our trips to Russia for the remainder of 2023.
– – –
Spanning both Europe and Asia and by far the largest country on earth, Russia defies soundbites and neat descriptions. Instead, it offers a bewildering range of diversity that makes it difficult to know where to start.
With a population of over 144 million, the diversity in culture, environment, terrain, and religion is rich and expansive. In Russia's deep south, away from the popular tourist destinations of Moscow and St. Petersburg lie the Caucasus Mountains, home to Europe's highest peak, and an extraordinary array of ethnic groups. Much troubled in recent years, this region has now stabilised and provides opportunities for some of the best adventures Europe can offer.
Stretching between the Black and Caspian Seas, the land rises into a series of almost impenetrable peaks, and was Russia's 'last frontier' – long after Siberia had been conquered, the peoples of the Caucasus held out against the armies of Moscow and retained their rich traditions. These lands inspired the poetry of Pushkin and are the subject of much great Russian literature, such is their magic.
Our Russia holidays take you to isolated valleys, where stone watchtowers dot the landscape, looking like something from the writing of Tolkien. In the mountains of North Ossetia lie 'cities of the dead', and ancient shrines to pagan religions. Old customs die hard here and this is perhaps one of the most intriguing parts of the continent.
Top highlights on Russia holidays and tours – Europe
Explore the old stone watchtowers of Ingushetia
Visit the city of the dead at Dargavs
The historic city of Vladikavkaz, with its beautiful pre-revolutionary architecture
Wander through the historic quarter of Derbent
Stay in the charming traditional village of Mezmai
Drive through some of Europe's most impressive scenery
With people ranging from Circassians to Chechens to Ingush, from Laks to Dargins, the Russian Caucasus is a treasure trove of traditions and cultures – all the while with a backdrop of snowcapped peaks and ancient ruins.
Discover a very different side to Russia with us.
Culture
The Russian Caucasus is home to a bewildering variety of different ethnic groups. In the west are the Circassians – they were among the first in the region to be subdued by the Russians, but have a rich military tradition. Moving further east one encounters the Karachai and the Balkars – often known as the 'mountain Turks' due to their Turkic origins.
The Ossetians are descended from the ancient Alan people, and have a complex pagan religion, with shrines dotted around, often adorned with animal skulls. They are unique in this region in being neither Muslim nor Christian, and their belief system is centred around the worship of gods and spirits connected with the natural world.
Eastwards from here and it's solidly Muslim. The Ingush and Chechens particularly are devout, and mosques are packed each Friday. Islam here is infused with traditions of sufism, and a particularly fascinating customs is the zikr, a combination of prayer, song and dance that can last for hours.
There are strong codes of honour here, which in the past have led to extensive blood feuds between different clans. But the region is also renowned for its generous hospitality, and undoubtedly as a visitor here you will be invited into local homes to share enormous feasts – a rather humbling experience.
When to go on holiday to Russia
It is hard to generalize the weather for such a giant country, however, in summer its warm and humid, reaching around 25 degrees (Celsius) from June to September. North of the Caucasus there's a continental climate – three or four freezing, long winter months but temperatures up to about 30 degrees C from June to August. The higher you go, the cooler it gets.
Start planning your Russia tour
Check out our small group tours to Russia: The Caucasus – From the Black Sea to the Caspian and Altai Explorer. While many of our trips are small group adventures with set departures, as a bespoke operator, we can design and create trips to suit any traveller, from solos to larger groups. If you would like to find out more about tailor-made Russia holidays or our group tours, call us on 01473 328546 or email us via our contact page. We'd love to hear from you.
Show more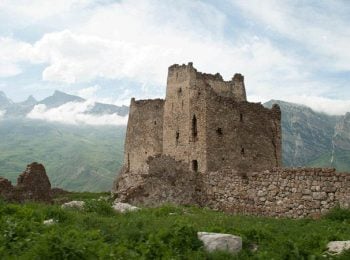 Russia
Good for:
Local Culture, Stunning Landscapes and Historic Sites
No products were found matching your selection.