Latvia is the least known of the Baltic States. It is a rural land of gentle and ancient traditions, that seventy years of Communist rule never quite managed to extinguish. Its capital, Riga, is its only real city. The rest of the country is made of sweeping forests, bogs and dune lined coasts, with small towns and settlements finding a space in between its vast natural world.
Our Latvia holidays and tours take you through a land that in places still seems medieval. Riga – the largest and most cosmopolitan city in the Baltics – is a treasure trove of striking architecture. The country is dotted with the remains of old castles, palaces and forts, a testament to the various invaders that sought to make this place their home. Germans, Vikings, Swedes and Russians have all fought over this land with little regard to the sentiments of the locals. The evidence of their long-lasting influence can be seen in old cobbled streets and Gothic spires. Latvia hasn't had it easy over the years.
Outside of the towns, you're presented with a vast wilderness of pristine forests, rich in wildlife. Latvia's natural world has left a deep imprint on local culture and it is rich in folklore and ancient, pagan traditions that have stood the test of time. Latvia looks towards the future but has a foot rooted in the customs of the past.
Top highlights on Latvia holidays and tours
Discover the well-preserved historic centre of Riga
Mingle with the locals at the seaside resort of Jurmala
Explore the landscapes of Gauja National Park
Culture
Latvia has a very mixed population; only around 60% of the population are Latvian in ethnicity. The rest are made up of Russians, Poles, Ukrainians and members of the other Baltic States. Christianity made great inroads into the region during the medieval period, with Catholicism and Lutheranism being the main strands here. Although the majority of Latvians profess no religious faith.
Of greater interest is Latvia's adherence to older beliefs. Before the Christian church arrived here in the 12th century, Latvia was largely a pagan, or animist society, as might be expected in a country where the natural world is so prominent. Much of this has survived in various forms today, and Latvian culture is steeped in superstition. Step into a graveyard and you'll often see neatly raked paths around the gravestones; many Latvians believe that the spirits of the dead can follow your footsteps home.
Jani, the midsummer holiday, is still celebrated to great effect here.
When to go on holiday to Latvia
It will probably come as no surprise that the best time to visit Latvia is in the summer, from May to August. Temperatures are their best here and you avoid the dreary rain and snow of winter. It might surprise some to know that temperatures in high summer can sometimes push up to thirty degrees – a compensation in part for the often bitter winters.
Start planning your holiday to Latvia
Check out our small group tour to Latvia: Baltics Uncovered. While many of our trips are small group adventures with set departures, as a bespoke operator, we can design and create trips to suit any traveller, from solos to larger groups. If you would like to find out more about tailor-made Latvia holidays or our other group tours, call us on 01473 328546 or email us via our contact page. We'd love to hear from you.
Show more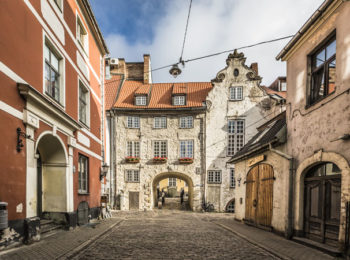 Latvia
Good for:
Historic Sites and Local Culture