Our Belarus holidays and tours take you to a country that in many ways is locked in time, still finding its place in the modern world – a snapshot of how much of Europe was centuries ago.
This quirky and almost forgotten corner of Europe is best known – if at all – for being the last stronghold of Communism on the continent. But look beyond this and you can discover a land imbued with a complex and intriguing history, full of the type of traditions that have long since died out elsewhere.
Its delightful cities and towns are a curious mix of Soviet influences, fairytale castles and ornate churches. Meanwhile in the countryside, enigmatic wildlife like bison, bear and wolves still roam freely in some of their last strongholds. With more than 11,000 lakes teeming with fish, forests where locals forage for wild berries and primeval landscapes such as those of Belavezhskaja National Park, it is no wonder why Belarusian people are so proud of their country's natural environments.
Top highlights on Belarus holidays and tours
Visit the UNESCO listed 16th century Mir Fortress
Experience typical Belarusian hospitality as guests of a local family
Explore the wilds of Belavezhskaja National Park, home to Europe's heaviest land mammal – the bison
Stroll around the historic settlement of Njasvizh with its collection of 16th century buildings
Visit the Second World War fortress in the Brest region
Discover Minsk's Independence Square and Island of Tears
Travel here is not always easy and the country is almost completely unaccustomed to tourism. But the flipside of this is that besides a feeling of real exploration, not easily found in any of its neighbours, encounters with local people are genuine. The generous hospitality of the Belarusians is likely to be one of your overwhelming memories. Leave the ordinary behind on our Belarus holidays, as we enter this Soviet time capsule and perhaps the most unknown country in Europe.
Culture
Belarusian and Russian are the official languages of Belarus, but due to hundreds of years of Russian and Soviet influence, most people speak Russian better than their mother tongue. Increasingly people are beginning to speak English, especially among the younger generation, although not so much once you get out of the major towns and cities. Knowing a few words of Russian will certainly help in your travels.
Most people here belong to the Eastern Orthodox Church. However there are also many Catholics and small pockets of other religions, including Judaism and the 'Old Believers' – a breakaway sect of the Russian Orthodox church which fled its homeland centuries ago to avoid religious persecution.
Theatre, language, dance and literature are all important art forms within Belarusian culture. Annual cultural festivals such as the National Festival of Belarusian Song and Poetry and the Slavianski Bazaar provide platforms for all kinds of artists. State holidays such as Independence Day also attract big crowds with impressive firework displays and parades, and the most popular sport in Belarus is ice hockey.
When to go on holiday to Belarus
The best time to visit Belarus is from mid-May to mid-September when it is warm. The warmest of these months are from June to August and this is when the country sees most visitors, although still very few. The north and east have a harsher climate than the rest of the country and see the occasional Siberian blast. October is cool and wet, December to February brings snow and the spring months of March and April do bring sunshine although roads can be muddy and travel is more difficult.
Start planning your Belarus trip
Check out our small group tour to Belarus: Belarus, Ukraine and Moldova. Although many of our trips are small group adventures with set departures, as a bespoke operator, we can design and create trips to suit any traveller, from solos to larger group. If you would like to find out more about tailor-made holidays to Belarus or our group tours, call us on 01473 328546 or email us via our contact page. We'd love to hear from you.
Show more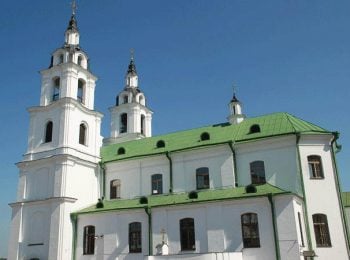 Belarus
Good for:
Historic Sites and Local Culture