Mali epitomises West Africa and is one of its most vibrant nations, a kaleidoscope of colours, music and traditions. Troubled in recent years, Mali has suffered enormously from the fallout of Gaddafi's Libya. However we feel that now is the right time to venture back to this incredible country.
Our Mali holidays and tours take you to the stunning mud mosque of Djenne and to witness the ancient ceremonies of the Dogon people.
Mali is synonymous with 'remote'. Everyone knows of Timbuktu as a byword for all that is far off, even if few know where it actually is. In centuries gone by it was home to important civilisations and kingdoms of gold. Mali's greatest king, the 14th century Mansa Musa, was one of the richest men who ever lived. Legends of unfathomable wealth here sparked off the first European explorations to the African interior. As a result the 19th century saw many foolhardy adventurers make their way here, many never to return.
The country spans vast northern deserts, home to ancient salt mines and Tuareg nomads, down to the lush forests that border Ivory Coast. Within its borders lies a vast range of ethnic groups, and some stunning landscapes to explore.
Top highlights on Mali holidays and tours
See the incredible mask dances of the Dogon people and walk between traditional villages on the Bandiagara escarpment
Take a boat ride on the Niger River, watching timeless scenes of riverside life
Visit the Great Mosque at Djenne, the world's largest mud-built construction
Mingle with the locals in the lively market of Mopti
Listen to some of the continent's best music
Mali is home to the mighty Niger River, West Africa's greatest waterway. Traditional fishing communities line its banks and have changed little from the days when Mungo Park made his epic journeys here. In Djenne the amazing mud mosque – one of Africa's most impressive buildings – looms large over the town, while in the villages and hills of Dogon country live a fascinating people, following arcane traditions and practising elaborate and entrancing ceremonies.
Although it's still not possible to visit the far north of the country, Mali has a huge amount to offer elsewhere – friendly and welcoming people, amazing music and a fascinating history that stretches back to the days of the old Saharan camel caravans.
Culture
Mali is home to a number of different ethnic groups, from Bozo to Tuareg, with around thirty different languages spoken. French is the official language and is widely understood, and Bambara is also a key language, spoken by a large proportion of the population. You'll get around a lot better on a Mali holiday or tour if you know at least a few words of French.
Islam is the main religion here, but the older religions still thrive and you'll often find elements of these being woven into conventional ceremonies and rituals. Animism is alive and well in many places, for example with the Dogon people, and seeing such practices is a fascinating insight into what the country was like before the arrival of Islam.
When to go on holiday to Mali
Mali straddles the Sahel and the Sahara, and its southern regions experience a rainy season from May to September. The best time to travel on a Mali holiday is the dry season from October to March.
Start planning your Mali tour
Check out our scheduled small group tour to Mali: Mud Mosques and the Dogan. Although many of our trips are small group adventures with set departures, as a bespoke operator, we can design and create trips to suit any traveller, from solos to larger group. If you would like to find out more about tailor-made Mali holidays or our group tours, call us on 01473 328546 or email us via our contact page. We'd love to hear from you.
Show more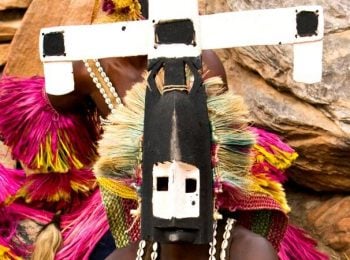 Mali
Good for:
Tribal Cultures and Historic Sites
No products were found matching your selection.