Sitting in the heart of Africa is the Democratic Republic of Congo, a wild land of untamed jungle, enormous rivers and enigmatic wildlife. With its dramatic volcanoes, spectacular mountain scenery and thick rainforests where nature rules, our Congo holidays and tours take you to one of the most striking parts of the continent.
Said to hold some of the most intact ecosystems on earth, this giant of a country offers incredible wildlife experiences. Tracking gorillas in their natural habitat will take your breath away – as well as creating a feeling of adventure that is hard to beat. The Congo has barely been explored, neither conventionally nor by tourism. In some areas, local people even speak of unidentified beasts living deep within the swamps.
Top highlights of holidays to the Congo
Climb to the top of Mount Nyiragongo, and camp on the crater of its vast lava lake
Track mountain gorillas through the thick forest of the Virunga Mountains
Explore the delightfully laid back island of Idjwi on Lake Kivu
Navigate the downtown chaos of Goma or Bukavu
Hike through the highlands of Masisi, accompanied by throngs of curious children
Haggle for excellent African artwork and masks in the markets
The Congo was the first country in sub-Saharan Africa to have extensive contacts with Europe, when in the 15th-century Portuguese sailors made contact with the powerful kingdom of Kongo.
Since then it has had a turbulent history. It suffered under Belgian rule during the colonial period, experienced a traumatic transition to independence in the 1960s, followed by a series of conflicts following the Rwandan genocide. Tell most people that you're going here and they'll raise their eyebrows.
Through it all, the Congolese people have demonstrated a remarkable resilience. And despite its myriad attractions, it's the encounters with locals on holidays to the Congo that often leave the deepest impression.
That's not to deny its natural attractions though. The Congo River is one of the world's largest, first explored by Stanley during his fateful expedition through the continent. Its forests compete with the Amazon for being the lungs of the planet, still largely impenetrable and home to species such as gorilla, chimpanzee, okapi and forest elephant. And its eastern mountains, along the borders with Uganda and Rwanda, offer superb trekking opportunities well off the beaten track.
Make no mistake – travelling here is not always easy. Infrastructure might be poor and services often rudimentary but our Congo holidays are nothing if not authentic – surely the holy grail of adventure travel if ever there was one.
Culture
The Democratic Republic of Congo is home to a bewildering number of different ethnic groups, each with their own language, but the official language is French. The key ethnic groups here are the Mongo, Luba, Kongo and Mangbetu (whose women used to bind their heads to elongate them) but there are around 250 different groups, including Hout, Tutsi, and the Mbuto pygmies of the deep forests
The majority – around three quarters – of the population are Christian, with around 10% Muslim and others following indigenous beliefs.
When to go on holiday to the Congo
It's hot and humid all year round, sitting neatly on the equator, but the wet seasons are from mid-September to mid-December and from March to May. During this time you can expect heavy showers, which are usually brief. But be aware it can rain at any time of year.
Start planning your Congo trip
Check out our small group tour to the Congo: Gorillas, Chimps and Volcanoes. Although many of our trips are small group adventures with set departures, as a bespoke operator, we can design and create trips to suit any traveller, from solos to larger group. If you would like to find out more about tailor-made holidays to Congo or our group tours, call us on 01473 328546 or email us via our contact page. We'd love to hear from you.
Show more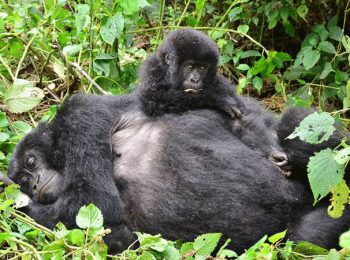 Democratic Republic of Congo
Good for:
Wildlife, Trekking and Stunning Landscapes