Blessed with the longest coastline in the Caribbean, the highest waterfall in the world, and mysterious table-top mountains supporting otherworldly ecosystems, Venezuela's natural beauty is hard to beat.
Lush coastal valleys give way to major Andean mountain ranges, which slope down to the seasonally-flooded central plains, or 'Llanos', that see great numbers of wildlife gathering around waterholes in the dry season, with capybara, caiman and waterbirds frequently sighted.
Further south, past the Orinoco River, the Bolivar and Amazonas rainforests cover around forty-five percent of the country but are only inhabited by around five percent of the population, including remote tribes of Yanomami Indians.
Venezuela is extremely biodiverse with a large percentage of its plants and amphibians found nowhere else on earth. The astounding variety of flora and fauna found here is attributed to the country's geographical location and great variety of habitats. The table-top mountains, or 'tepuis', of the Grand Sabana are of particular interest to naturalists, as the weird and wonderful are found atop their lofty summits including carnivorous plants and hop-less frogs. These species have long been isolated from the forested lands below and have adapted to survive the harsh elements found up here. The most iconic and accessible tepui, Mount Roraima, is formed from the oldest rocks on the planet, dating back two to three billion years, and was the inspiration for Arthur Conan Doyle's famous book, 'The Lost World.'
Top Highlights on Venezuela Holidays and Tours
Canoe to the base of Angel Falls, in Canaima National Park
Merida's artisan market surrounded by snowy peaks
Experience life on a working cattle ranch
Wildlife watching in the Llanos
Bathe in the balmy waters of the Los Roques archipelago
After a couple of weeks exploring Venezuela's wilds you may also want to wind down and while away some time in Los Roques, a chain of islands and coral reefs scattered across warm the Caribbean Sea, north of Caracas.
The people of Venezuela are fun-loving people and you're never too far away from the syncopated rhythms of salsa and merengue, and the rhythmic drum beats of timeless folk. Whilst the wildlife is bound to hold a special place in your heart, we're sure the locals will too, with their warm welcomes and keen interest in becoming everybody's 'pana', which means friend.
Culture
Spanish is the official language of Venezuela and is spoken more softly than in Spain. English is studied as a second language but few people can speak it.
95% of the population are Catholic with other religions including Protestant Evangelists, Jehovah's Witnesses, Pentecostal groups and Baptists. Indigenous groups still exist in the country, following their own shamanistic beliefs, handed down by elders and brought to life by ancient myth. Many of these groups have been converted to Christianity by missionaries but most still conserve parts of their indigenous traditions. Local cults with disciples also exist, entering into trances and performing sacred rituals.
Venezuela is a musical nation, where you'll find everything from opera and orchestras, to Afro-Venezuelan drumming, and traditional folk music, with the 'cuatro', a local four-stringed guitar being made and played throughout the plains and mountains. Community radio stations give indigenous musicians a platform and creating a real resurgence of folk music. Traditional crafts are also celebrated, particularly wood carvings, ceramics and basket-work.
Baseball is the most popular sport in the country, having been brought here by US oil engineers. Baseball contests are exciting affairs in Venezuela, with families turning out to support their teams, all united by their passion for the sport.
When to go on holiday to Venezuela
Venezuela is situated just a few degrees north of the equator and is considered a year-round destination as the country doesn't experience any extremes of temperature. There is a rainy season from May to November but the downpours are generally short and sharp, with the sun emerging inbetween these bursts of rain, for an average of seven to nine hours a day. The dry season, which falls between December and April is better for wildlife watching in the Llanos, whilst Angel Falls is best visited during the rains as the high river levels allows boats to approach the base of the falls. The months considered the best all-round for travel are November to January.
Start planning your Venezuela holiday
Check out our small group tour to Venezuela: 'Venezuela's Lost World'. Although many of our trips are small group adventures with set departures, as a bespoke operator, we can design and create trips to suit any traveller, from solos to larger groups. If you would like to find out more about tailor-made holidays to Venezuela or our group tours, call us on 01473 328546 or email us via our contact page. We'd love to hear from you
Show more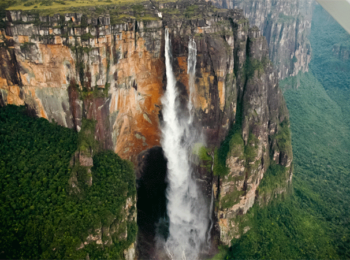 Venezuela
Good for:
Stunning Landscapes, Local Culture and Wildlife