Lithuania was once a great power in the region, its territory stretching far beyond its current borders. Its rich and illustrious history has more in common with Central Europe than its neighbours to the north.
Our Lithuania holidays and tours show you a vibrant and quirky country that surprises those who take the time to visit. Lithuania was once the centre of an empire that stretched from the Baltic almost to the Black Sea, and unlike the other Baltic States was a conquering power, rather than a conquered nation.
Past glories are evident in the elegant Baroque architecture of Vilnius the country's increasingly cool capital. A UNESCO World Heritage Site, Vilnius is packed with exquisite old buildings, historic squares and imposing Catholic churches. Elsewhere fortresses and castles dot the landscape – impenetrable, brooding, and ranging from the austere to the elaborate.
Lithuania's outstanding natural attraction is the endless Curonian Spit. This vast sandbank stretches into the Russian region of Kaliningrad. It's home to shifting dunes, pine forests, pretty fishing villages and enigmatic wildlife. On the mainland, wolves and lynx can be found in the woods, and birdlife is surprisingly rich, with a variety of habitats.
Top highlights on Lithuania holidays and tours
Explore the graceful architecture of Vilnius' Old Town
Visit the striking 'Hill of Crosses' at Siauliai
Discover the sand dunes and coast of the Curonian Spit
Try dandelion wine at the Vilkenta winery
See the island fortress of Trakai
On our Lithuanian holidays, you travel through centuries of history. You'll discover the legacy of the Grand Duchy of Lithuania and stop in villages to meet the people and sample the excellent local wares.
Culture
Lithuania once had a large Jewish population, until the horrors of the Second World War. But today 80% of the population is Catholic. The strength of Lithuanian Catholicism is often credited with the country's endurance through past difficulties. However, this is built on a pervasive animistic past. Lithuanians held sacred the forests and fires, and worshipped gods who presided over the natural world.
An ongoing regard for nature is today manifested in common names such as Ausra (dawn) and Giedrius (dew). It also persists in celebrations, such as the practice of dashing into the forest on Midsummer's Eve in search of plants believed to bring good luck, only on this night of the year.
As with all of the Baltic States, Lithuania has a mixed ethnic population, with sizeable minorities of Russians and Poles. The official language is Lithuanian. Many people also speak Russian, and in the larger towns, English is more commonly understood.
When to go on holiday to Lithuania
In Lithuania, winters are long and summers are short. The most pleasant time to visit is between May and August, when days are long. In midsummer it never seems to never get completely dark, but it can also be cool at times, so a light fleece or jacket is a good idea.
Start planning your Lithuania holiday or tour
Check out our small group tour to Lithuania: Baltics Uncovered. Many of our trips are small group adventures with set departures. However, as a bespoke operator, we can design and create trips to suit any traveller, from solos to larger groups. If you would like to find out more about tailor-made holidays to Lithuania or our group tours, call us on 01473 328546 or email us via our contact page. We'd love to hear from you.
Show more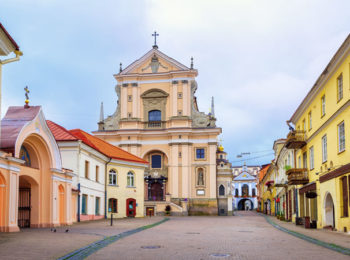 Lithuania
Good for:
Historic Sites and Local Culture
No products were found matching your selection.